Wines Mentioned in Fifty Shades of Grey That You Must Try
Last Updated on August 1st, 2023
Reader Disclosure
Disclosure: We may earn commissions for purchases made through links on our site. Learn more on our about us page.
Wine has been featured in entertainment since the days of the ancient Greeks. Throughout history, its association with sex too has been unavoidable. So it's little surprise that one of the most popular books written in the 21st century combined the two.
The 2011 bestseller Fifty Shades of Grey and its sequels feature wine throughout the story.
Fine French wine played an important role in the books as Grey's constant pleasure. 
The racy white wines and bubbly rosés helped set up dialogue and tension between the two main characters in a way no other beverage could do.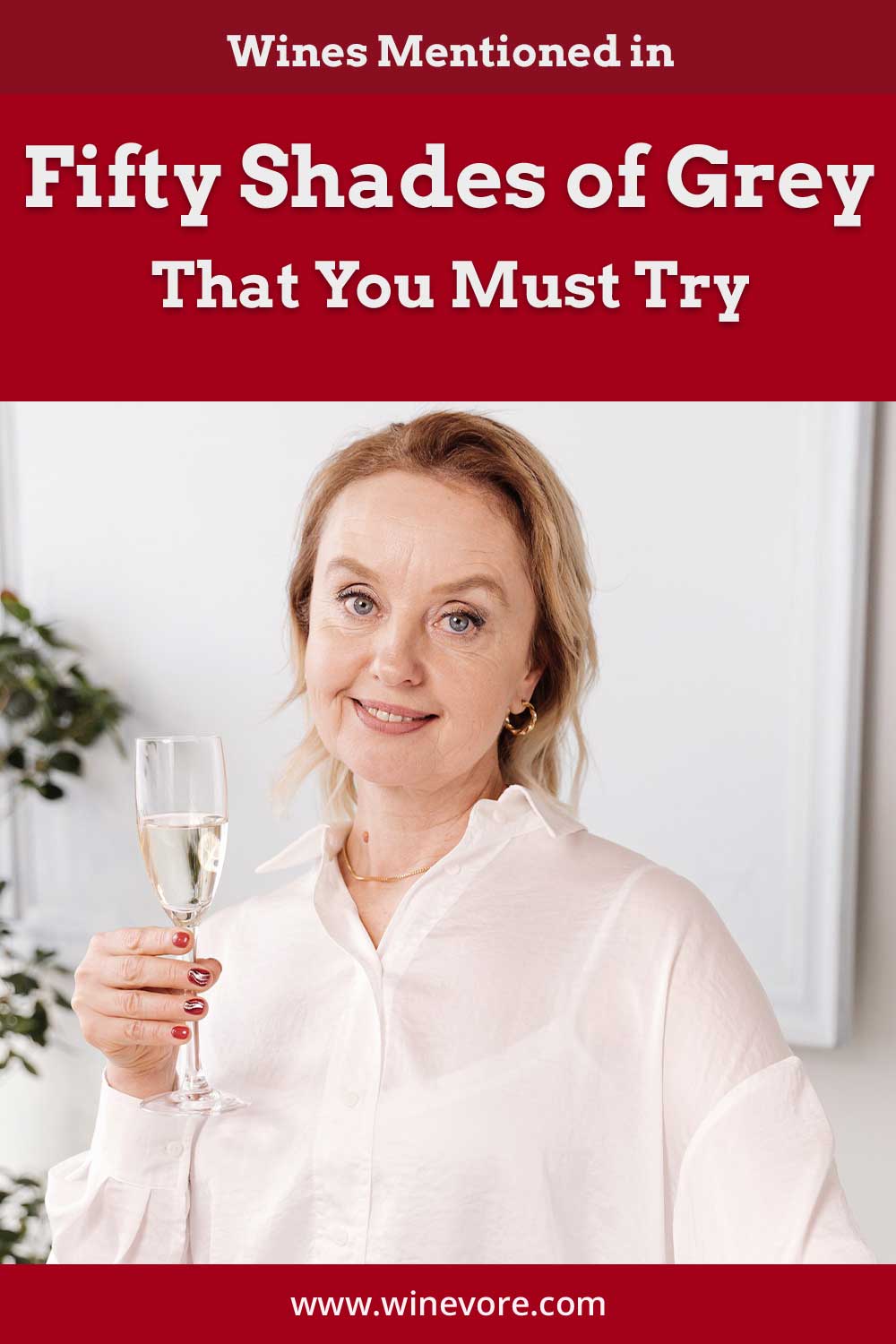 Which Wine Varieties Christian Grey Drinks?
Christian Grey loves his French white wine. He mentions Champagne, Chablis, Pouilly Fumé, and Sancerre time and time again. These are all luxurious wines with bracing acidity and minerality. 
During the first interactions between Ana and Christian, he serves a crisp bottle of Sancerre. Throughout the series, Sancerre plays an important role as his wine of choice. 
Which Wine Varieties Does Ana from 50 Shades of Grey Drink?
Unlike Christian, Ana is more accustomed to drinking cheap reds. In one famous scene, Christian hands her a glass of Pouilly Fumé, and she admittedly says she knows nothing about wine. 
Throughout the books, however, her newfound love of wine becomes apparent. As her desire for fine wine grows, so too does her physical attraction to Grey.  
Are White Wines Mentioned in 50 Shades of Grey?
White wines are the most mentioned types of wine in 50 Shades of Grey. Both main characters drink French white wine throughout the series. 
The wines talked about the most include Sancerre and Pouilly Fumé, which are both Sauvignon Blancs. Elegant Chardonnay-based wines like Champagne and Chablis get a lot of attention too. 
Which Champagne is Mentioned in 50 Shades of Grey?
It's no surprise that Christian loves his French wines. The book features the incredibly delicious and luxurious Bollinger Grande Année Rosé 1999. Contrary to Christian's normal taste in white wine, this wine is a pinot noir rose. 
Wine and Food Pairing Scenes From 50 Shades of Grey
Throughout the book, there are food and wine references that make fans of the book lose their minds. Even though Ana's resistance to eating is mentioned frequently, Christian is quite a foodie. 
One of the most common food categories mentioned in the book is breakfast food. 
Aside from eggs, bacon, and pancakes, other delicious foods make their appearance in several scenes. When the two are drinking Sancerre and other racy white wines, they pair oysters, scallops, and fancy cod at fine-dining restaurants. 
Final Thoughts on Wines Mentioned in Fifty Shades of Grey
The book 50 Shades of Grey features wine in several major and minor scenes. Christian Grey's favorite wines include Champagne, Chablis, Pouilly Fumé, and Sancerre. Chablis is a Chardonnay, Pouilly Fumé and Sancerre are Sauvignon Blancs. 
The champagne of choice in the book is the luxurious Bollinger Grande Année Rosé 1999. Simple breakfast foods and exquisite fine cuisines like scallops and fancy cod are often paired with fine wine.