Coravin 5 vs. 6
Last Updated on August 1st, 2023
Reader Disclosure
Disclosure: We may earn commissions for purchases made through links on our site. Learn more on our about us page.
Okay, we're starting to get into wine preservation, one of the most important aspects of enjoying wine. After all, wine is no good if it isn't preserved correctly.
Fortunately, Coravin, a Massachusetts-based company, produces excellent preservation models. But how can you choose which one is best for you?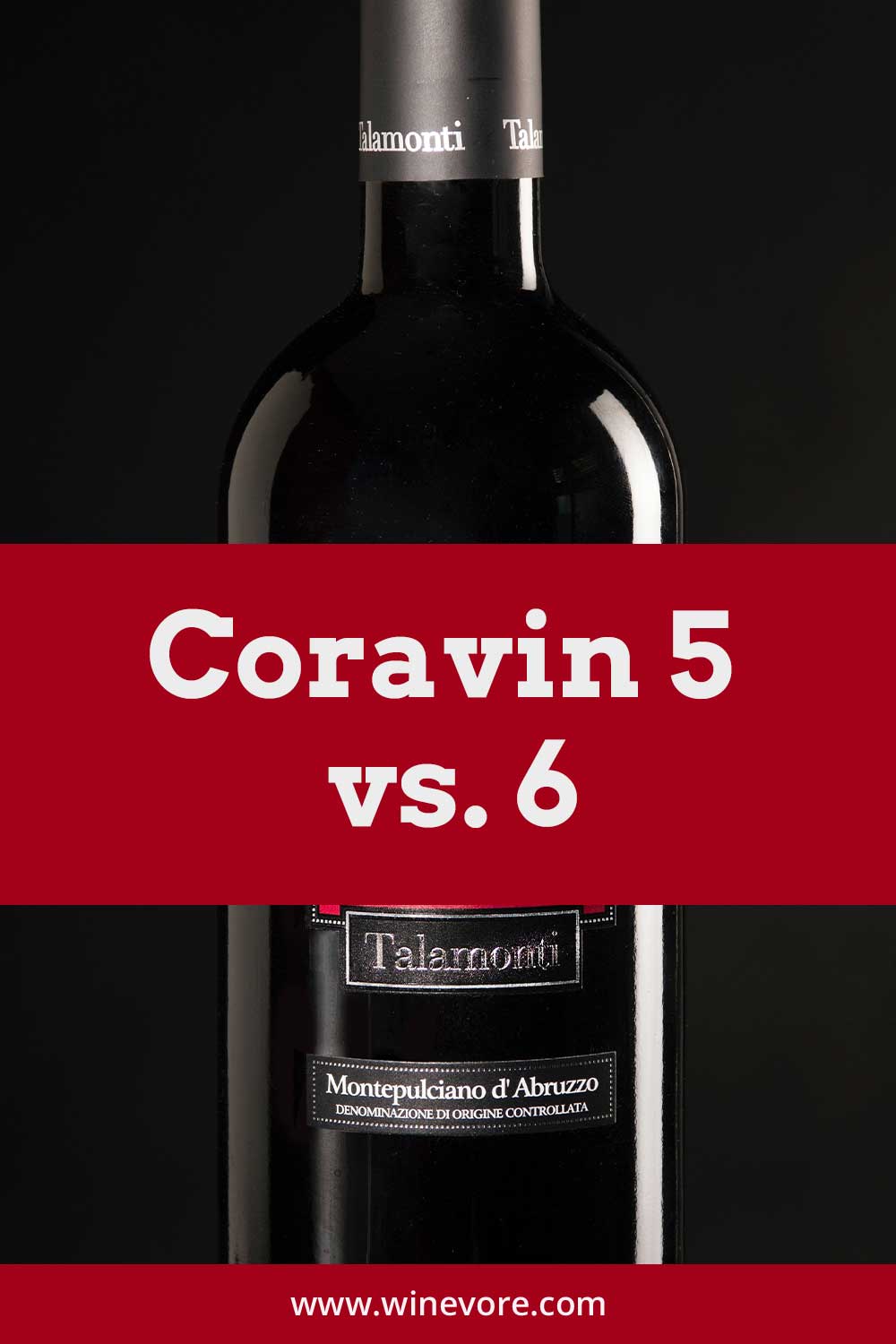 How can you choose which Coravin model works better for you?
At first glance, the number of models available on Coravin's website might seem a little overwhelming. However, since its foundation in 2011, the company has only scaled up its production of new models.
Broadly speaking, though, three lines of Coravin products can be purchased: Pivot, Timeless, and Sparkling.
If you would like to see how each model stacks up against the others, the Coravin website has a feature that allows you to do just that! It shows you everything from the colors available for each model to how long preservation can last.
All of this just by hovering over the "Shop" tag at the top of the site!
If this still seems like a lot to you, that's okay. For this article, we're only going to look at two models: Model no. 5 and Model no. 6. These systems have both key similarities and essential differences, so it's important to do your research before making a choice.
What are the differences between Coravin no. 5 and no. 6?
We'll start off with the differences between Coravin Model no. 5 and Model no. 6. Firstly, they look different. Model no. 5 is pretty simple-looking and only comes in black.
On the other hand, model no. 6 looks a bit more polished and can come in three colors: maroon, black, or silver.
Another important difference between the two models is their cost. Model no. 5 currently (as of June 2022) sells for about $250 on Coravin's website. Model no. 6, meanwhile, costs about $300.
The final difference between Models no. 5 and no. 6 focuses on their intended usage. Whereas Model no. 5 is geared towards restaurants and other food service establishments, Model no. 6 is meant to be used by those who want to enjoy a drink at home.
It all comes down to location and audience.
What are the similarities between Coravin no. 5 and no. 6?
Now onto what Models no. 5 and no. 6 have in common. They accomplish the same purpose of pouring and preserving wine in an efficient manner without having to remove the cork at all.
Using a needle, the machine extracts the wine carefully from the bottle for repeated use. The needle must be cleaned between uses to remove any cork pieces that might stick to it. After this, you should open one of the Coravin Pure argon capsules.
These capsules release argon gas to keep oxygen from building up in the wine bottle. If the wine oxidizes too much, its taste might suffer. Both Model no. 5 and Model no. 6 come with three argon capsules included.
Why does Coravin no. 6 cost more than no. 5?
Simply put, Model no. 6 costs more than Model no. 5 because it comes with more features. Both designs include the main preservation system, three argon capsules, and a needle cleaning tool. However, Model no. 6 also comes with a carry case and an extra screw cap.
Which Coravin model is available for Trade Partners only?
Only Model no. 5 is available for Coravin Trade Partners. Here, "Trade Partners" refers to organizations/businesses that have made prior shipping agreements with Coravin. As stated previously, this includes certain restaurants and wine bars.
Since Model no. 6 is available primarily for home usage, it does not have a trade partner restriction. So, unfortunately, consumers hoping to purchase either Model no. 5 or Model no. 6 don't really have a choice.
Final Thoughts on Coravin Model No. 5 vs Coravin Model No.6
Since 2011, Coravin has produced quality products designed to make pouring that sweet glass of wine easier. There isn't a better system between Models no. 5 and No. 6.
One is just made for trade usage, while the other is more personal. Want to try it out? Go ahead!