Good appetizers wine tasting party
Last Updated on August 1st, 2023
Reader Disclosure
Disclosure: We may earn commissions for purchases made through links on our site. Learn more on our about us page.
When attending a wine tasting party, plenty of elements make the event fun. Snacks complimenting the night's label can elevate the experience even more. In this article, we will explore the variety of appetizers commonly served during these sorts of gatherings.
What kind of pastry appetizer is good for a wine tasting party?
Pastries have been around since ancient Egypt. Possibly a favorite pairing with a glass of Zibibbo. Today we enjoyed a wince pastry and a choice of paired wine.
Here is a list of five pastry–wine pairings to serve at your next gathering:
Croissant and Chenin Blanc

Bagel and Rosé

Rasin roll and Pinot Noir

Cheese Danish and Sauvignon Blanc

Brioche and Chardonnay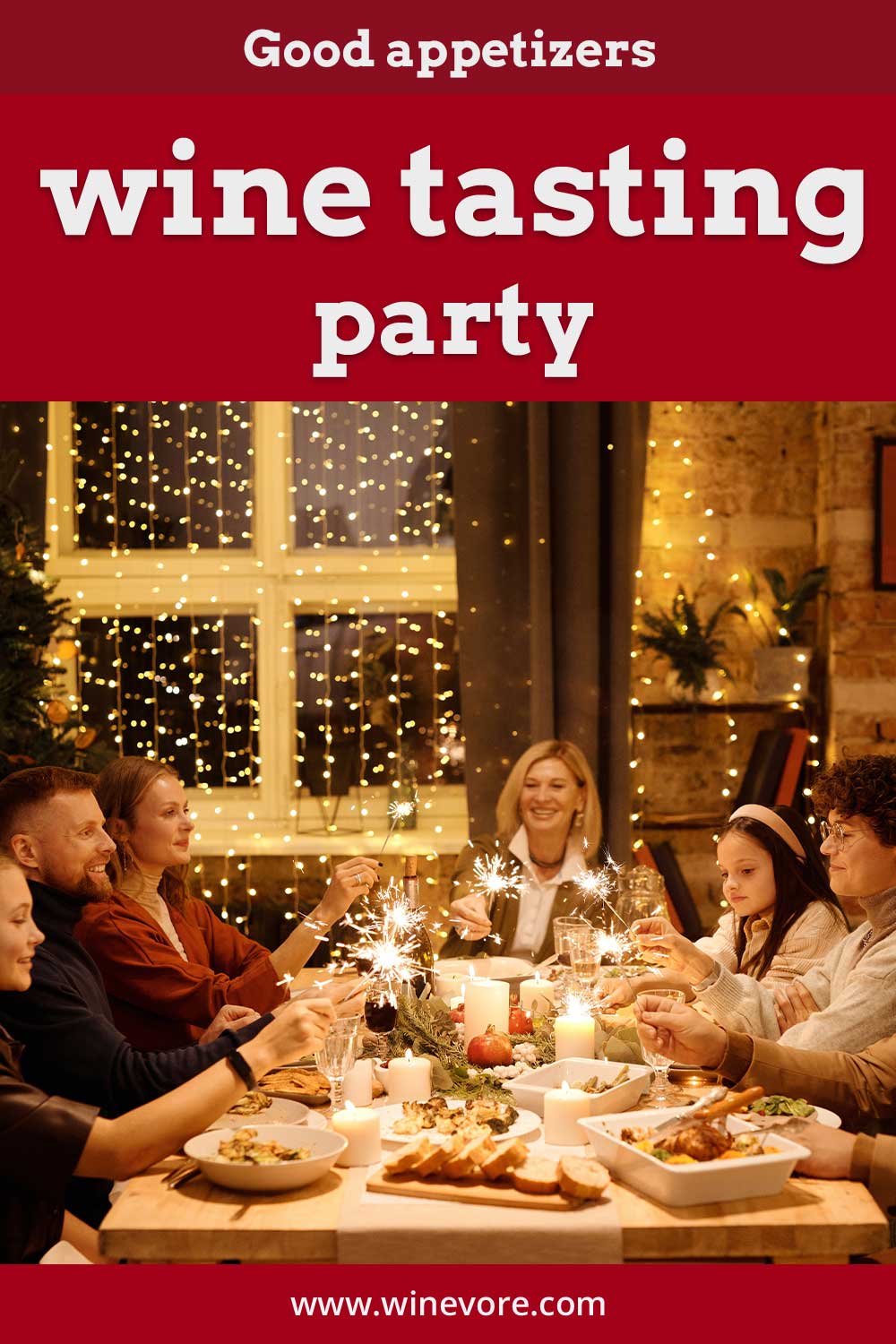 How do you serve cheese and crackers for a wine tasting party?
When serving cheese and crackers, focus on the cheese pairing. Whole grain, sturdy crackers are as simple as you need to allow the maximum flavor to concentrate on the cheese and wine.
There are many fun ways to serve these snacks, appetizers with fantastic decorative serving platters, table ornaments, and fondue towers. Be creative; this part is supposed to be fun. 
First, find out which wines are being served, then find the appropriate cheese to go with it.  
Here are a pair of trios, one white wine, and the other red wine, for you to consider for your next cheese and cracker tasting party:
Red:
Cabernet Sauvignon – Brie, Camembert, Sharp Cheddar

Merlot – Parmesan, Swiss gruyere, Italian gorgonzola

Syrah – Edam, Gouda, Alpine-style Cheeses
White:
Sauvignon Blanc – Gruyère, Boursin, Havarti

Pinot Grigio – Brie and Mozzarella

Dry Riesling – Swiss, Monterey Jack, Muenster
Is fruit salad a good appetizer for a wine tasting party?
Grapes are a wondrous fruit, providing the base for all wines vintage in existence. So naturally, fruits will pair well with specific labels. So when making a fruit platter or salad, reference the wine pairings with fruit.
Take Sancerre, which pairs well with apples, pears, and peaches. Then Sauvignon Blanc pairs with peaches.
Cabernets pair well with apples, pears, and peaches, as well. Chardonnay also pairs well with apples, pears, and peaches.
Think along these lines, look for delicious pairings and have fun piecing together a platter for your guests.
What kinds of dips are popular for wine tasting parties?
There are a plethora of different sauces and just as many foods to dip into them. Here are fun dipping foods to pair with four other wines. Let's start with chicken wings, not your typical wine gathering dish but a flavorful one. 
Take mild, which pairs with Merlot, or hot with Gewürztraminer, garlic parmesan, and Pinot Grigio. These flavors will keep the taste buds engaged. An excellent Caribbean jerk dry run with a Rosé should keep things zesty.
If you're looking for fresh ideas, serve fondue. A centerpiece of liquid cheese can both entertain and wow guests. Wine and cheese have been enjoyed side by side for centuries, and here are a few 2022 labels to try. 
Nikolaihof Hefeabzug Grüner Veltliner
A white wine from Austria
A white wine from France
Pépière Muscadet Sèvre et Maine sur lie
A white wine from France
Kevin Descombes Cuvée kéké Beaujolais Nouveau
A red wine from France
Lauverjat Moulin des Vrillères Sancerre Rogue
A red wine from France
What Desserts are Good Appetizers for a Wine Tasting Party?
There are many different sweet dessert wines, like Muscato d'Asti or Champagne. Still, the desert becomes more fun when you add pies and cakes. Here are a few pairings that will excite anyone's taste buds.
Dry Riesling and peach cobbler, New Zealand Sauvignon Blanc with white chocolate, Oaked Chardonnay and lemon bars, Fino Sherry with carrot cake, and Brachetto d'Acqui with Chocolate Mousse.
Final thoughts on Good Appetizers for a Wine Tasting Party
Appetizers, or hors d'oeuvres if you get fancy, are fun to put together when entertaining guests. Wine parties are centered around the foods provided, which keep the guests fed and, hopefully, to some level sober.