Best Built-In Wine Fridge
Last Updated on August 1st, 2023
Reader Disclosure
Disclosure: We may earn commissions for purchases made through links on our site. Learn more on our about us page.
The Kalamera 45 Bottle 24" Built-In Or Freestanding Wine Cooler/Refrigerator was rated as one of the best overall built-in wine fridges for 2021.
One highlighted feature is its two different temperature zones created for cooling white and red wines at their optimal temperatures.
Storing red and white wines at different temperatures will help each to have a longer shelf-life due to the difference in red and white wine tannins.
This wine fridge is designed to be freestanding and also functions as a built-in wine fridge. It can hold over 40 bottles and is well deserving of its spot as one of the top wine fridges of 2021.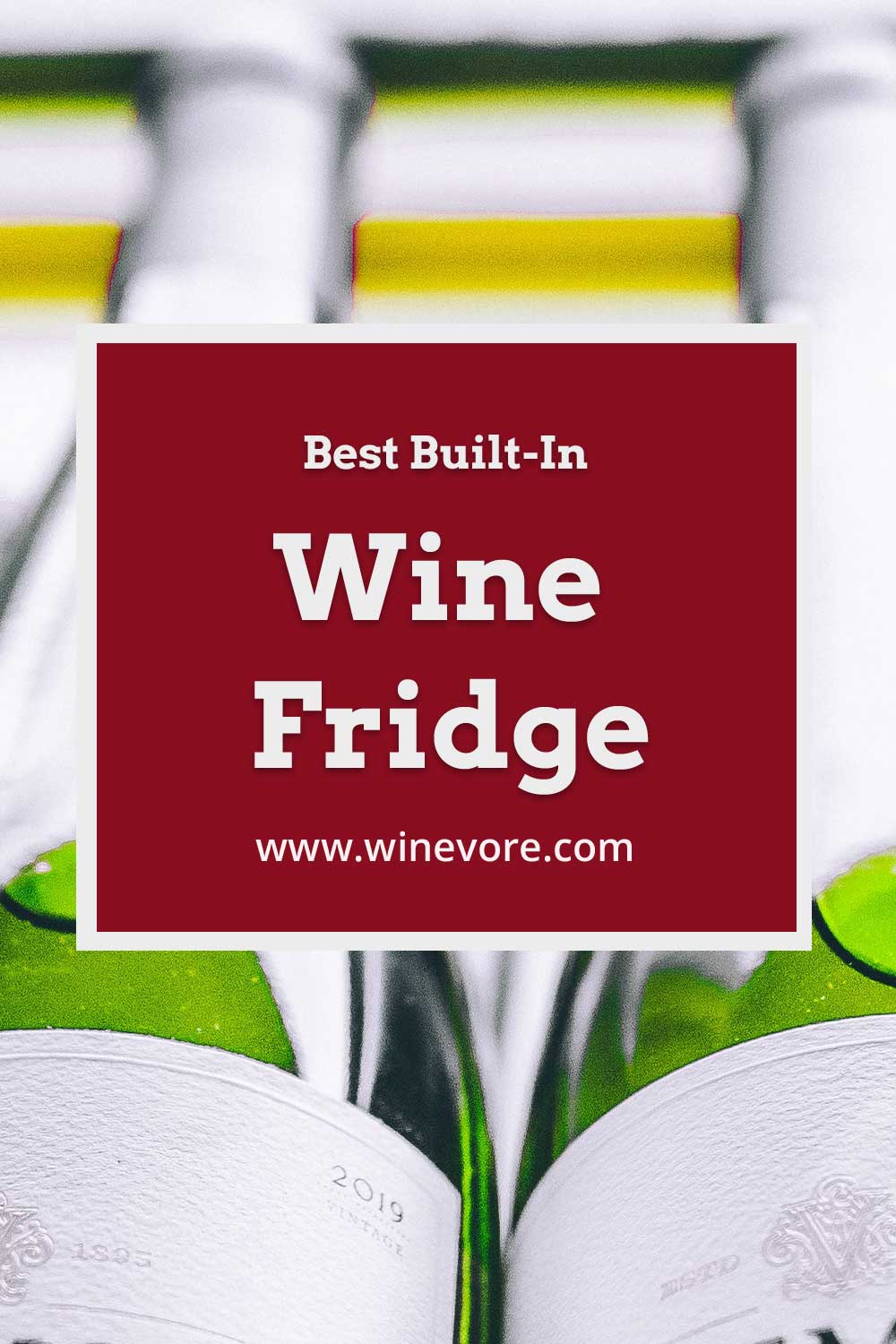 Why Should You Buy One?
Wine fridges provide many wine-storing benefits, such as:
Protecting wine from the elements and sunlight
Storing wine at proper temperatures
Regulating humidity that would otherwise damage wine
Keeping wine fresher longer
Wine is not something to be bought and immediately finished. There are times when you stock up on wine and keep it, perhaps for a special occasion.
If you're storing wine, using a wine fridge can achieve the best results and help the wine last longer.
Factors such as humidity and sunlight affect the flavor of the wine. Amino acids in the wine react with the sunlight, often releasing sulfur, causing the taste of the wine to change dramatically.
Besides preserving the flavor of the wine and keeping it fresh, a wine fridge also allows the wine to be stored properly without the investment of thousands of dollars into building a wine cellar.
What Makes it The Best on the Market?
Some of the key features of this wine fridge, like its storage capacity and different temperature zones, make it a top seller on the market.
This Kalamera wine fridge also boasts other luxurious features like:
Double paneled glass for blocking UV rays
A lock to keep the wine safe and secure
And quiet, compressor-based cooling
The fridge also has fans that help with the cooling.
The large storage capacity makes the types of wine bottles you can store almost unlimited. Storing 45 bottles of wine and keeping them all cooled and protected from the elements is no small feat.
It is easy to see why this fridge is the best fridge for storing your most prized wines.
What are the Best Features of Wine Fridges?
The best features of a wine fridge are its:
High range of temperatures
Storage capacity
UV ray protection
Humidity to control
The above features are what make wine fridges a great investment for wine enthusiasts. Having the ability to store your wine in a place designed to help your wine thrive and last is the signature of a wine fridge.
In addition to its functionality, it is an investment that anyone can make, unlike having a wine cellar built.
Of course, storing wine in a regular refrigerator is an option, but a regular fridge is not tailored to keep wine.
How Do You Choose Which Build-In Fridge is the Best For You?
There are a few things you should consider when shopping for a wine fridge:
Value or features?
Large capacity or standard capacity?
Dual-zone or no dual zone?
Wine fridges can be an investment, but there are affordable options if the most important factor is affordability. Features like UV light protection and dual zones can be found in affordable wine fridges.
Keep in mind, however, that the compressed motor that keeps the fridge from being noisy is often found in more expensive wine fridge models.
There are many options for large-capacity and lower-capacity wine fridges. Checking the dimensions and bottle capacity of the wine fridge while shopping will help you choose the right size for your needs.
Most wine fridge brands will list if a specific model has dual temperature zones. If you are planning to store red and white wines together, make sure the model you choose is listed as having dual zones.
What Are the Important Details to Look For?
Here are important details to look for when shopping for a wine fridge:
Light protection
Humidity regulation
Compressed motor
Sufficient storage
Freestanding or built-in
We have already discussed the importance of factors like light protection and humidity regulation for extending the shelf life of your wine. Another factor that affects the flavor and shelf life of the wine is the vibrations in the bottle.
Each wine bottle contains a small amount of sediment that can spread and cause chemical reactions in the wine that will change its flavor. A compressed motor inside your wine fridge can help the fridge run more quietly with fewer vibrations.
Assess your wine collection, and be sure to choose a wine fridge that has enough storage space to hold your wine bottles.
Lastly, always check to see if the fridge you are buying is freestanding or built-in. Knowing this will inform you on how to properly install or place your wine fridge.
Final Thoughts on Best Built – In Wine Fridges
Shopping for a wine fridge can be a great investment for wine enthusiasts who want to get the most out of their collection.
Many storing factors can affect the shelf life of a wine and even affect its flavor.
A wine fridge is the perfect one-stop shop for cooling and properly storing wine. Its ability to protect wine bottles from damaging light and store them at their ideal temperature is reason enough to buy one.
While it is not always necessary to buy the most expensive wine fridge, checking for important features like light protection and humidity regulation can make your wine last, no matter the price range of your wine fridge.