Appetizers to Pair With Rose Wine
Last Updated on August 1st, 2023
Reader Disclosure
Disclosure: We may earn commissions for purchases made through links on our site. Learn more on our about us page.
Rosé wines are some of the best and most underrated wines to pair with food. Fruity, refreshing, and sometimes delicate, they deserve a good food pairing just as much as their white and red cousins. 
Winemakers make rosé wines from red wine grapes by leaving the freshly pressed juice in the grape skins for a few hours to a few days. 
This extracts just enough of the grape's tannins and pigments to color the wine pink. Red wines are fermented on the skins for several days to months.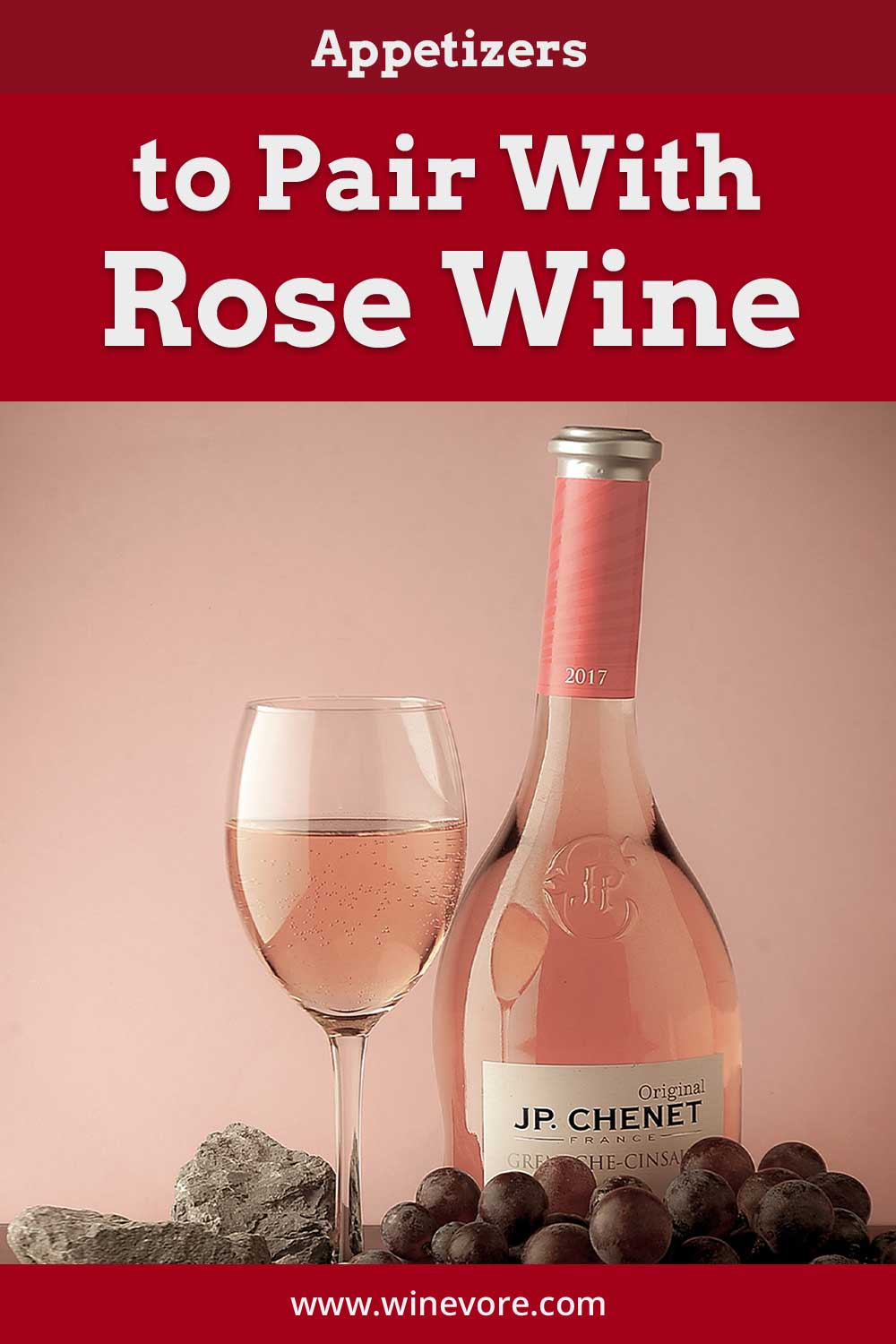 What Cheese Can You Pair With Rosé Wine?
The best cheese to pair with rosé wine is a fresh white cheese like feta, mozzarella, or goat. These cheeses will let the soft fruitiness of the wine shine without overpowering it. Their acidity will also go well with rosé. 
Hard cheeses need a darker, more tannic wine to break through their complex fats and proteins. Cheeses in this category like parmesan, sharp cheddar, and blue cheese will overpower a rosé wine. 
What kinds of Snacks Can You Pair With Rosé Wine?
Rosé wine is perfect for light snacks like salads, cured meats, soft young cheeses, and bruschetta. Couscous dishes also work well with the fruity flavors of rosé. 
Another summer hit is pairing ceviche with rosé. Ceviche is a Latin American dish made from fresh fish marinated in citrus juice. The delicate fish and citrus aromas will work well with the dry minerality of a rosé. 
Looking For Canape Ideas to Pair With Rosé Wine?
Canapes are small, bite-sized appetizers that can be paired with a wide variety of wines. 
The best canapes to pair with rosés are ones that are made with vegetables or lighter meats, like duck, chicken, or salmon. Great party favorites are bite-sized smoked salmon and cream cheese canapes. 
Can You Pair Rosé Wine With Desserts?
Desserts that are sweet and savory deserve wines that are also sweet and savory. Sherries and Ports are perfect for rich chocolate cakes and caramelized creme brulees. 
Rosé wine requires a softer dessert. Fresh red fruits with cream or watermelon desserts will work perfectly. 
Which Ingredients Do You Need To Avoid While Pairing Appetizers With Rosé Wine?
When pairing appetizers with rosé wine, avoiding heavy grilled meats or other complex flavors is best. Rich flavorful sauces like BBQ and anything with spice require a wine with equally bold flavors. 
Final Thoughts on Appetizers to Pair with Rosé Wine
Rosé wines are incredible when compared with food. Light, fresh, and young cheeses are perfect companions. Ceviche, salads, cured meats, soft young cheeses, and bruschetta stand out when paired with dry rosé. 
Small bite-sized canapes made from fish, white meat, or vegetables can also go well with a dry rosé. However, dark meats with rich sauces will overpower a rosé and should be avoided.