Riesling Snack & Appetizer Pairing – Mistakes to Avoid
Last Updated on August 1st, 2023
Reader Disclosure
Disclosure: We may earn commissions for purchases made through links on our site. Learn more on our about us page.
Riesling is a popular white wine acclaimed for its rich floral aroma, its fruity flavors and light bodiedness. Due to the high acidity of the grape, it produces a few of the best late harvest wines in the world.
Riesling wines come in a variety of styles, from sweet and off-dry to dry wines.They maintain their sharp, acidic taste that gives it a crisp refreshing finish. It is a wonderful wine that can be paired with snacks and finger food, especially spicy food.
It is useful to take into account the characteristics of the grape when pairing with food. 
Very high acidity – goes well with salty food or even with fatty or acid food

Hint of sweetness – complements with Mexican and Asian Cuisine

Aromatic profile – pairs well with flavorful food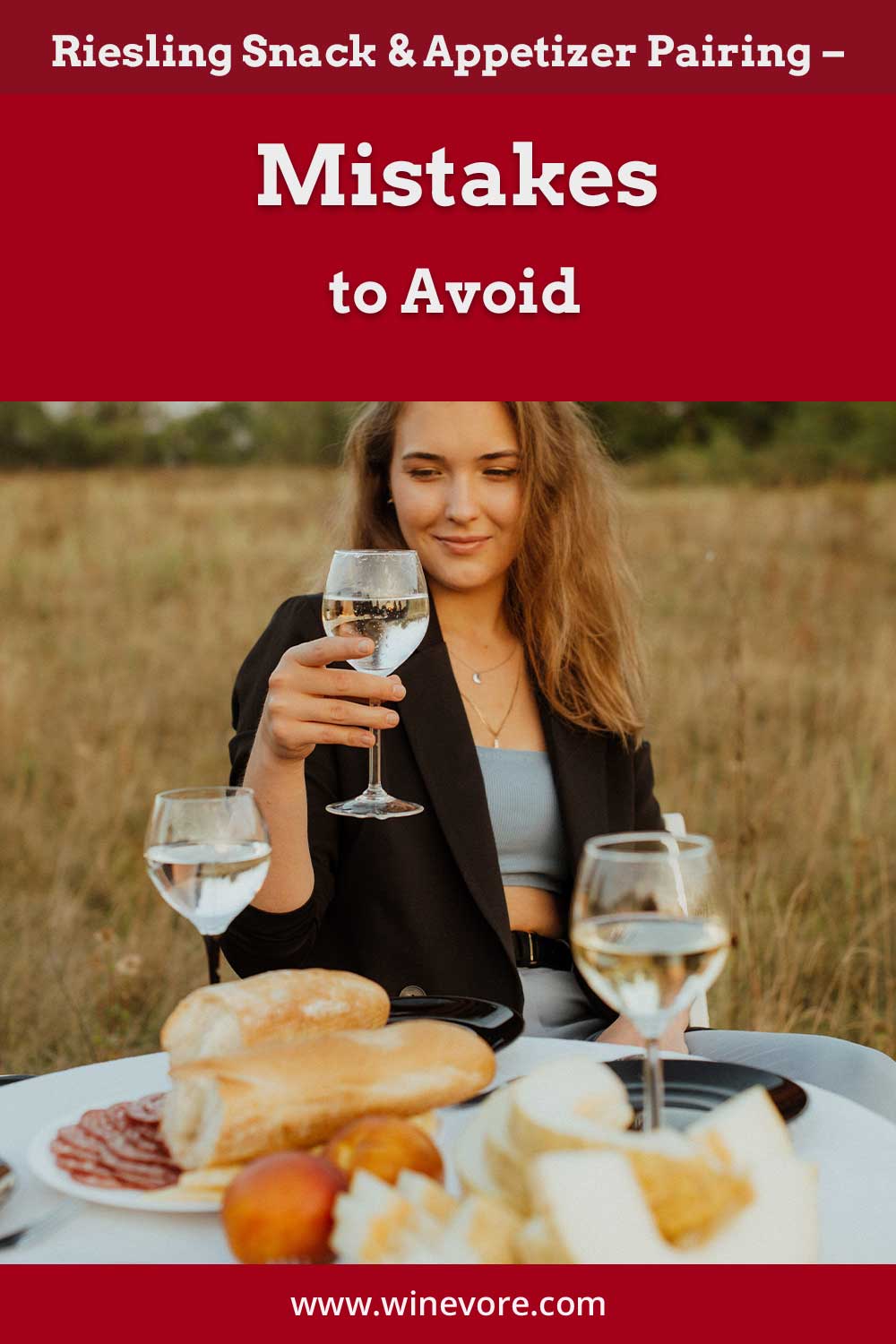 What Snack Goes Well With Riesling
Riesling wine, sweet and dry styles, pairs well with a wide array of snacks. These are ;
Spicy Chile nuts or Nachos

Sweet popcorn

Salty crackers

Baked Brie or other soft cheese

Pita bread with an avocado or garlic hummus

Prawns

Pizza

Fruit platter

Nuts like cashew and pistachio

Mini cupcakes
What Chips Goes With Riesling
Chips and white wine are a great combination. The saltiness of the chips adds to the refreshing zestiness of the wine. Easy and quick to assemble, these chips go great with Riesling and are a definite crowd pleaser. They are :
Classic potato chips

Tortilla chips with salsa

Sour cream and onion

Barbecue chips with their smokey flavor

Parmesan and garlic chips

Salt and vinegar

Sweet chili heat Doritos
What Snacks Should I Avoid
Certain ingredients in snacks just do not complement Riesling. Their flavors are too strong and tend to overwhelm the taste of wine. They are best avoided in whatever form they are served in.
Broccoli, cabbage and cauliflower

Asparagus and artichokes

Eggs

Kale

Blue cheese
What Appetizers Goes Well With Riesling
Dry and Off-dry Riesling wines come with their own set of appetizers. With Dry Riesling you can have :
Cheese board – Emmental, Feta,Brie with rind and Raclette

Apple or Pear slices with blue cheese

Smoked salmon with a creamy sauce dip

Mussels or sea scallops

Sushi

Baked ham with crisp crostini

Grilled peaches 
Off-dry Riesling wines pair well with:
Cheese board – Edam, Gouda, Blue cheeses and Gorgonzola

Chinese Dumplings

Jalapeno chips or Vinegar chips

Shrimp and scallops with sauces

Peach bruschetta with goat cheese and honey

Spicy olives
With sweet Riesling wines, you can pair it with pies and many citrus desserts.
Lemon meringue pie

Berry desserts

Caramelized pears with blue cheese

Peach cobbler
What Appetizers Should I Avoid
Depending on the style of wine being served, be it dry or sweet Riesling, it is best to avoid specific food types. 
Heavy red meat

Tomato based sauces 

Stuffed mushrooms

Kale chips
Final Thoughts On Riesling's Snack and Appetizer Pairing 
In conclusion, whatever style of Riesling you choose, it must balance out with the flavor of the food. As long as you stick to certain guidelines, it is possible to have a good combination of wine and food, giving it the wow factor.