Champagne Made Outside France
Last Updated on August 1st, 2023
Reader Disclosure
Disclosure: We may earn commissions for purchases made through links on our site. Learn more on our about us page.
We all might know someone who claims that real Champagne is only made in France, but how can that be true when you see California Champagne in your grocery outlets?
To many of us, Champagne is simply a beverage we use to celebrate an anniversary, birthday, graduation, or any other special event. However, there's a lot more to know than just what foods to pair with a Champagne.
As time goes on, many forget about the history of Champagne and often rub off those people who tell you that real Champagne comes from France.
It's out of respect for the Champagne region of France that many distributors in the United States are calling it sparkling wine and ditching the name Champagne.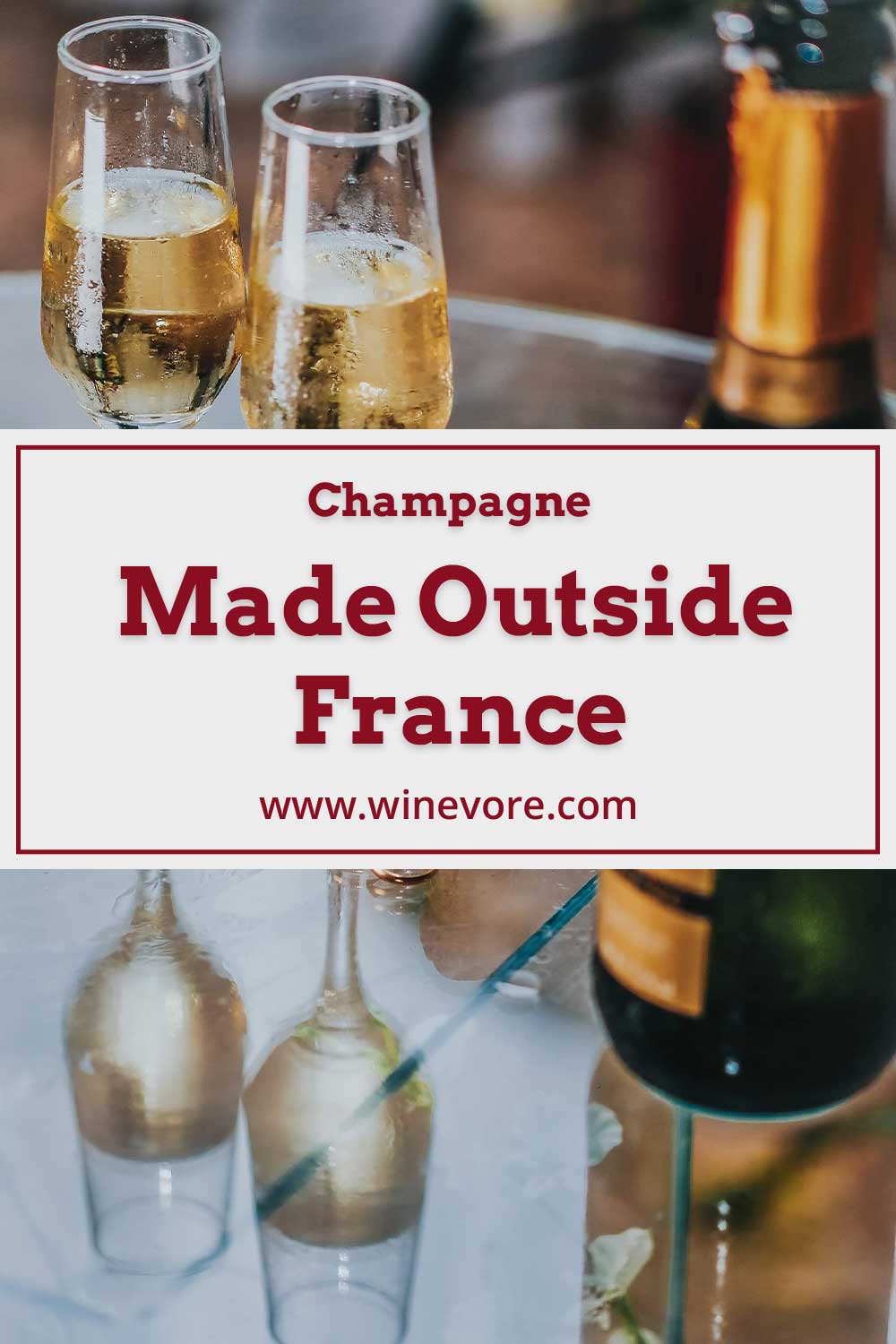 Can Champagne Be Made Outside of France?
Yes and No, allow us to explain that sparkling wine can be made outside of France. In 1891, France trademarked the name 'champagne' internationally. Therefore, today any beverage cannot be officially called Champagne unless produced within France's Champagne region.
This, of course, does not stop the United States from finding loopholes within the trademark, leaving many winemakers in California with the legal ability to name their wine Champagne.
However, this loophole only applies to those who already used the name Champagne before 2005.
Why Is Champagne Made Only in France?
Aside from the legal trademarks, Champagne can only be produced in the Champagne region of France due to the grapes that are cultivated in that region.
True Champagne can only be made from Pinot Meunier, Pinot Noir, and Chardonnay grapes, all due to the Madrid system (an 1891 treaty that protects the name champagne).
Who is the Largest Producer of Champagne?
Moet & Chandon was founded in 1743 by Claude Moet in Epernay, France. The winery is now considered to be the world's largest producer of Champagne.
Distributing well over 30 million bottles of Champagne a year, the company employs around 1,715 individuals as of 2011. The Luxury Goods Company, or LVMH, founded in Paris, France, in 1987, is currently Moet & Chandon's parent company.
Today, LVMH has a net worth of around $200 billion.
What is Champagne made outside of France called?
There are many names for Champagne outside of France, especially in different countries. Some of these names include sparkling wine (in the US out of respect for the trademark), cava (Spain), Espumoso (Spain), and Franciacorta (Italy).
Many winemakers in the US don't care to respect the trademark, but it's becoming more common for companies to simply call it sparkling wine instead of Champagne.
What is California Champagne?
Brands like Korbel often use the name California Champagne. California sparkling wines like these are usually made with three grape varieties that are grown in the state of California.
Typically made from grapes such as Pinot Noir, Chardonnay, and sometimes even Pinot Meunier.
Final thoughts on Champagne made outside France
Champagne-like wine can be made outside of France, and unlike California, many US wine companies call it 'sparkling wine.'
Besides California's loophole for the Champagne Trademark – a wine cannot be called Champagne unless it's made in the Champagne region of France.
The largest producer of Champagne in the world is Moët & Chandon, producing over 30 million bottles of Champagne a year. In different countries, there are different names for Champagne.
Some of these names include sparkling wine, cava, and Espumoso. California Champagne is typically made from grape varieties such as Pinot Noir and Chardonnay.
Needless to say, it's important to recognize those US wine companies out there that continue to use the name sparkling wine in respect of France's trademarked Champagne.