Wineries that Donate to Nonprofits – Find Generous Wineries to Support
Last Updated on August 1st, 2023
Reader Disclosure
Disclosure: We may earn commissions for purchases made through links on our site. Learn more on our about us page.
There are many nonprofit organizations that dedicate their time and money to many different causes that leave an impact on not only their personal communities but the world. 
As of 2020, the United States of America has registered around 1.8 million nonprofit organizations that all have unique goals to make a change.
While many wine companies donate to these organizations every year, it's important to note that there are many other companies, religious groups, and even individual people who offer donations in different forms every year.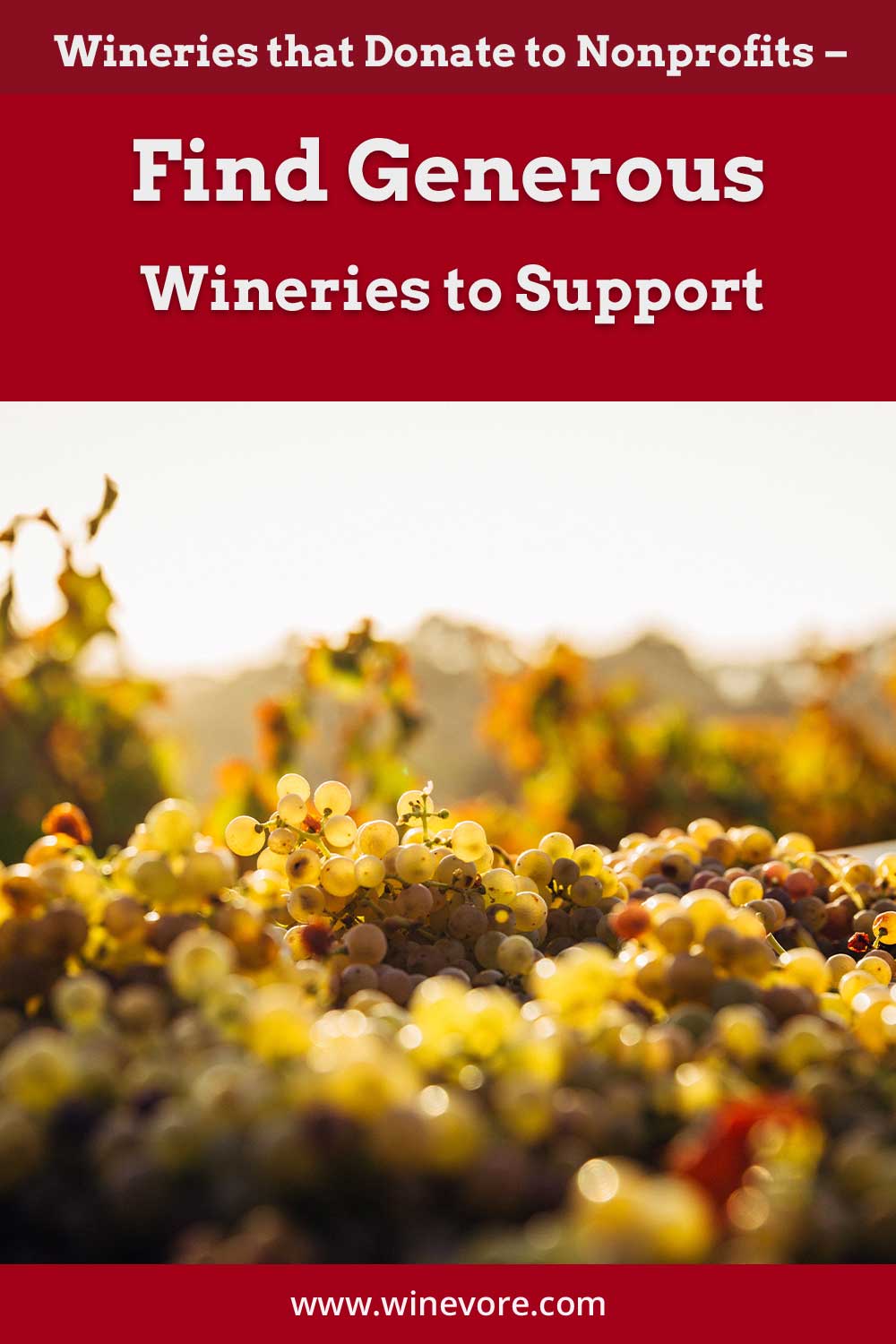 Do Wineries Donate To Nonprofits?
Yes, there are many wineries out there that choose to donate to nonprofit organizations. While many choose to donate to local nonprofits within their area, there are many who openly donate to many organizations. 
Some vineyards also offer online forms for donation requests, which ultimately provides those wineries with a plethora of nonprofit organizations to choose from. 
Which Wineries Donate to Nonprofits?
There are so many wineries, vineyards, and estates that donate to nonprofit organizations, so many in fact, that we couldn't list all of them! However, listed below are some of those wine companies with brief information on the specifics of their donations.
Elk Cove Vineyards – donates to local and national nonprofits every year

Jackson Family Wines – supports local nonprofit organizations

Willamette Valley Vineyards – supports charitable organizations, preferably within their local community
How Many Wineries Donate to Nonprofits?
It's difficult to pinpoint an exact number of wineries that donate to nonprofit organizations. This is because there are wineries all over the world in different countries that donate to nonprofits and charities. 
Listed above and below are some popular wineries and vineyards that donate to nonprofits. 
However, if you're in search of a particular or local winery or vineyard, the best way to configure if they donate to local or nonprofits is to call or check out their direct website for more information.
Which Winery Donates The Most to Nonprofits?
While many wineries and vineyards donate to nonprofits and charity, there are a few that might donate a bit more than others. This is perfect for organizations that need the extra funding for the impact they are trying to make on the world or society itself. 
Listed below are a few popular wineries, vineyards, and estates that are known to donate a lot to nonprofits and charities.
Iron Horse Vineyards – Ocean Reserve Blanc de Blanc purchase proceeds support the National Geographic's Ocean Initiative.

Coppola Winery – Bee's Box Wine purchase proceeds (10%) support a variety of organizations that help educate on the conservation of bees.

Bob Cabral Wines – proceeds are donated to a variety of organizations, including those promoting farming, fire relief programs, and local schools.
Final thoughts on Wineries that donate to Nonprofit Organizations 
Wineries, vineyards, and estates all over the world donate to nonprofit organizations every year. Each wine company has its own focus on what it wants to donate to in order to make an impact on local communities and worldwide nonprofit organizations. 
While some donate more than others, some popular wine companies that are known to make a huge impact from their donations include but are not limited to Iron Horse Vineyards, Coppola Winery, and even Bob Cabral Wines. 
If you are in search of a wine production company to fund your nonprofit organization, there are many to look into. 
First, however, it might be worth looking into some of your local businesses for support, for there are many businesses that actually prefer to donate to local organizations rather than national ones.