Wine Pairings with Cacio e Pepe
Last Updated on August 1st, 2023
Reader Disclosure
Disclosure: We may earn commissions for purchases made through links on our site. Learn more on our about us page.
Wine and cheese are two of the most popular foods pairing, and it's easy to see why. They both have a depth of flavor that can really enhance each other. 
In this post, we'll be exploring some of the best cacio e pepe wine pairings, so you can choose the perfect wine for your next meal. From reds to whites, we have a variety of choices for you to choose from. So what are you waiting for? Let's get started!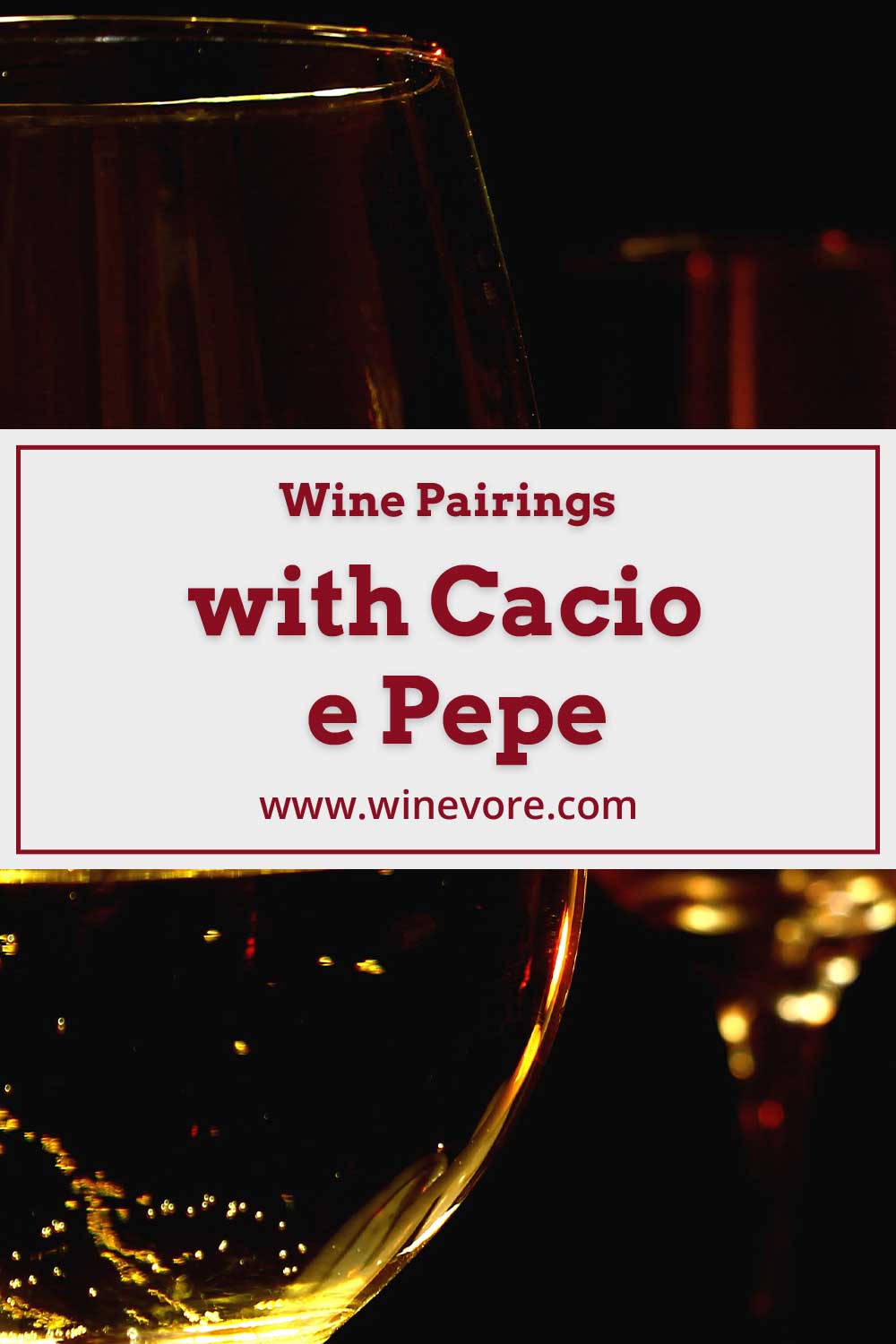 What wine pairs with Cacio e Pepe?
Although there are many types of wine that can pair well with Cacio Pepe, some of the best choices include a dry white wine or a light red wine. The dry white wine will help offset the cheese's creamy texture, while the light red wine will complement the salty flavor. 
Of course, it is always important to experiment with different wines to find the perfect pairing for your own taste buds. Ultimately, the best wine to pair with Cacio Pepe is the one that you enjoy the most.
Is it better to Drink Red Wine or White Wine with Cacio e Pepe?
It is better to drink white wine than red wine with this dish. This is because white wine has the perfect acidity and fewer tannins than red wines. So the next time you cook up cacio e pepe, grab a bottle (or two!) of white wine to enjoy with your meal. 
Can You Pair Rose Wine With Cacio e Pepe?
Can you pair rose wine with cacio e pepe? That's a question that's been on many wine lovers' minds. And the answer is… maybe. 
Rose wine can be tricky to pair with food, as it can often be too sweet or too light. The good news is, it can pair extremely well with cacio e pepe. Just be sure to choose a rose that is dry and not too sweet. 
What Wine is Traditionally Paired with Cacio e Pepe?
White wine is most traditionally paired with cacio e pepe. Why white wine? There are a few reasons. First, white wine's acidity helps cut through the cheese's richness. 
Second, the pepper in the dish can be overwhelming, and the sweetness of white wine helps to balance out the heat. And finally, white wine is simply a classic pairing for pasta. So next time you're making cacio e pepe, open a bottle of white wine. You'll be glad you did.
Are There Any Wine Varieties You Should Avoid Drinking With Cacio e Pepe?
There are a lot of things to consider when pairing wine with food. Think about the dish's flavors, the wine's weight, and the acidity levels. But one pairing that often gets overlooked is wine and cheese. 
Cacio e pepe is a classic Italian dish made with just pasta, cheese, and pepper. And while you might think any old wine would go well with it, there are actually a few varieties you should avoid. 
First, stay away from any wine that's too heavy or tannic. The cheese will already be quite rich, so you don't want a wine that's going to overwhelm the dish. You also want to avoid any wine that's too high in acidity. 
The acidity accentuates the dish's pepper, making it quite spicy. 
Chianti vs. Pinot Grigio – Which One is Better For Pairing With Cacio e Pepe?
Chianti has a much bolder flavor than Pinot Grigio. This is because Chianti is a red wine, while Pinot Grigio is a white wine. Red wines are typically made with darker, more deeply colored grapes, which gives them a more robust flavor. 
White wines are usually made with lighter-colored grapes, resulting in a more delicate flavor.
The bolder flavor of the Chianti helps offset the richness of the cheese, while the Pinot Grigio's delicate flavor allows the pasta's flavors to shine through. 
Ultimately, both wines can be recommended to have with this dish.
Final Thoughts on Wine Pairings with Cacio e Pepe
Cacio e pepe is one of those dishes that can be enjoyed, but pairing it with wine is always a perfect choice. So what better way to celebrate this delicious pasta dish than with a glass of delicious wine? 
By following our simple pairing guide, you'll be able to create a perfect wine and cacio e pepe pairing every time. Whether you want to have white or rose, there are a variety of options that you can choose from. 
So enjoy this classic Italian dish with your choice glass of wine!