Wine Pair Osso Buco
Last Updated on August 1st, 2023
Reader Disclosure
Disclosure: We may earn commissions for purchases made through links on our site. Learn more on our about us page.
Northern Italy is one of the world's food and wine capitals. Osso buco is a dish from the region of Lombardy which perfectly captures the essence of Northern Italy. 
What makes this dish so rich is the sauce. Cuts of veal shanks are browned and stewed in bone marrow broth, rich vegetables, and white wine. The flavorful liquid reduces, and the meat becomes so tender that it falls off the bone. 
Fresh parsley and garlic serve as the traditional garnishes. In Lombardy, osso buco is traditionally served on top of risotto or polenta. Risotto Alla Milanese is what most fans of the dish prefer in Italy. 
It's parmesan and saffron flavors absorb osso buco's juices and create one of the richest food experiences imaginable.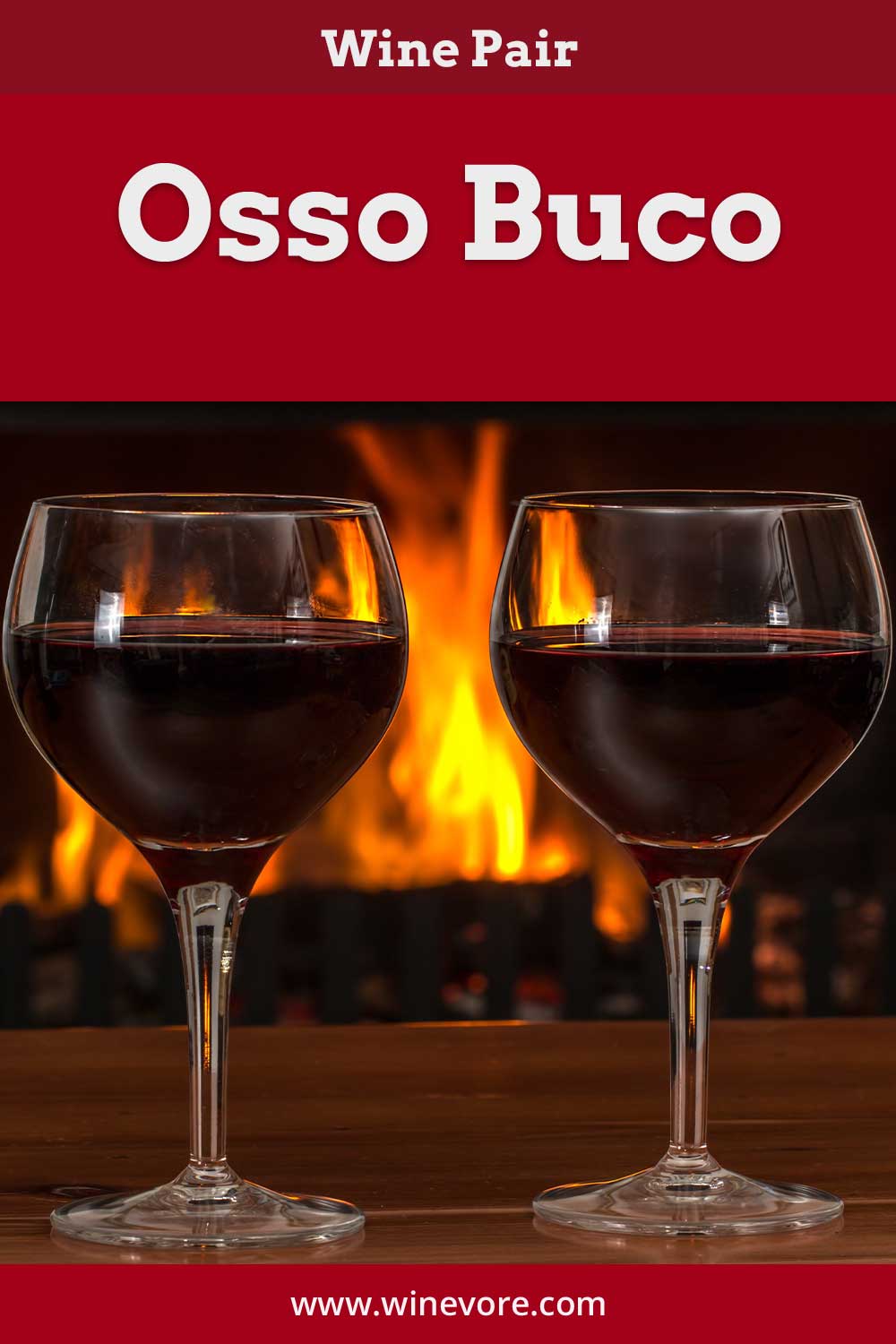 What Wine Pairs Best with Osso Buco?
Fortunately, the regions near Lombardy where osso buco originates also produce powerful earthy red wines. Sangiovese, Tempranillo, Carignon, Rhone blends, Corvina, and Nebbiolo all make the perfect companions. 
The greatest companions of all come from neighboring Piedmont. Here, the Nebbiolo grape is made into Barolo and Barbaresco. These are some of Italy's most award-winning wines. 
Another wine that pairs well with osso bucco is Châteauneuf du Pape. This full-bodied red blend from the south of France can hold up to the powerful flavors of osso bucco. 
What is Traditionally Served with Osso Buco?
Traditionally, osso buco is served with Barolo or Barbaresco. These wines pack a punch and have tannins that work beautifully with the bone marrow-infused broth. 
What wines to avoid with Osso Buco?
Because of the intense flavors of the dish, white wine, sparkling wine, or light-bodied read will fail. Osso buco will overpower many wines, so it's best to pair it with an intense dry red wine. 
Final Thoughts on Pairing Wine with Osso Buco
Osso buco is a dish from Lombardy, Italy, consisting of veal shanks stewed in a broth of bone marrow, vegetables, and white wine. 
The best wines to pair with osso buco are heavy dry red wines like Barolo, Barbaresco, Sangiovese, tempranillo, and other full-bodied red blends. 
Traditionally, osso buco is served with Barolo. White wine, light-bodied reds, and sparkling wines should be avoided because the dishes' flavors will easily overpower them.