A White Wine Description For Those Who've Never Tasted It
Last Updated on August 1st, 2023
Reader Disclosure
Disclosure: We may earn commissions for purchases made through links on our site. Learn more on our about us page.
Describing the intricacies, the multitudes of aromas, the endless number of tastes, and varieties of wine would take an entire course of Wine-ology. Let us dive in.
How would you describe the taste of white wine?
When thinking about how to describe the taste of wine, remember these four categories: The fruit level, the sweetness level, the body profile, and then Finish. 
The fruit level:
Fruit forward terms: Fruit-driven, sweet attack, Jammy, Extracted, Flamboyant, Sweet tannin, New-world style, Ripe

White Wine Fruit terms: Sweet Meyer Lemon, Baked Apple, Mandarin Orange, Ripe Peach, Mango, Sweet Pineapple, Ripe Pear, Cantaloupe, Crème Brulee, Caramel, Vanilla

Savory terms: Herbaceous, Earthy, Rustic, Food Friendly, Old-world style, Bone-Dry, Elegant, Closed, Vegetal, Stalky, Stemmy, High Minerality
The Sweetness levels; 4 levels of sweetness:
Bone-Dry – Extremely dry, no sugar, possible astringency

Dry – Most still wines belong here, trace amounts of sugar

Off-Dry – a popular term for semi-sweet vintages, i.e., Riesling

Sweet- This is where the dessert wines are found.
Remember, sommeliers and professional tasters use these terms to direct how newer wine connoisseurs can talk about vintages and be on the same page with the industry.
The Body Profile: 
Light-bodied: 
 Lover alcohol levels, lower tannin, and higher acidity

Common terms used to describe the lighter white wines: Light, Zesty, Airy, Lean, Racy, Zippy, Austere, Lively, Crisp, Brilliant
Medium-bodied- not generally associated with white wines, this term is for Reds and Rosé.
Full-bodied – Fill one's palate with texture and intensity.

A common vocabulary for heavier white wines: Rich, Lush, Oily, Buttery
The Finish- is best described as the aftertaste (or finish) it has on the flavor.
Common terms: Plush, Round, Velvety, Supple, Opulent, Voluptuous, Creamy, Buttery, Lush, Soft, Silky 
Three types of smooth finishes concerning white wine:
Tart finish- think cherries

Sweet tannin finish or sweet smoky Finish

Dried fruit 

Spicy Finish terms: Juicy, Sharp, Balsamic, Austere, Peppery, Lean, Edgy, Lively

Bitter Finish terms: Austere, Citrus pith, Quince, Bitter Almond, Green Mango, Green Almond, Chalk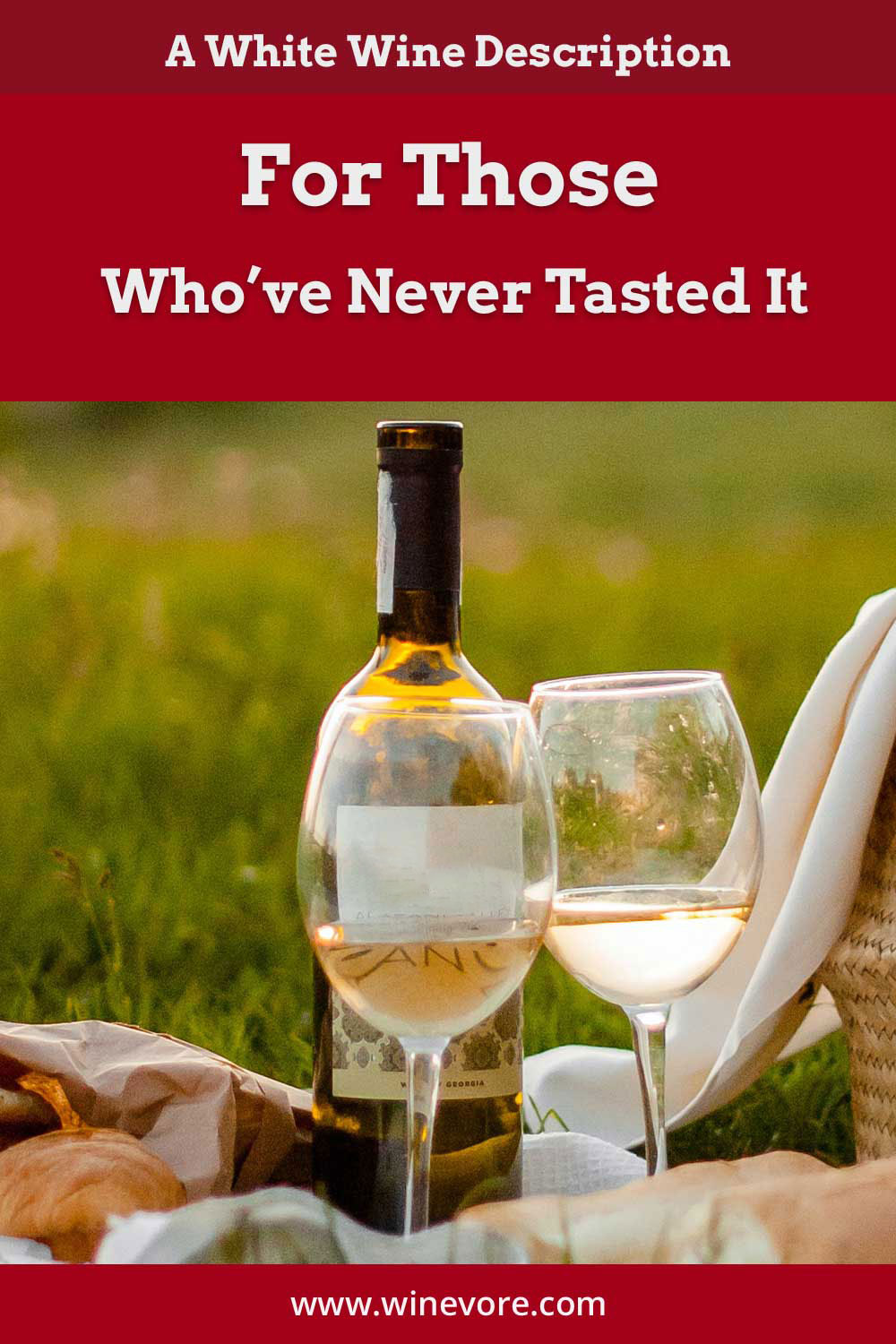 Does White wine taste good?
There is a broad spectrum of palates that come with white wines. 
Chardonnays are full-bodied with higher bitterness levels, then there is Sauvignon Blanc and Riesling, and the sweetest of them all, Moscato d'Asti. There are hundreds of vintages to try, and with a world full of wine connoisseurs, there is a good bet that white wine tastes good. 
How will I know if I like the taste of white wine or not?
As with any wine, you must try the vintages to know whether you enjoy the taste or not. Oh, and FYI, the more seasoned a wine drinker you become, the high number of vintages you will enjoy in time. There is almost no flavor palate that white wines cannot satisfy.
Try lighter-bodied white wines like Pinot Grigio and Moscato d'Asti. See if you like sweet wines; try the other spectrum and get a full-bodied Sauvignon Blanc or Chardonnay. You will have a solid understanding of the flavors and aromas you find appealing by then. 
Is White wine sweet, bitter, or dry?
If we look at the list compiled earlier in the article, we can easily see all three. If you are looking for a sweet wine, consider a Moscato d'Asti, or a Riesling. 
If you are looking for a bitter option, consider a full-bodied Chardonnay, also fulfilling the dry requirement. White wines are versatile. 
You can find a good wine for just about any seafood dish, light pasta dish, and/or dessert. The flavor palate range is considerable. 
Is the taste of white wines suitable for beginners?
The first vintage you try may not be your cup of tea. Try sweeter vintages first if you like lighter foods and desserts when starting. If you are a steak and potatoes person or enjoy red meat, consider trying a red wine. 
White wines are an excellent starting place; most beginners do not enjoy tannins. Tannins are polyphenolic biomolecules that bind with proteins within the wine to promote a better tannin structure. 
Red wines are high in tannins, which could be overwhelming to a new wine palate. 
What types of white wines are food for beginners?
There are differing opinions on where to begin. Here is a list of notable new vintages suitable to start.
Zilliken Rausch Riesling 2019

Künstler Hochheimer Kirchenstück Im Stein Riesling 2019

King Estate Viognier 2016

Santa Margherita Pinot Grigio 2020

Jermann Pinot Grigio 2019

Kunde Chardonnay 2019

Schug Sauvignon Blanc 2019

Duckhorn Sauvignon Blanc 2020
Final thoughts on White Wine Description Taste
White wines are a good place to start when beginning to enjoy what the various vineyards have to offer. Although there is a wide world of different vintages to try, be sure to study the terminology. Remember to enjoy wine responsibly, but enjoy all the same.