White wine – cooking Turkey
Last Updated on August 1st, 2023
Reader Disclosure
Disclosure: We may earn commissions for purchases made through links on our site. Learn more on our about us page.
November holds a family feast holiday, known for its turkey and other traditional foods. Wine has a versatile role during this holiday.
One such role is the ability to enjoy a glass as you cook or make a nice sauce for a prepared dish. So even when an old unfinished bottle is found, think cooking.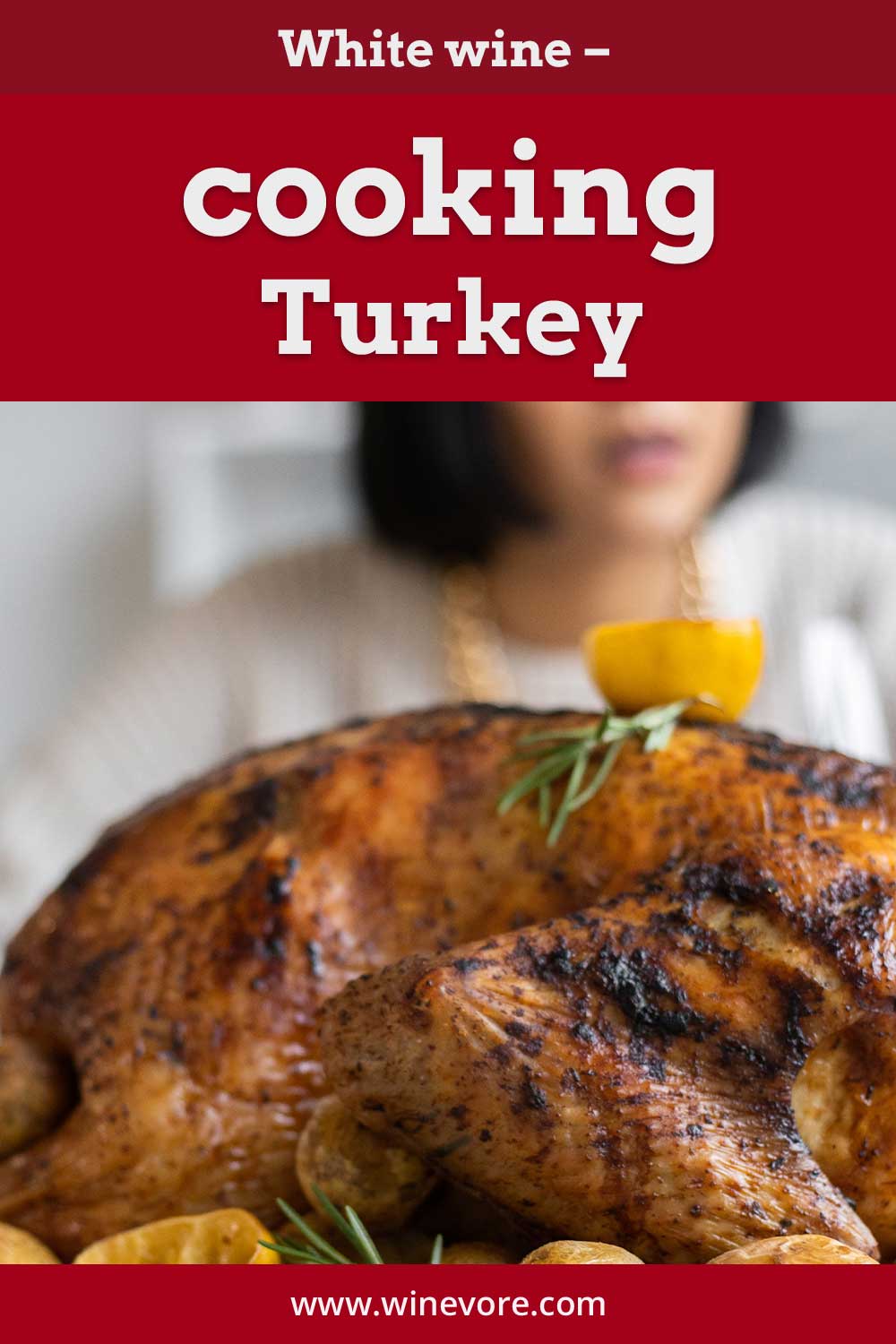 How do you cook a turkey with white wine?
Most turkey recipes call for 'pieces of the bird." For instance, slices of turkey breast marinade in a light sauce or a turkey leg deep-fried for renaissance festivals. 
There are different ways to use white wine in cooking, pour it on a cast-iron skillet for a splash of flavor, use it as a base for a marinade, or mist it into a sauce. Here is a recipe from Martha Stewart.
Martha's recipe:
Serves 4. 
One small boneless, skinless turkey breast half (about 2 pounds)

Coarse salt and ground pepper

Two tablespoons of olive oil

2 cups dry white wine, such as Sauvignon Blanc 
¼ cup Dijon mustard

¼ cup chopped fresh parsley
Directions:
           Step 1 – Cut Turkey, skinned side down, into eight cutlets. Cover with plastic wrap, lightly pound cutlets with a meat mallet or bottom of a heavy skillet until (an) inch thick—season with salt and pepper. 
           Step 2 – Heat one tablespoon (of) oil over high in a large skillet. Working in batches, cook cutlets until browned and opaque throughout, 2 to 3 minutes per side (add one tablespoon of oil when needed). Transfer to a plate and cover loosely with foil.
           Step 3: Add wine to the skillet and bring to a boil. Cook, scraping up browned bits with a wooden spoon until reduced to ½ cup, 6 to 8 minutes. 
Whisk in Dijon; bring to a simmer. Remove from heat; stir in parsley, and season with salt and pepper—top turkey with sauce. 
What is the best white wine you should use for cooking a turkey?
From variable sources, Pinot Noir and Riesling were most mentioned as the optimal cooking wines for turkey. The Pinot's tangy berry notes bring that thanksgiving cranberry dish flavoring, but the turkey meat soaks up the juices. 
As far as the Riesling goes, paired with smoked turkey, the low acidic wine naturally complements the spiciness of smoked meat. 
What are the traditional white wine varieties for cooking a turkey?
Traditional, or 'old-world,' refers typically to the vintages from Europe. Vintages such as Sauvignon Blanc, Riesling, Gewürztraminer are known to go well with turkey dishes. Pinot Noir is the go-to for many experts, which in some cases can be a traditional pick.
Oaked vs. Unoaked chardonnay – Which one is better for cooking a turkey?
Chardonnay is an exceptional wine in and of itself; this vintage comes in red and white varieties. In addition, there are two processes, steel-aged and oak-aged. The 'unoaked' chardonnay is lighter, fruitier, and crispier than the oaked version. 
Oak-aged Chardonnay has aromas of vanilla or honey with a light fruitiness flavoring. As far as cooking with chardonnay, there is no place to go wrong. The turkey meat, when tender, has the innate ability to soak up the flavors and seasonings provided by the chef. 
Which white wine varieties should you avoid for cooking a turkey?
As with all foods, not every wine goes well with dishes being served; the wine selected must not overwhelm the meat. Fundamental knowledge says a chef should avoid excessive tannin levels when cooking with turkey. 
There are not many that work with turkey, but here is a list of red wines to avoid:
Cabernet Sauvignon

Nebbiolo

Sémillon
Tips and tricks for a perfect turkey cooked with white wine.
When thinking about how you would like to prepare your turkey, remember to consider how the spices and seasonings will interact with the natural flavors of the bird itself. 
Consulting with Food Network chefs, here is some knowledge to help you when cooking:
On average, each guest will eat about 1 – 1 ½ lbs. of turkey

For every five pounds of Turkey, it will take 24 hours to thaw completely

It will take 20 minutes per pound of turkey to cook completely, when roasting the bird

At a temperature of 165 degrees is when you can safely say the bird is cooked thoroughly 
Final thoughts Cooking Turkey with White Wine
Turkey and wine are a traditional pairing for holidays such as Thanksgiving. When selecting a white wine for cooking, consider traditional dry vintages from France, Germany, and Italy. Pinot Noir is a good choice if you would like to try something else.