What is Moscato's Alcohol Content? It's Not Exactly What You Think
We may earn commissions for purchases made through links on our site. Learn more on our about us page.
Where it begins with Moscato, we must go back in time. The grape, Muscat, can trace back to Ancient Egypt. 
The most known grapes are the Muscat Blanc, a Petits Grains (aka Muscato Blanco), and the other is Muscat of Alexandria (aka Zibbibo grapes). Moscato has three main differentiating characteristics; the wines come in bubbly, fortified, and bubbly. 
Oenophiles say that Moscato has an adoring sweet floral aroma, or some cannot stand the wine. In other words, whether you will love it or not.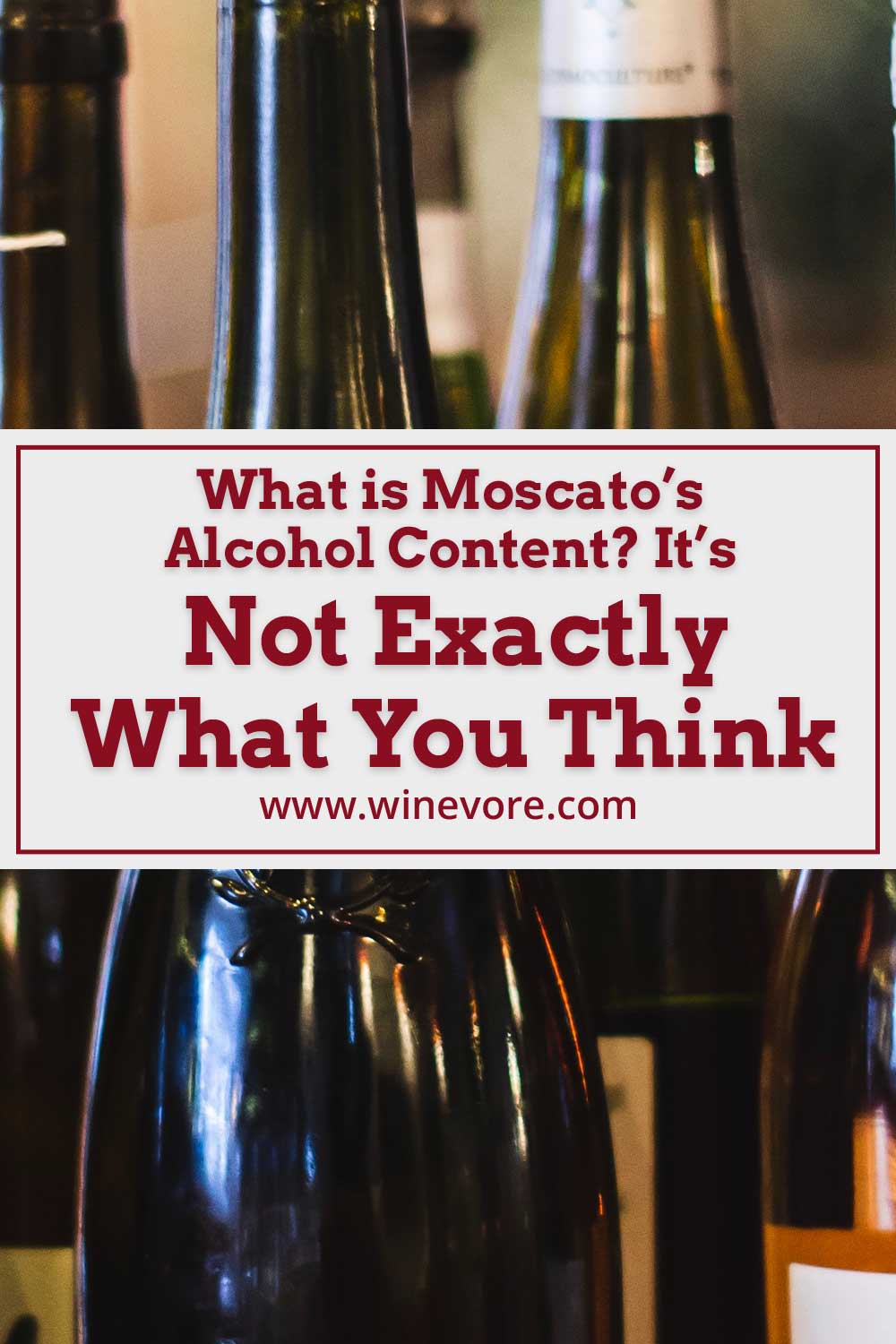 What percent alcohol is Moscato?
Most Moscato brands fall within the 5 – 10% Alcohol by volume, suitable for the lightweight crowds. Depending on the wines, you are looking for a light Moscato d'Asti from Italy, typically with an ABV of 5 to 6 percent? 
Or maybe you're looking for a higher ABV bottle of Jaboulet Beaumes de Venise muscat from France, which typically tests at 15 percent alcohol by volume. 
The truth about Moscato is that the grape is both resilient and versatile. There is even red wine, Moscato. So, depending on the occasion, Muscato can fit any light-bodied, easy-to-drink entertainment needs you might have. 
Is Moscato considered an intense wine?
Wines like Grenache Blanc from the northern Rhone in France would be considered a robust wine, but other varieties of Moscato have lower alcohol contents. 
So when compared to other wines, both red or white, specific brands of muscat wines will sit you down on your butt. 
Other white wines test at 12 percent like Pinot Grigio or 13 – 15 percent like Chardonnay. Sherry is known to hit 20 percent alcohol by volume, Port and Marsala, and Madeira included. 
Which brand of Moscato has the most minor/most alcohol?
A Pink Moscato failure was in the 5 percent alcohol by volume category.

Ruffino Moscato d'Asti, Italy, which has a peach, and orange blossom aroma, has been tested at 5-6 percent ABV. 

Muscadet Melon de Bourgogne, France, Oregon, and Washington have a strong pallet of citrusy lemon, lime, green apple, and green pear, which comes with a 10 to 11.5% ABV.

Grenache Blanc, Clairette, and Bourbelenc of the Northern Rhone Valley of France have a citrusy aroma, low acidity, and an ABV between 10-15%. 
How strong is Moscato compared to other types of wine?
According to Sherry and Port, Moscato is more of a middleweight than a heavyweight. In most cases, Moscato tops out at 15 percent ABV, Sherry and Port are in the 20 percent ABV category, and a slew of white wines follow in the 5 to 13, 14 percent ABV range. 
White wines reach about ten percent ABV; Moscato ranges between five and 15 percent alcohol by volume. Pinot Grigios test at 12 – 13 percent in some bottles and Chardonnay around the 13 -14 percent mark. 
Final Thoughts on Moscatos's Alcohol Content
There are a wide variety of Moscato wines to try. Sparkling, Still, fortified, and not to mention the mixed drink phenomenon hitting today's scene. Remember, Moscato is ordinarily sweet, with fruity and floral aromas, which are perfect elements for entertaining.