What does Merlot taste like?
Last Updated on August 1st, 2023
Reader Disclosure
Disclosure: We may earn commissions for purchases made through links on our site. Learn more on our about us page.
The world's second most planted red grape variety, Merlot produces rich reddish-purple colored wines. These wines have the taste of dark fruits such as:
black cherries

blackberry

plum

raspberry

typically with a chocolatey finish
Although Merlot is originally from the Bordeaux region of France, the grape variety is now grown in wine regions across the world. You can find these grapes in the USA, Italy, Australia, Argentina, and Chile. The climate in which it is grown will greatly impact the final taste profile of wines made from Merlot.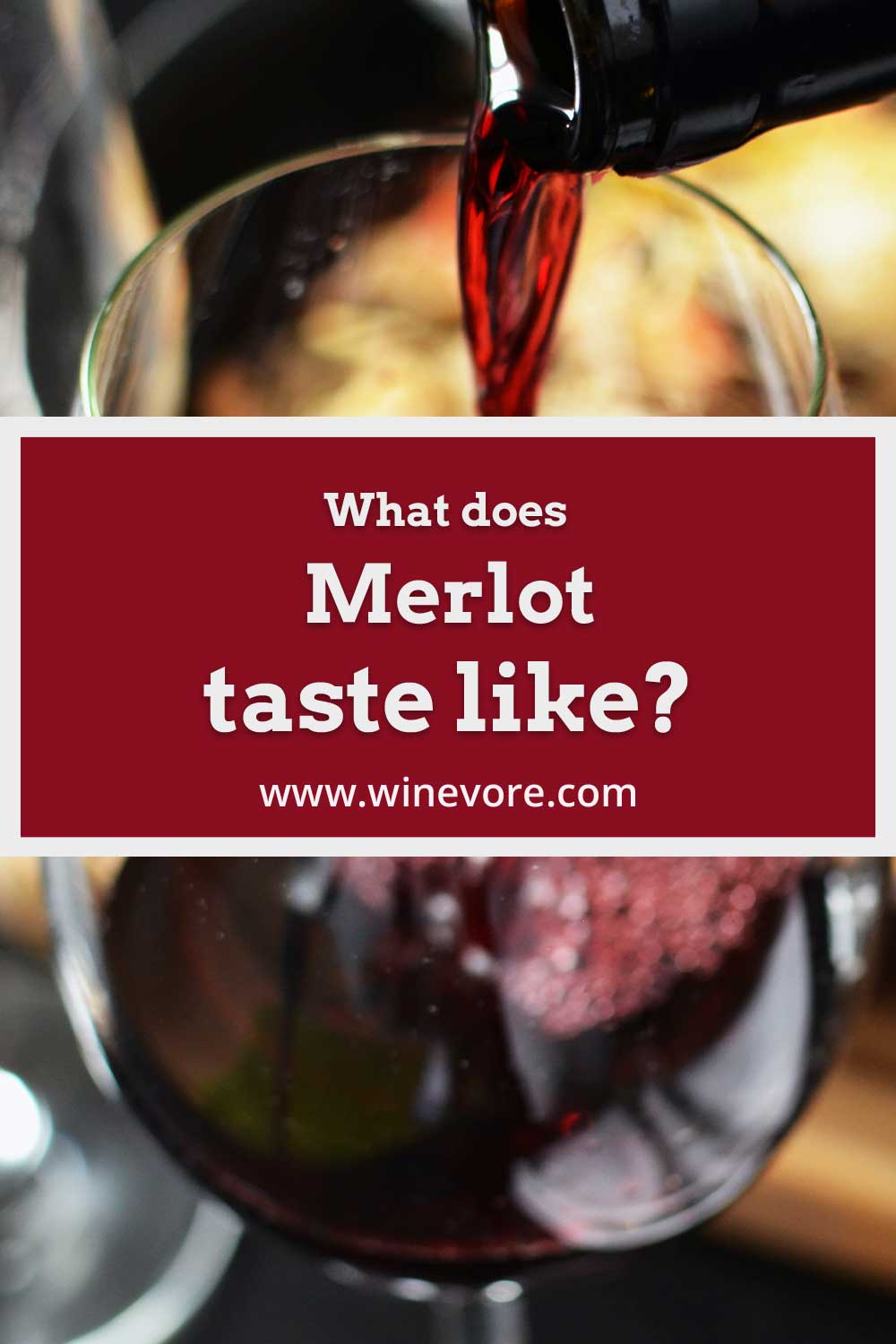 How would you describe the taste of Merlot?
In general, Merlot wines taste of:
black fruits (black cherries, blackberries, plums) 

a chocolatey finish 

undertones of vanilla, mocha, or tobacco may also be present 
The wine will taste smooth in the mouth and well-balanced in acidity with supple tannins, making it easily drinkable. 
Merlot grapes can adapt well to a variety of climates. But its final taste profile will differ depending on whether it is a cooler or warmer region in which it was grown. 
In cooler climates, such as Bordeaux, Merlot wines will be a light ruby red color taste of earth flavors: 
tobacco 

tar 

herbs 

black truffle 

allspice 
They'll also tend to have a lower alcohol content of around 13%.
In warmer climates, such as Australia, Argentina, and California, Merlot will be deeper in color with bigger fruit flavors: 
raspberries 

blueberries 

blackberries 

plums 

notes of vanilla 
These wines will often have a higher alcohol content (14.5%).
How will I know if I like the taste of Merlot or not?
You'll like Merlot if you like dry red wines with red and dark fruits flavors. As these wines are smooth and easily drinkable, they are also a great choice for various occasions. This is a good choice if you're looking for a wine that will pair with a wide variety of sweet and savory foods. 
Is Merlot sweet, bitter, or dry?
Despite its fruity taste profile, Merlot wines are very dry. After the grapes are pressed, they undergo a full fermentation process which means that little-to-no residual sugar is left in the wine. As a result, merlot wines from cooler climates, such as France, contain more tannins than those from warmer climates and will have a drier finish in the mouth.
Is the taste of Merlot a nice wine for beginners?
Easily drinkable, Merlot is a great wine for beginners and is often recommended as a first introduction to red wine. As the grape variety is grown in many different countries, Merlot wines are widely available at a range of price points to suit all budgets and occasions. It's a great wine if you want to practice tasting different flavors. Pick a Merlot from a cool and then a warm climate and see if you can taste the differences. 
Merlot also makes a nice wine for beginners as its taste profile pairs beautifully with a variety of sweet and savory foods. Try pairing it with
roast chicken which matches the smoothness of the wine 

a cheeseburger which goes well with the smokey and spicy flavor 

chocolate 

fruits such as plums, blueberries, blackberries, and cherries 
Summary
Merlot is a popular red wine that tastes predominately like dark fruits. The taste resembles plums, black cherries, and blackberries with a chocolatey finish. However, its final taste profile depends upon the climate in which it was grown. Cooler regions will produce wines with tobacco and tar tasting notes, while warmer regions will have bigger fruit flavors. 
Merlot wines have a well-balanced acidity and soft tannins. They are smooth and easy to drink, making them a versatile wine that can be paired with savory and sweet food. It's a great choice for both beginners and wine connoisseurs alike.