What Does Chardonnay Taste Like?
Last Updated on August 1st, 2023
Reader Disclosure
Disclosure: We may earn commissions for purchases made through links on our site. Learn more on our about us page.
Chardonnay is the most widely planted white grape globally. The wine is a dry, medium- to full-bodied wine with moderate acidity that tastes predominately of fruits such as: 
pineapple 

papaya 

mango

apple 

lemon
Chardonnay is originally from the Burgundy region of France. But it is now grown in regions across the world, such as: 
Italy

Spain

USA (Oregon and California)

South Africa

Australia

New Zealand
Its flavor profile will ultimately depend on three factors:
The climate it was grown in

When the grapes were harvested

Whether it was aged in oak or stainless steel/plastic
Does Chardonnay taste good?
Yes, due to its fruity yet dry taste, Chardonnay is a widely popular and easily drinkable wine. There's a type of Chardonnay to suit every taste palette. Its flavor profile differs according to the region it was grown in and whether it was aged in oak or stainless steel/plastic.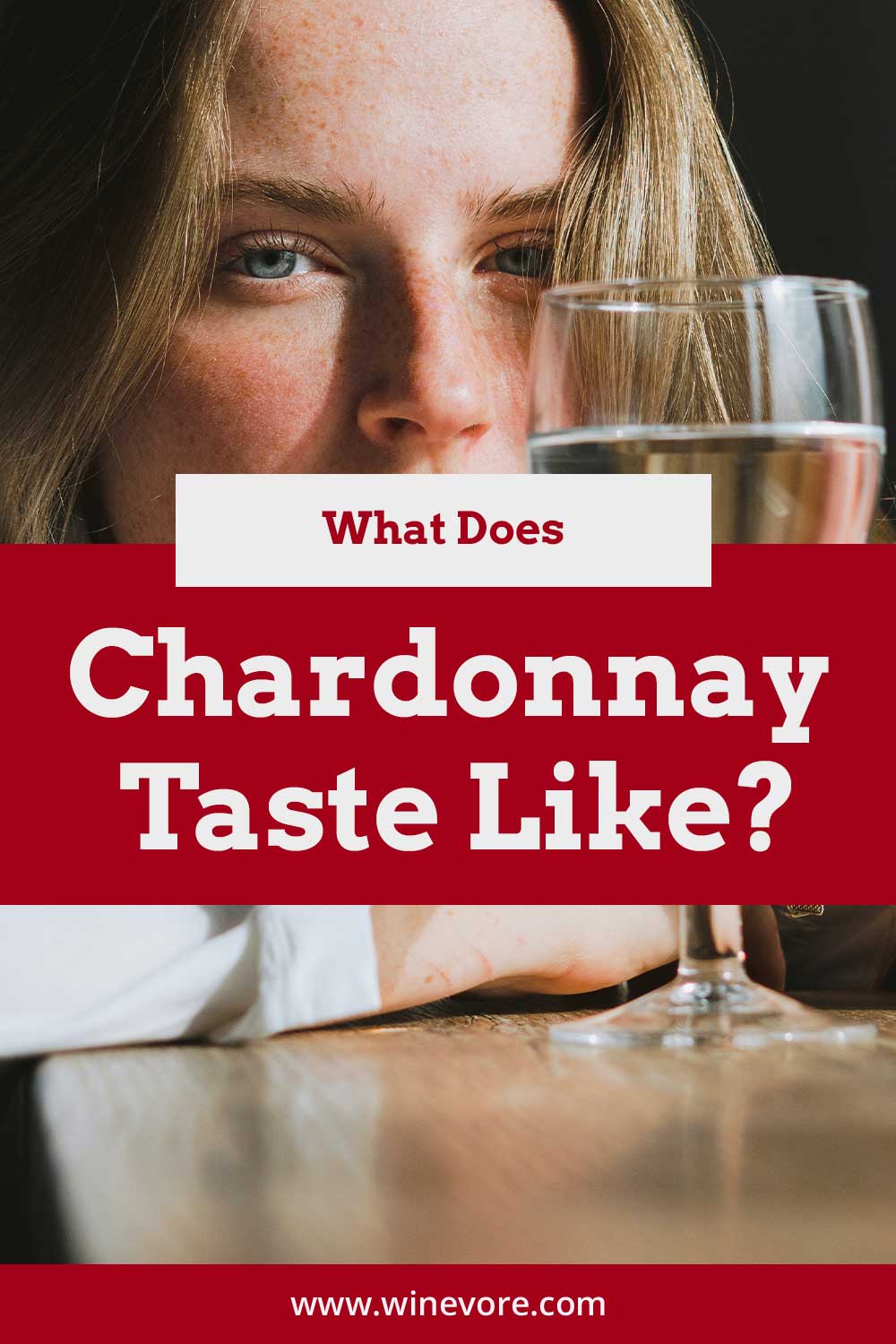 How would you describe the taste of Chardonnay?
In general, Chardonnay tastes of:
tropical fruits (pineapple, papaya, mango, passionfruit)

apple

lemon
However, Chardonnay is a neutral and adaptive grape. This makes it a favorite of winemakers as it can easily adapt to a variety of climates and winemaking processes. This means that its final flavor profile will be greatly impacted by whether the grapes were:
grown in a cool or warm climate

harvested early or late 

aged in oak barrels or stainless steel/plastic tanks 
In cooler climates, like France or New Zealand, or when grapes are harvested early, the wines will have a lower alcohol content (13%), higher acidity, and taste of:
citrus notes like lemon zest 

minerality 
In warmer climates, such as California, Chile, and Australia, or when grapes are harvested late, more sugar will be present. This creates a wine with a higher alcohol content (up to 15%), lower acidity, and flavors of ripe, richer fruits like: 
If Chardonnay is aged in oak barrels (like in the Burgundy region of France, South Australia, or California's Napa Valley), the wines will be more full-bodied. It will have a creamier texture, tasting of: 
butter

vanilla 

coconut

baking spices like cinnamon and nutmeg 
If Chardonnay is aged in stainless steel barrels or plastic tanks (like in Chablis, France; Chile; or Oregon, USA), the wines will be crispier and taste of bright and fruity flavors: 
How will I know if I like the taste of Chardonnay or not?
You will like the taste of Chardonnay if you like dry, easily drinkable whites that taste tropical and citrus fruits. In addition, it often has notes of butter and vanilla. As Chardonnay is an incredibly versatile wine, it's also a great choice for those who are looking for a white wine that will pair with a variety of foods, from aperitif to dessert. 
Is Chardonnay sweet, bitter, or dry?
 Chardonnay is a classic dry white wine (with less than 10 grams of sugar per liter) despite its fruity flavors. Winemakers usually let the yeast involved in the fermentation process eat all the sugars. 
Chardonnay that is aged in stainless steel or plastic tanks will often taste drier than those aged in oak barrels. 
Is the taste of Chardonnay a nice wine for beginners?
As the world's most popular white wine, Chardonnay is a great wine for beginners. It is widely available and can range from being very cheap to very expensive—there's a Chardonnay for every budget. 
The flavors of Chardonnay differ greatly depending on the region it is from and the winemaking process. Therefore, Chardonnay is also a good wine for beginners to develop their taste palette. For example, try comparing crisp and citrusy Chardonnay' from cooler climates with the big fruity Chardonnay from warmer climates. Or see if you can spot the difference between oaked and non-oaked Chardonnays. 
Chardonnay is also an incredibly versatile wine making it the perfect choice for beginners looking for a white wine to pair with a meal. Unoaked Chardonnays (those aged in stainless steel/plastic) typically pair well with: 
fresh seafood: oysters, lobsters, crab, white fish

chicken 

creamy cheeses: brie, mozzarella, fontina 

desserts: lemon tart, vanilla ice-cream 
Oaked Chardonnay pairs well with:
fatty seafood, salmon, swordfish, halibut

pork 

vegetable risotto or ravioli 

semi-hard cheeses like cheddar

desserts like Tarte Tatin 
Summary
Chardonnay is one of the most popular white wines for both beginners and wine connoisseurs. It is easily drinkable and grown in wine regions throughout the world. It generally tastes of: 
pineapple 

papaya 

mango

apple 

lemon
However, its flavor profile differs greatly depending on where the Chardonnay grapes are grown. If grown in a cool climate, it produces crisp wines with citrus and mineral notes. If grown in warmer climates, it produces bold, fruity wines that taste like baked apples and pineapple. 
Chardonnay will also be more full-bodied with notes of butter, vanilla, and cooking spices if it is aged in an oak barrel. Wines that are aged in stainless steel or plastic tanks will taste like bright and crisp fruits like green apple and lemon zest.