Tempranillo vs. Red Zinfandel : The Untold Similarities, Differences & Selection Criteria
Last Updated on August 1st, 2023
Reader Disclosure
Disclosure: We may earn commissions for purchases made through links on our site. Learn more on our about us page.
---
Do you think there might be a chance that this wine duo is the same? We don't blame you. They have their fair share of similarities but also stronger differences. 
Here you'll find the answer to all your questions when it comes to comparing Tempranillo and Zinfandel. So let's get into it!
Is Tempranillo The Same As Red Zinfandel?
Tempranillo and Zinfandel are not the same. They are actually far from being the same, with only minimal similarities. The wines also originate from completely different origins!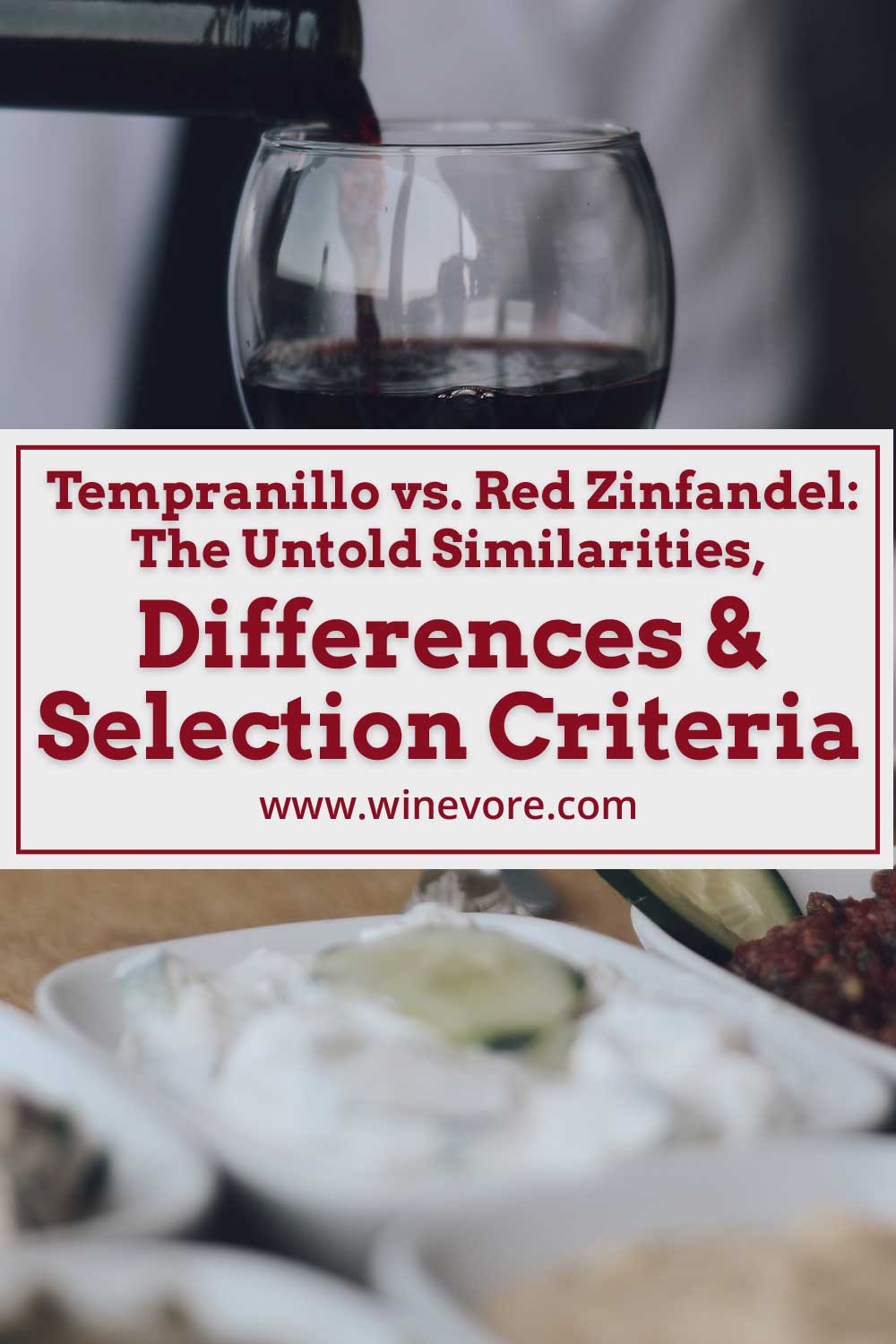 What Is Similar About Tempranillo And Red Zinfandel?
The duo discussed today seems to have a nearly even share of not only similarities but also differences! Let's begin with its similarities in grape type, notes, style, and slight food pairing matches! 
These red wines were made with their own wine grapes that are black in color (they aren't the same grape, just the same color-producing the same colored wine!). 
They can both be made into dry wines, and share tobacco notes that complement burgers and other cuisines made with lamb. 
What Is The Difference Between Tempranillo And Red Zinfandel?
These wines are considered to have stronger differences mainly because of their origins. However, they also show differences in notes other than tobacco, styles, and food pairings!
Tempranillo is most commonly made into a dry wine that carries cherry, fig, cedar, and dill notes. The wine is best paired with Mexican cuisine but can also be paired with lamb, steak, corn, and baked pasta. 
Although claimed by Americans, Zinfandel originates from Croatia. The wine carries notes of blackberry, strawberry, peach, and cinnamon. It's commonly made in three different styles: dry, semi-sweet, and sweet. 
There are a plethora of foods to pair with this wine, the most popular ones being chicken, gouda, and red peppers! Yum!
Which One Is Sweeter Or Drier Than The Other?
Due to its notes of vanilla and fruit, it's the Zinfandel that's considered to be sweeter in taste compared to the Tempranillo. 
Not to mention the Tempranillo also carries more savory notes and is most commonly made into its classic dry style, whereas the Zinfandel can be made into not only the dry style but also sweet to semi-sweet.
Which One Has More Alcohol Content?
Zinfandel is more likely to carry a higher alcohol content than Tempranillo. This is because Zinfandel has a wider range when it comes to alcohol content, being 14-17% alcohol by volume. 
Tempranillo remains at roughly 13.5-15% alcohol by volume, which is considerably more close than Zinfandel's alcohol content. This speculation is the fact that Zinfandel is more commonly made in regions with warmer climates, which gives it a higher alcohol content.
How Do I Choose Between Tempranillo And Red Zinfandel?
If you prefer to stick to dry red wines with more savory notes of cedar and dill, then the Tempranillo would be a better choice, especially if you plan to serve your guest Mexican cuisines! 
However, if you prefer something sweeter with notes of strawberry and peach, then you should choose the Zinfandel. This wine can also be paired with a more versatile list of foods that are perfect for your next dinner party!
Final Thoughts On Tempranillo And Zinfandel
Tempranillo and Zinfandel are not the same wines, but that doesn't stop them from having some similarities in grape type, notes, style, and food pairings. 
The biggest difference you'll find between the two is their origin, alongside other factors! Not only does Zinfandel tend to be sweeter than Tempranillo, but it also tends to carry the higher alcohol content between this duo!
---