Sancerre – Sweet Dry
Last Updated on August 1st, 2023
Reader Disclosure
Disclosure: We may earn commissions for purchases made through links on our site. Learn more on our about us page.
In the heart of France, we find the historical hilltop Ville overlooking the river Loire. The climate is cool, mild, and overall pleasant. 
Traditionally, this region grew the red grape pinot noir until, in the late 19th century, the Sancerre area was devastated by the root pest Phylloxera. 
Many French vineyards were forced to adapt and grow different grapes to preserve their way of life. 
Now the region produces a regarded Sauvignon Blanc and continues to plant and grow Pinot Noir, but now there are lighter-bodied Rose styles under the designation of Sancerre Rouge.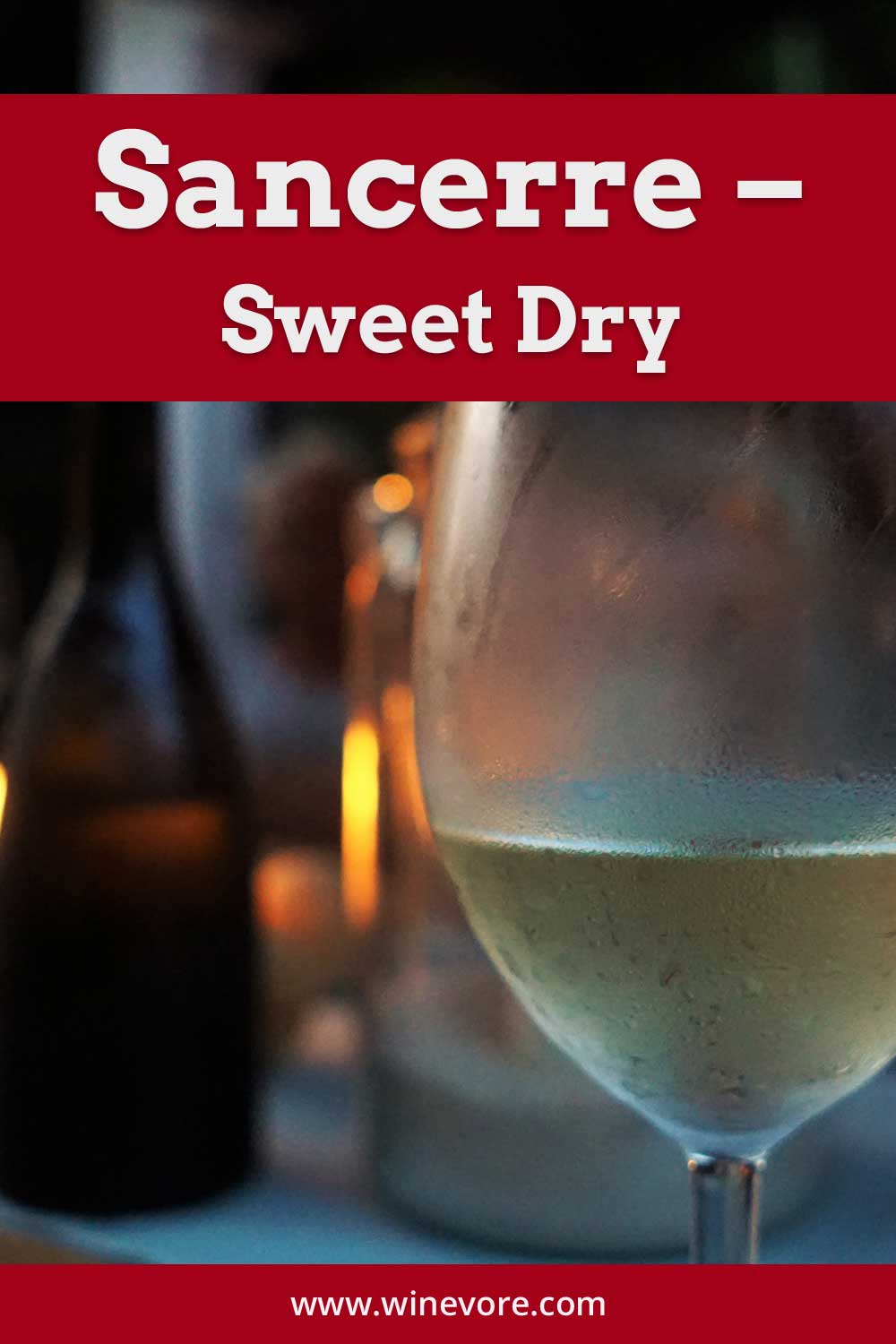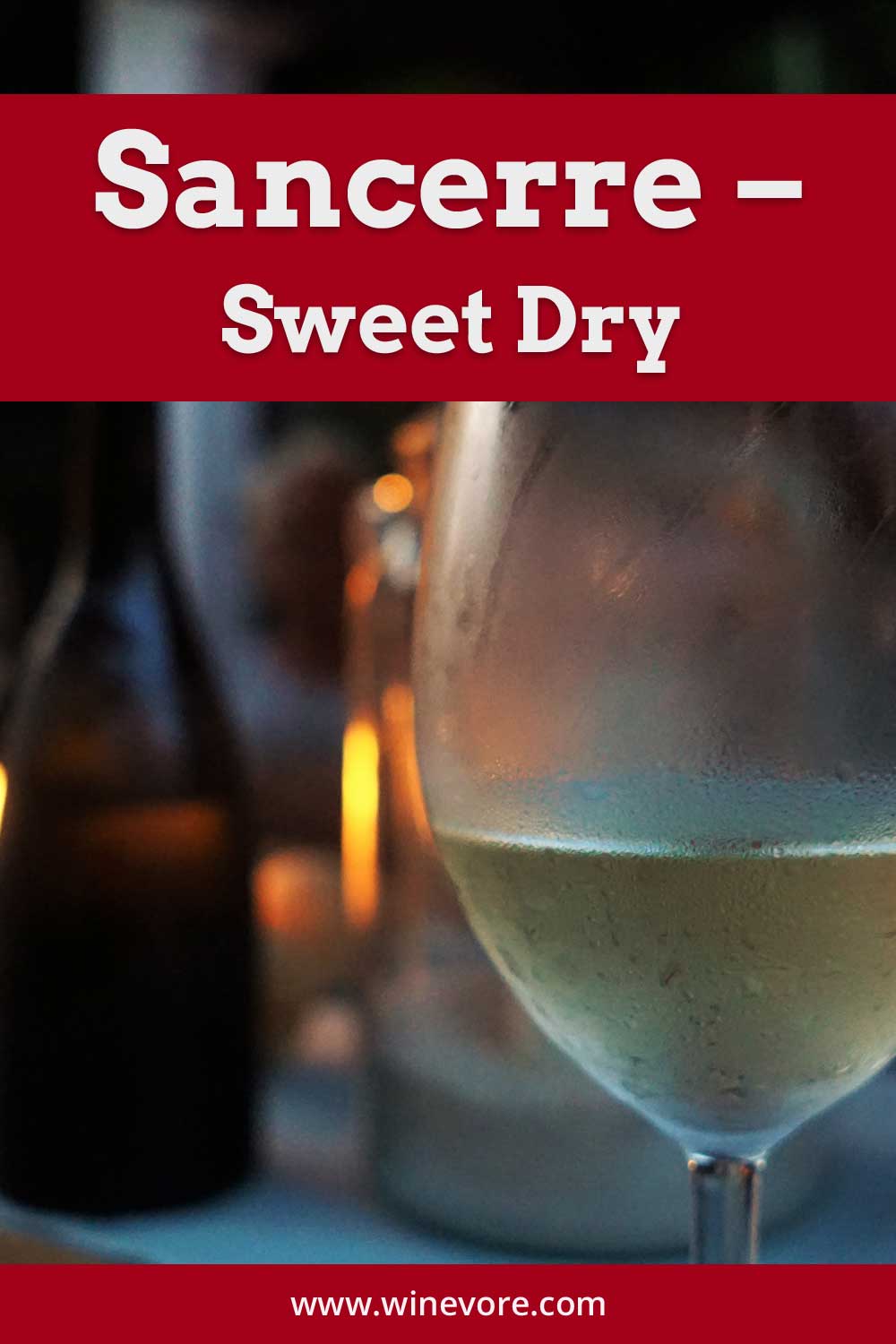 Have a preference for sweet or dry wine and want to try Sancerre?
Depending on the occasion and meal pairing, both a sweet Sauvignon Blanc and a fuller-bodied Pinot Noir may fit the bill. 
Red meats typically pair better with red wines, and the same can be said for poultry and seafood pairing with white wines. 
Foods that go well with Sancerre:
Cheese (Goat cheeses, Fontina, Brie, Swiss, Feta, Gouda, and Gruyere.)

Spring veggies (Side salads, Fruit salad, chicken salad, etc.)

Shellfish (Oysters, clams, lobster, crab, prawns, and scallops)

Fish (Lightly seasoned Cod, Sea Bass, Snapper, Sole, Haddock, or Halibut)

Mexican dishes (Ceviche, Quesadillas, Queso fundido, or fresh fish tacos)

White Meats (Chicken, Turkey, or Pork Chops)

Fresh Herbs (mint, basil, cilantro, rosemary, parsley, thyme, fennel, dill, chives, or tarragon. 
Is Sancerre sweeter or drier than other white wines?
Sancerre wines have a pleasant dryness, no more or less than a similar vintage. However, what sets this region's Sauvignon Blanc apart from everyone else is it's vibrant acidic, and chalky flint notes. 
Primary flavors:
Gooseberry

Grapefruit

Honeydew

Flint

Alcohol by volume of 11.5% upwards of 14%
How can you tell If a Sancerre is as sweet or Dry as I like before I buy it?
In order to 'know' if you like a wine before purchasing a bottle would be to attend a wine tasting, catch a friend with a bottle, or visit the vineyard personally. 
Depending on your location on earth versus the geographical location of the vineyard, it might be slightly more cost-effective to purchase a bottle and taste it at home. 
Are there sweeter versions of Sancerre?
White Sancerre is the most famous vintage from France's Loire River valley region. As far as there being sweet Sauvignon Blancs or Sancerre? 
One would only need to move to a cooler climate or a vineyard further up the mountainside. Getting a vintage from Sancerre that is sweeter from the same Centre region will vary from batch to batch. 
Are there much drier versions of Sancerre?
Though Sancerre has a lovely semi-dry, the Sauvignon Blanc produced is also an excellent dry wine option. Here is a list of other notable dry wines:
Dry Riesling, from Alsace, France

Pinot Grigio from Italy

Grüner Veltliner, from Austria

Alberino, from Spain

Chablis, From France

Viognier, from France

Assyrtiko, from Greece

Vinho Verde, from Portugal

Chenin Blanc, from South Africa
Final Thoughts on Sancerre's Taste
Sancerre is known for producing a legendary Sauvignon Blanc. There is also a historically vivid culture of growing Pinot Noir before the disaster in the late 19th century. 
What sets this vintage apart from others is the sublime acidities and the unique chalky notes only found in this region of France.