Riesling Vs. Sauvignon Blanc
Last Updated on August 1st, 2023
Reader Disclosure
Disclosure: We may earn commissions for purchases made through links on our site. Learn more on our about us page.
---
Chateau Puygueraud Blanc 2019
---
Loosen Bros. Dr. L Riesling 2021
---
Riesling and Sauvignon blanc come from neighboring countries, but they couldn't be more different. Unless your company enjoys unusual flavors, Sauvignon blanc might not be the best wine choice for a gathering. However, Riesling isn't without its oddities. High-quality Riesling can smell and taste a bit like gasoline, and believe it or not, it's a flavor many wine experts love.
What Is Similar About Riesling and Sauvignon Blanc?
Riesling and Sauvignon blanc are white wines, but other than this, they have little in common. Riesling is usually sweeter than Sauvignon blanc; however, this is not always true and depends on where the Riesling made it. Both of the earliest documented mentions in history occurred within a century of each other. As we've learned in past posts, it's possible that some wines originated from France. However, we no longer have solid evidence of it, so they're considered German, Italian, etc. 
These wines have vastly different flavors, but Sauvignon blanc does have one fruit flavor: grapefruit. Riesling has the flavors of many other fruits.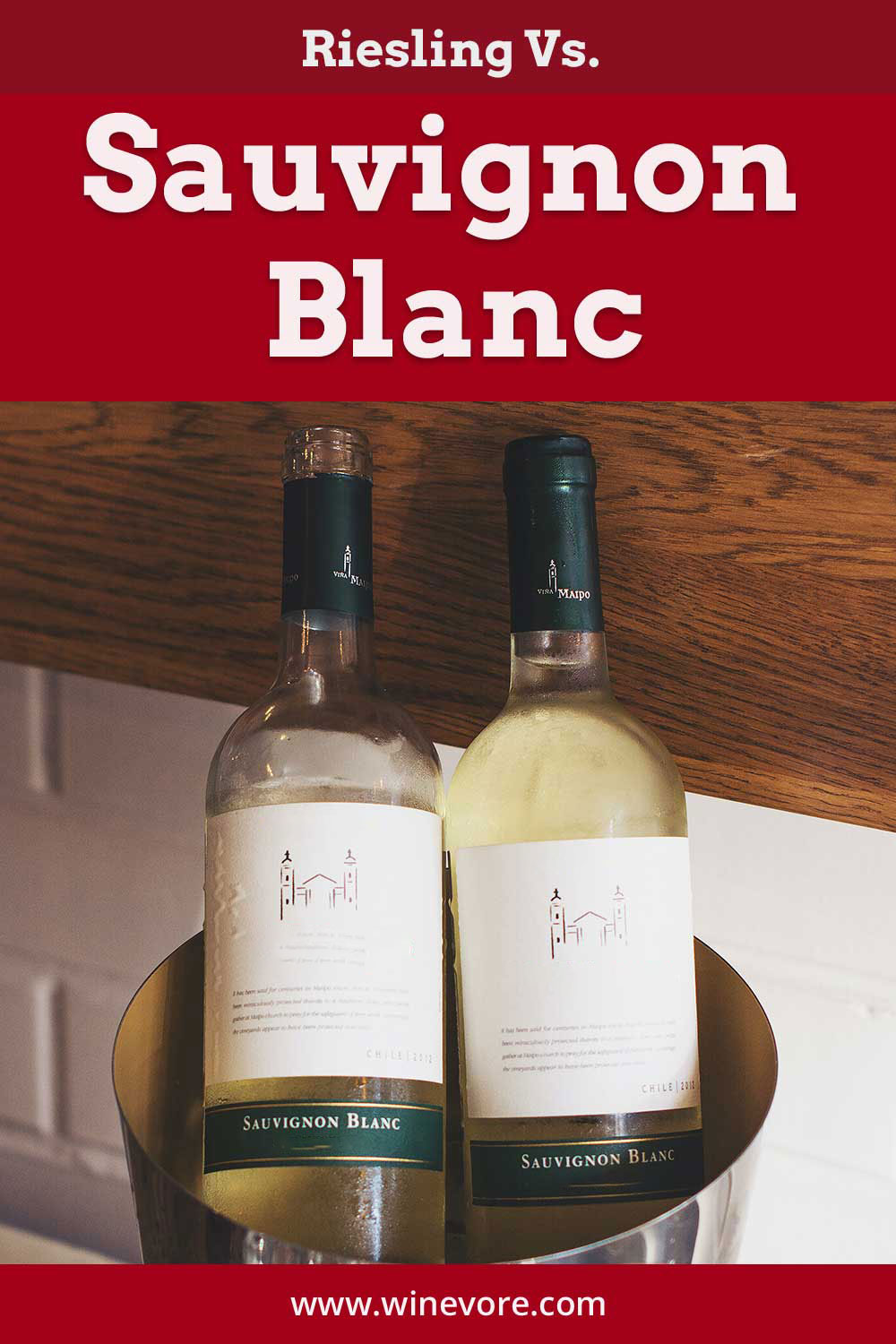 What Is The Difference Between Riesling vs. Sauvignon Blanc?
Riesling is an old German wine, but its exact age is unknown. The earliest documentation is an invoice from a winery in Rüsselsheim addressed to a noble person in 1435. It billed them for six vines of Riesling planted in the vineyard. Riesling was around before then, but whether that was decades or centuries is knowledge lost to time. 
Sauvignon blanc is a French wine with dozens of names, including Savagnin, Gentin a Romorantin, Blanc Fume, and Bordeaux Bianco. Because of its many names, it's unclear when it gained popularity, but the earliest mention is likely in the 1500s when wineries referred to it as "fiers."
The quality of Sauvignon blanc made in California is disputed. It's never been a trendy wine in the United States and only started making some headway after prohibition. On the other hand, Riesling took off after prohibition. Vineyards were producing more than a million gallons immediately following its legalization. It took some trial and error, but high-quality Riesling is available in California varieties.
Sauvignon blanc has mineral, grapefruit, and grass flavors. This can sound offputting but think along the lines of matcha lattes. Sauvignon blanc is known for its herbal and zesty flavors. It's sometimes oaked, which lends it flavors like lemon, cream, and toast.
Riesling is much fruiter with notes of pear, peaches, and apples, but it smells somewhat perfumey. 
Which One Is Sweeter Or Drier Than The Other?
On average, Riesling is much sweeter than Sauvignon blanc. Sauvignon blanc is classified as "dry," whereas Riesling is "off-dry" to "sweet." But this depends on the style of Riesling. Some are meant to be dry, and others can be as sweet as Moscato. In addition, any white wine made from a late harvest is on the sweeter side, Sauvignon blanc included.
Which One Has More Alcohol Content?
Riesling has 8 to 12.5 percent ABV. Sauvignon blanc has 12.5 to 14 percent ABV. So, they can have around the same amount of alcohol, but in general, the French wine has more alcohol. German Riesling tends to have less alcohol than Riesling made in California and Australia.
How Do I Choose Between Riesling and Sauvignon Blanc?
To choose between Riesling and Sauvignon blanc, consider the following:
Alcohol Content
Sauvignon blanc has more alcohol on average.
Flavors
Riesling tastes like fruit. Sauvignon has more unique flavors like grass and minerals.
Sweet/Dry
Riesling is sweeter than Sauvignon blanc.
Origin & History
Sauvignon blanc is French, and Riesling is German. Riesling might be a little older, but historians aren't entirely sure. We have evidence of Riesling in 1435 and potential evidence of Sauvignon blanc in the 1500s.
Summary
As always, both wines are great additions to a wine collection. Sauvignon blanc and Riesling medium-bodied wines, but the former tends to be fuller than the latter. Sauvignon blanc has flavors that not everyone will find appealing, but don't knock it until you try it. Neither wine has overwhelming popularity outside of their origin countries. But they can still be found in essentially any wine shop or supermarket.
---
Chateau Puygueraud Blanc 2019
---
Loosen Bros. Dr. L Riesling 2021
---