Riesling For Cooking
Last Updated on August 1st, 2023
Reader Disclosure
Disclosure: We may earn commissions for purchases made through links on our site. Learn more on our about us page.
Riesling is one of the most popular white wines in the world. It is an aromatic white grape variety originating in Germany. Riesling wine has a taste profile of apple, peach, and pear, along with delectable floral undertones of honey and spice.
Unlike most white wines, Riesling wine does not undergo malolactic fermentation, thus preserving its tartness and acidity. This is the main characteristic of Riesling wines.
Riesling wines age well and are not oaked. A high-quality Riesling is noted for having petroleum undertones. The style of Riesling ranges from dry to sweet and has a wide appeal.
Riesling wines can be used in cooking light dishes such as chicken, pork, seafood, and shellfish. You can also use the wine to make delectable cream sauces and even to saute vegetables.
The wines can be used to poach flaky fish or added to the marinades of meat. Riesling wines can also be added to the making of exquisite desserts. Overall, Riesling wine scores well in cooking.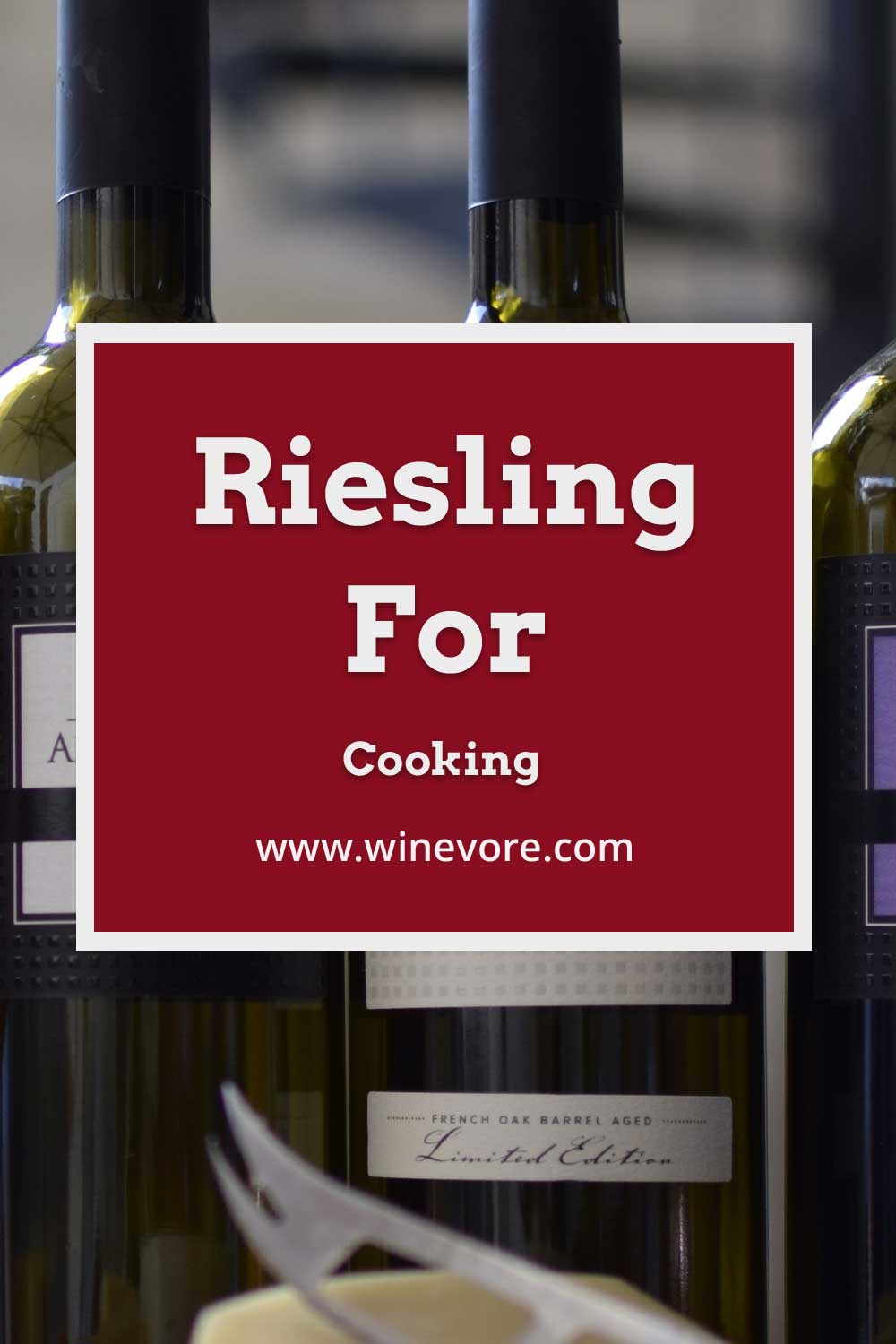 Bottles of white wine – Riesling For Cooking.
Want To Cook With Riesling, But Can't Decide On A Brand
Cooking with white wine helps bring out the flavor and texture of the dish. When choosing a white wine, it is preferred to go with a dry wine variety. A sweet wine may caramelize during cooking and make the dish sweet. 
There are many dry Riesling wines that can be used in cooking. Choose a Dry Riesling that has a high acidity level. The crisp flavor enhances savory dishes. Furthermore, choosing a dry white wine with a low level of alcohol, under 12.5% ABV, would be good.
Depending on the recipe, you can decide what Dry Riesling to use. Fox Run Dry Riesling or Living Roots Linden Blossom Dry Riesling are some good options to consider.
What's A Good Riesling To Cook With?
The best wine for cooking is a dry, crisp white wine. The main point to consider when choosing a white wine is its sweetness. You should also consider the acidity of the wine. Usually, most recipes will indicate whether the wine should be dry.
Any Dry Riesling wine is a good choice for cooking. A dry Riesling wine with citrus notes does well. For instance, Ravine's Dry Riesling is a good choice.
List Of Best Riesling Wines For Cooking
Due to its versatility, there is a wide assortment of Riesling wines you can choose to use in cooking. A few of them are given below.
Ravines Dry Riesling

Marietta Old Vine Riesling

Chateau Ste.Michelle Riesling

Dreissigacker Riesling Organic Trocken

Poulet Au Riesling

Dr. Konstantin Frank Dry Riesling
Is Riesling A Good White Wine To Use For Cooking?
As long as you choose a Riesling wine that is dry, it is fine for cooking. The high acidity in dry Rieslings adds a zestiness to creamy chicken and flaky fish without overwhelming the flavors.
Sweet Riesling wines are not recommended as they may make the dish sweeter. However, if you want to add wine to a dessert, it is best to use a Late Harvest Riesling wine or even a Riesling Ice wine.
Is Riesling Good For Cooking Risotto?
A classic ingredient of risotto is a glass of white wine. Risotto can be made as a meal in itself or as a side dish. It is also considered comfort food.
A dry, crisp white wine is the best choice. The wine should also have a moderate level of alcohol, between 10 to13 percent.  
A good dry Riesling can be tolerated in the risotto, but it is not the first choice. Usually, white wines such as Sauvignon Blanc or Pinot Grigio are favored, as they are capable of enhancing the dish.
Does Riesling Go With Spicy Food?
Riesling wines are often lauded as a good match for spicy food. Being naturally high in acidity and sweetness, it compliments a spicy dish very well.
The citrus notes of green apples, grapefruit, and lime, provide a cooling touch to the palate. With its bouquet of floral aromas and natural sugars, Riesling wines provide the perfect experience of enjoying spicy food.
A few of the Riesling wines that go well with spicy food are :
Riesling Kirchenstück Kabinett Trocken 2016 – Spicy Thai Curries

Mosel Riesling – Indian Chicken Tandoori 

Jacobateau Ste.Michelle Columbia Valley Riesling – Cajun Style Barbecued Shrimp

Dry Riesling – Peking Duck
The Best Food to Pair With Riesling
Due to their acidity and sweetness, Riesling wines pair well with spicy Asian cuisines. Furthermore, since Riesling wines come in a variety of styles, ranging from dry to sweet and from still to sparkling, they are easy to combine with various food types.
The key rule to remember is to always use a wine that has the right balance, acidity, and texture and one that you would enjoy sipping on its own.  
Dry Riesling Wines 
Oysters
Poached Sole
Lobster
Smoked Fish
Battered Shrimp
Off-Dry Riesling Wines
Tandoori Chicken
Szechuan Shrimp
Spicy Chinese Takeout
Cajun Gumbo
Spicy Ceviche
Popcorn
Sweet Riesling Wines
Fruit Tarts and Fruit Pies (Apple, Peaches, Pears)
Compotes
Berry Pound Cake
Caramel Desserts
Creme Brulee
Custards
Salty Cheeses
Foods To Avoid Pairing With Riesling
Certain food and wine combinations do not pair well and are best avoided. They will overpower the flavors of the food and do not complement the Riesling wine used. 
Red Meat Dishes

Artichokes

Asparagus

Brussels Sprouts

Blue Cheese

Eggs 

Kale 

Chocolate
Final Thoughts on Riesling for Cooking
In conclusion, Riesling is easy to integrate into cooking. It brings out the best in a dish, adding more depth and zest to the flavors. Being versatile and pleasing to many, it is a wonderful ingredient that will make a dish splendid and distinct. 
So, go ahead and add some Riesling to your favorite dish and bring out the oomph to the meal!!