Pinot Grigio Snack & Appetizer Pairing – Mistakes to Avoid
Last Updated on August 1st, 2023
Reader Disclosure
Disclosure: We may earn commissions for purchases made through links on our site. Learn more on our about us page.
When considering entertaining guests, it is good to find a wine everyone can agree on. Pinot Grigio is one of these versatile white wines that can be paired with various appetizers, snack options, and meal pairings. 
First off, one must know if the wine is dry, off-dry, or a bottle of sweet wine. Then, to find the best pairings, Pinot Grigio is known to have low alcohol content, a high acidity, and citrus aromas. 
What snack goes well with Pinot Grigio?
For the most part, when looking for a complimentary snack to go with your Pinot, consider salty items, oysters, or if the Pinot is sweet, consider a lemon-flavored dessert of crème Brulee. 
These snacks can be part of the before appetizers, the entertainment portion of the evening, or for after-dinner social occasions.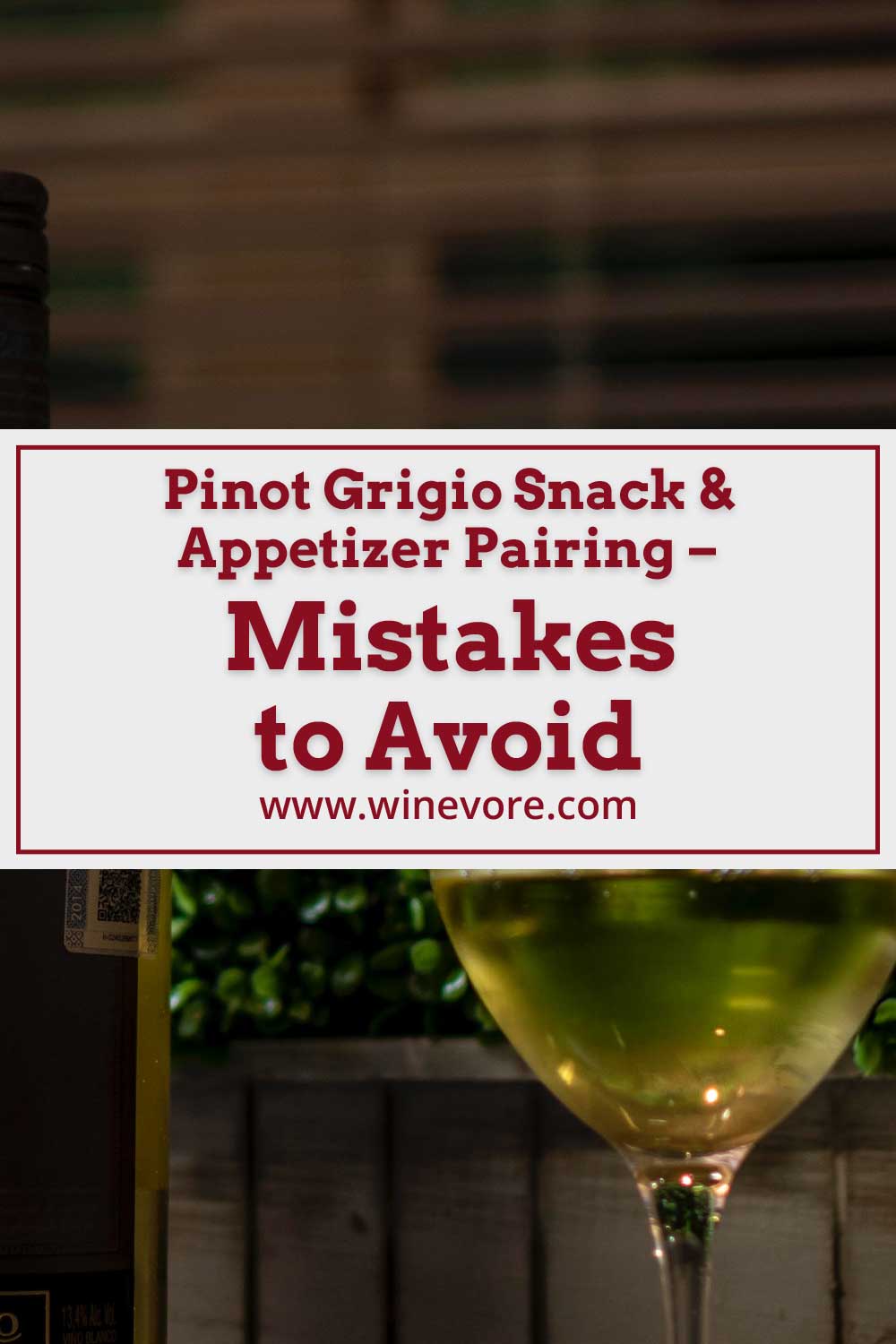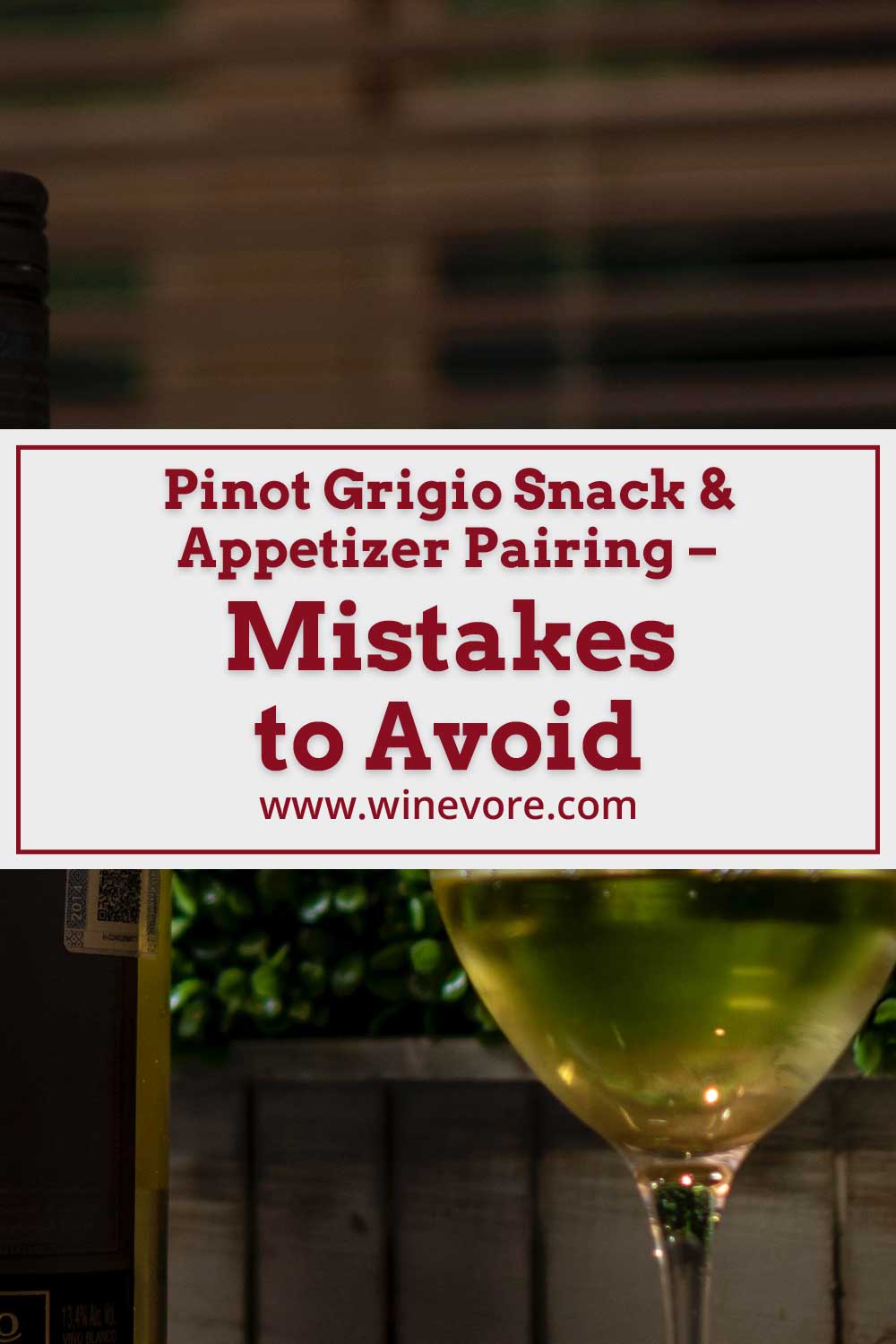 What Chips go with Pinot Grigio?
When considering the right sort of chips, this happens to be a relatively easy question to answer; salty potatoes, even baked, can provide a nice pairing for the right Pinot Grigio. 
Whether you are serving them alone as a snack, provided fries are not the better option or served in the classic Fish and Chips meal which pairs traditionally with Pinot Grigio. 
To give the dish a kick in the right salty direction, have the chips smothered in malt vinegar to provide it with the flavor kick this dish requires.
What Snacks Should I Avoid?
Simple red meat snacks should be avoided, save for red wine. Snacks to avoid include meats such as beef flanks, steak, goat, or lamb products. Also, foods with heavy sauces, and chili, should be avoided. 
What appetizers go well with Pinot Grigio?
Now snacks are simple single item dishes, but a host can get a little more complex with the foods when serving appetizers. 
For instance, consider fish tacos served with malt vinegar. A guest can use a simple tortilla to house a piece of raw, cooked, fried fish of their choosing. 
Each guest can have their choices topped with malt vinegar, Parmigiano Reggiano cheese, and light lettuce. Sushi, used as the main course sometimes, can also be a nice appetizer to set up the guest's pallet for the night's main dish. 
A simple salad, say with chopped chicken, or a light pasta with clam or shrimp or muscles are also fine choices for pre-main course options.
What Appetizers should I avoid?
Soup and any heavy salads with dressing are a few significant appetizers to avoid when hosting. A Caesar salad may pass, but a severe and soggy ranch garden salad would not necessarily pair well with even an off-dry Pinot Grigio. 
Soups, chilis, and the like are too rich in sauces, and spices, that go with a nice bottle of red wine or other spirit options. 
Final Thoughts on Pinot Grigio Appetizers and Snacks
Consider the fact that Pinot Grigio is versatile and can pair with almost anything, except most appetizers, meals, or snacks that have red meats, heavy sauces called for in the recipe, or most soups. 
Dry Pinots are best with salty foods, such as crackers and cheese or fish and chips. 
Off-Dry options are more for plates of pasta, salads, and possible fish tacos with the right pacific islander twist. 
Sweet Pinots go best with light servings of desserts or when drunk solo for late-night occasions. Dishes like lemon meringue pie or crème Brulee come to mind. 
Pinot Grigios are known for low alcohol levels, high acidity, and hints of citrus on occasion.