Pairing The Right Wine with Gruyere Cheese Can Create A Magical Experience
Last Updated on August 1st, 2023
Reader Disclosure
Disclosure: We may earn commissions for purchases made through links on our site. Learn more on our about us page.
Gruyere cheese is a delicious creamy Swiss cheese with hints of earthy and sweet flavors. It has a very complex flavor profile which makes it difficult to pair with wine. 
There is a high risk of the aromas and tastes of the cheese clashing with those in the wine. So, if you are preparing a menu for your upcoming dinner party, read on to find out how to construct the best pairing for this creamy cheese. 
What Wine Does Gruyere Cheese Pair With?
Although complex, Gruyere cheese goes with a whole variety of wines. If you are looking for a wine pairing for this cheese, you should go for a light fruity wine. 
Earthy and rich wines may be a bit too much for the creaminess of the cheese and may lead to bitterness and an unpleasant taste in the mouth. 
The delicious French Pinot Noir is probably the best pairing for Gruyere cheese. Wines that are similar to Pinot Noir like Gamay, Merlot, and Cabernet Sauvignon are also good alternatives as matches for this cheese. 
Acidic and fruity white wines such as Riesling make for a good pairing with Gruyere since they can cut through the fatty flavors of the cheese.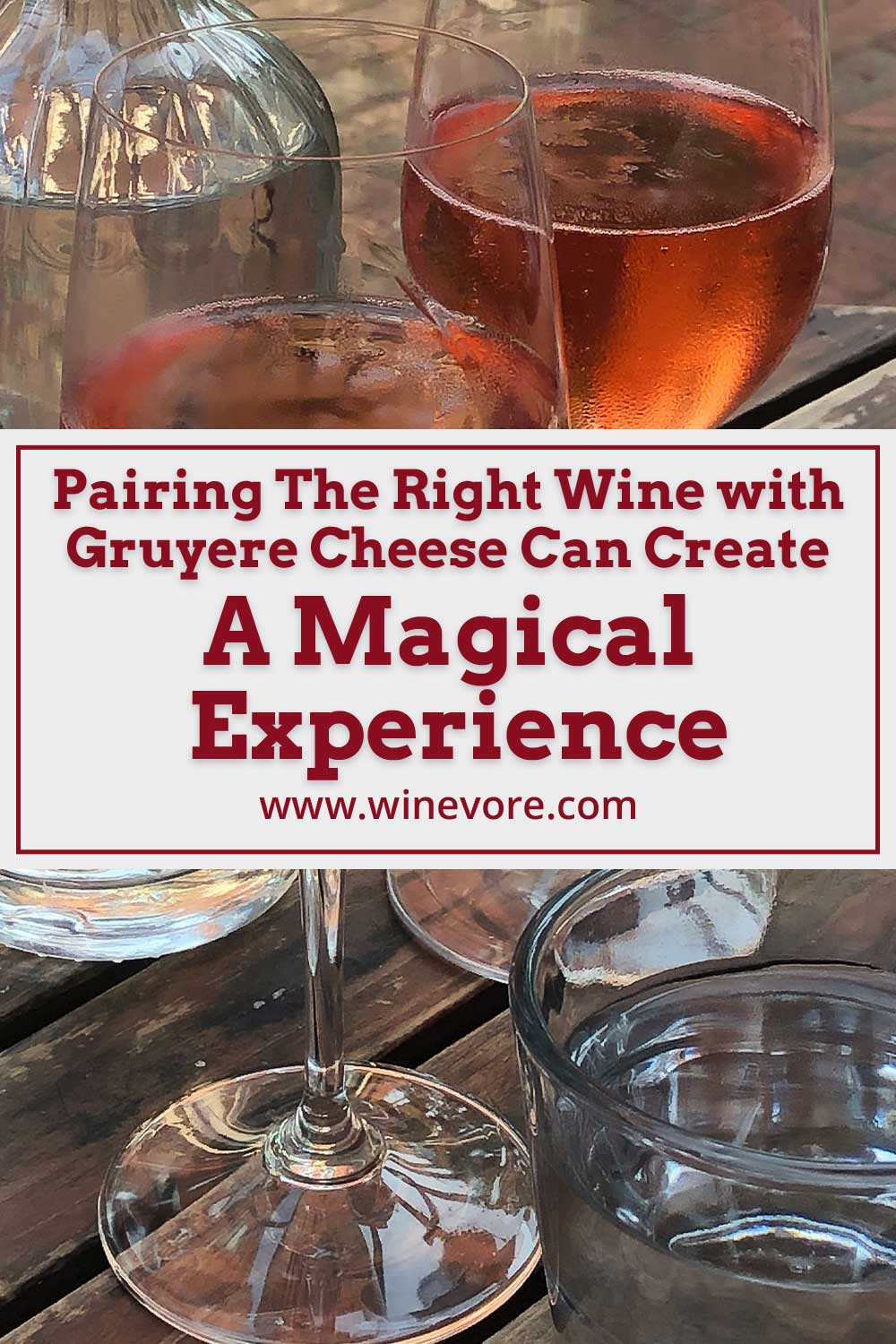 Should You Match it With Sweet or Dry White Wines?
To pair Gruyere cheese with wine, your best option is dry white or over-sweet wines. Dry whites are crispy and acidic, and this acidity will cleanse your taste buds and palettes between each bite of this creamy cheese. 
A fruity Sauvignon Blanc is a great pairing for this Swiss cheese. Otherwise, just the fatty parts of this cheese can overwhelm you. 
Speaking of being overwhelmed, this will be done if you pair Gruyere with a sweet wine. Unfortunately, sweet flavors from each sip of your wine may overshadow the cheese flavor, so you will get a stand-alone wine instead of a pairing with cheese. 
What Traditional Wines Go With Gruyere?
Traditional wines are usually wines made in historical or "Old World" styles with decade-old traditional winemaking methods specific from region to region. 
For example, although Pinot Noir is known for originating in France, it has also been grown and cultivated in Switzerland since 1472, when it was called Servagnin. 
If you want to serve traditional wines with your Gruyere cheese and also want to stay in the Swiss regions where the cheese is from, your best option is Pinot Noir. 
Not only is it an old-world wine, but it's also one that is very popular and has been around for a long time, and luckily is an amazing pairing for creamy Gruyere cheese. 
Is Gruyere Cheese a Good Pairing With Sparkling Wines?
Despite being creamy and rich, Gruyere has nutty hints in its flavor profile. If you are a fan of bubbles, Spanish Cava or French Champagne make for amazing pairings with Gruyere cheese. 
Both of these flavorful sparkling wines and the cheese have certain toasty flavors that will complement each other well. Of course, you can also go for a Brut or dry variety of your favorite sparkling wines if you prefer dry wines in general. 
As long as your chosen sparkling wine isn't too sweet or too powerful, it will be a great match with Gruyere cheese. 
Can Gruyere Be Paired with Dessert Wines? 
Pairing dessert wines with food can be tricky, as dessert wines are highly flavorful on their own. So, if you wish to pair dessert wine with something so rich as Gruyere cheese, you have to be careful. 
But, on the other hand, a great match can be made with a sweet yet also very balanced dessert wine like Malmsey Madeira. 
Another pairing that could work with Gruyere cheese is Alsatian Gewürztraminer wine. It's very aromatic but also has a nutty flavor profile that will bring out the nuttiness of your Swiss cheese. 
Although generally more toned-down wines are good matches for creamy cheese, dessert wines can also be a great pairing if they are slightly more balanced. 
Final Thoughts on Pairing Wine with Gruyere Cheese
Gruyere cheese is a popular ingredient in dishes, appetizers, and even desserts. So, it would only make sense that it's on the table at your next dinner party. 
Pairing it with wine can be tricky, but a good rule of thumb is to stick to balanced wines like Pinot Noir or Cabernet Sauvignon. 
However, always remember that pairings are found when people try new, somewhat risky matches, so don't be afraid to get to your local store and experiment with bottles!