Pairing The Right Wine with A5 Wagyu Can Make or Break The Meal
We may earn commissions for purchases made through links on our site. Learn more on our about us page.
When cooking high-quality meats, a good chef will find the best ingredients to prepare the meal, along with a choice wine pairing. Beef is a versatile red meat and pairs well with most red wines, and Wagyu is no different.
Translating to "Japanese cow," Wagyu is a name for the cattle bred on the island of Japan for centuries. The government there uses a rating system of A, B, and C with number ratings from 1 to 5. A5 is the highest quality rating a beef product from Japan can achieve.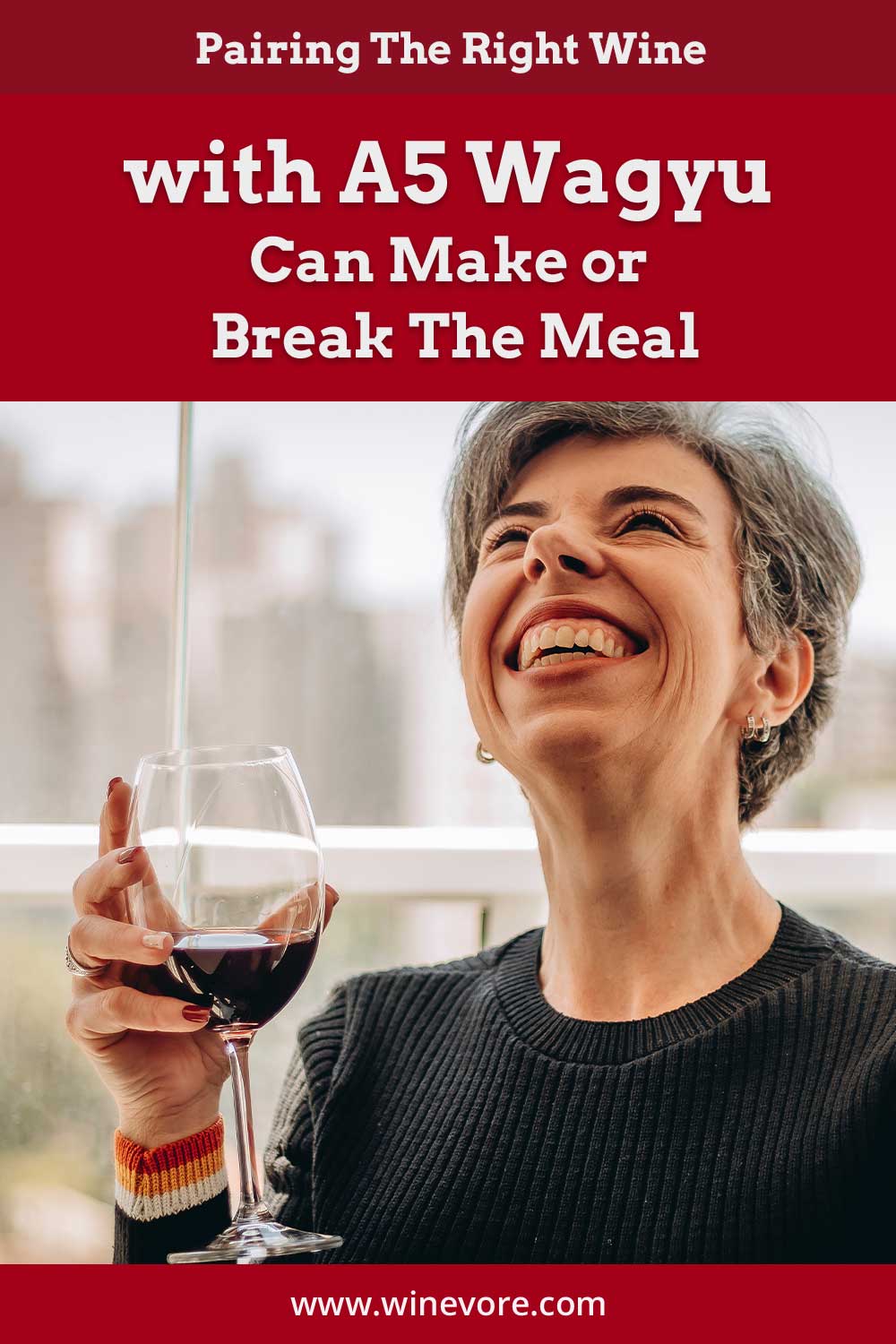 What goes well with Japanese A5 Wagyu?
When thinking about Japan and wines, sake comes to mind, and this rice wine is made from rice, koji, and water. Consider both cooking and drinking sake with traditional Wagyu. 
Choose a lighter dish with baked potatoes or a garden salad—lightly seasoned greens like green beans, asparagus, broccoli, and carrots with dipping sauce for a side. 
Otherwise, here is a list of wine pairings from expert sommeliers:
Corison, 2016 Sunbasket Vineyard Cabernet Sauvignon, St. Helena, Napa Valley. 

Domaine Dujac, 2017 Clos de la Roche Grand Cru, Morey-Saint-Denis, Burgundy.
Why is Syrah the most famous wine pairing for Wagyu?
High-quality Wagyu from Japan is considered wealthy, fatty, and decadent, which pairs with intensely flavorful, medium acidic, full-bodied red wines. An A5 Wagyu may call for a Côtes du Rhône, but there are other solid pairings. 
Syrah, for example, is known for having a desirable profile of medium acidity and full-bodied labels with lovely notes of pepper, mint, and smokiness. The wine offers a nice balance to the flavor of the beef naturally. 
Which wines are the best ones to consume with Wagyu beef?
Sake, as aforementioned, is a choice selection when pairing with Wagyu. 
As for other vintages, here are a few to consider, according to the Wagyu shop, and why:
Cabernet Sauvignon – Long-time friends, cabernet sauvignon, and beef steaks have been paired because the wine provides juicy, fruity notes that harmonize well with the beef's savoriness. 

Sangiovese – Italy offers a hearty vintage of Chianti. Tuscan varieties provide earthy, fruity, rustic, and savory wines that contain high levels of tannins and a spark of acidity. All these elements supplement the more decadent, fatty cuts of Wagyu. 
How can you know if your wagyu beef and wine match?
The best sources for you would be to speak with your local butcher, sommelier, and chefs. Otherwise, finding a ranch that raises cattle in Japan that sells Wagyu would know pairings that go with their product. 
Likewise, basic wine knowledge tells us that beef products pair well with just about any red wine. 
If the logic holds, Japanese beef will also pair with just about any red wine vintage and sake produced on the island. 
Can you pair A5 Wagyu with white wine?
Yes, you can; Japan's own rice wine's sake comes to mind first. Though not the only white wine to pair well with wagyu dishes. 
Here are a few white wines that pair well with Wagyu:
Pinot Gris – A zesty white wine with a high acidity level that holds up with Wagyu.

Riesling – A citrus fruit robust white wine with a pleasant acidity that provides some pop.
Final thoughts on Wine Pairing with A5 Wagyu
A5 ratings are the highest quality beef products you can provide in Japan's rating system.
For example, A5 Wagyu is the best beef you can procure from Japanese farmers/ranchers. Sake is the natural go-to for a wine pairing, but various reds and a few white wines will pair nicely.