What Does Oxidized Wine Taste Like?
Last Updated on August 1st, 2023
Reader Disclosure
Disclosure: We may earn commissions for purchases made through links on our site. Learn more on our about us page.
Oxidation is a common practice within the red wine community, and many will refrain from oxidizing a white wine. However, allowing red wine to breathe or oxidize will adjust the flavors and aromas over time. 
Allowing you and your dinner party guests to have a little fun over the hours of the event, trying the wine over time. But what if the wine is over-exposed to oxygen? What will it taste and smell like? 
Can you still consume it? Let's talk about specifics on the taste of oxidized wine.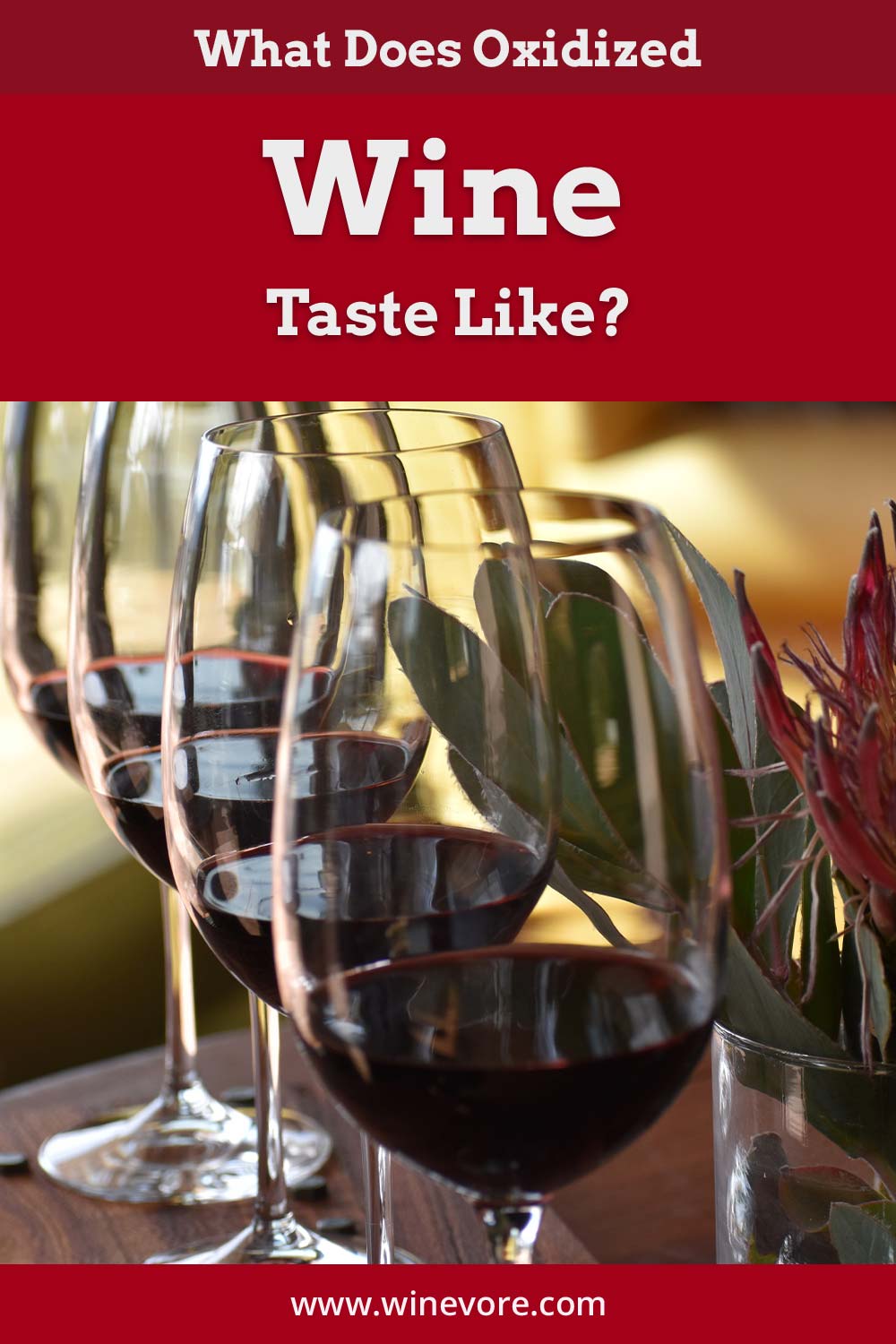 How Can You Tell if the Wine Has Oxidized?
There are a few different ways to tell if the wine has oxidized other than tasting it, especially if the wine has been over-oxidized. 
When oxidizing wine, you can either oxidize it to perfection over time or over-oxidize it and completely ruin not only the wine but the experience
Exposing your wine, more specifically older red wines, to oxygen provides an array of tasting notes and aromas each hour the wine is left out. 
For many, this is considered to be a pleasant experience, tasting the wine every hour and allowing it to reveal undetectable notes that weren't there when you first opened the bottle.
However, if the wine has sour notes of vinegar, or some even say horseradish, this is a sign that the wine has over-oxidized. 
Over oxidation can occur not only if you forget to put your wine away after your dinner party but also if you fail to properly seal and store the wine.
What does Oxidation smell like in wine?
The aroma of wines that have been exposed to oxygen can vary depending on if the wine is red or white and also if the wine has been oxidized to perfection or not. 
While white wines are not meant to be exposed to oxygen for too long, it's the red wines that will have an ever-changing aroma as time progresses.
While red wine is known as the wine that loves all the oxygen it can get, it can still get over-oxidized at times. Red wines that have been exposed to oxygen for far too long often smell sour or broiled. 
Many also note that not only may the wine smell of vinegar but also pennies! On the other hand, white wine carries very potent smells of vinegar and even jam.
What happens when wine Oxidizes?
When a wine is oxidized over a period of time, you'll find the wine to form different tasting notes and aromas. For example, red wines will lose their color and transform into almost a brown color. While white wines will also lose their color, becoming an orange color. 
Oxidation doesn't happen to just wine. It's a process that happens with all of our foods! For example, when cutting an apple or an avocado and leaving it out for too long or not sealing it properly, you'll find that the apple or avocado may begin turning brown. 
This is oxidation, the same thing that happens with our wines!
Can you drink Oxidized wine?
Yes, you can drink oxidized wines. There will be no consequences to your physical health and well-being, but it's important to note that an over-oxidized wine will most likely have a horrid taste and aroma. 
Wines that have been exposed to too much oxygen will be found to be extremely harsh and unpleasant.
When it comes to red wines, many will purposely oxidize the wines with processes such as decanting or even putting their red wine in a blender (if it sounds controversial, it's because it is). 
Allowing your reds to breathe will offer you more of an experience when consuming your wines with your guests. Aerating wine has been a practice created mostly for older red wines rather than younger red wines you might find at a grocery outlet.
What is Oxidized wine?
The wine that has been oxidized is a wine that has been exposed, more commonly over-exposed, to oxygen. Oxidized wine is a wine that's been aged with oxygen, beginning a slow decaying process that will ultimately result in the wine going bad quicker with time. 
Depending on if the wine is red or white, the wine may often be exposed to oxygen on purpose to achieve new, more defined notes and aromas. 
However, wines that age in their unopened bottles, or resealed airtight bottles, have little to no oxygen exposure. Resulting in the wine holding its quality for longer by remaining un-oxidized. 
Final thoughts on the taste of oxidized wine
Oxidation in wine occurs when the wine is overexposed to oxygen, this could happen if the wine is left out for too long or is not properly sealed before storing again. You could drink it. 
It won't do any harm to your health or well-being – but an over-oxidized wine will taste rather unpleasant. White wines will turn orange in color and smell of vinegar. At the same time, red wine will become brown and smell sour.