Moscato vs. Merlot: The Untold Similarities, Differences & Selection Critera
Last Updated on August 1st, 2023
Reader Disclosure
Disclosure: We may earn commissions for purchases made through links on our site. Learn more on our about us page.
---
You simply cannot choose which wine is better. It all depends on the situation. Moscato, the sparkling Italian wine, with its sweet fruity, and floral flavors of Peaches and Orange Blossom, goes well as a light drink during the day.
Merlot, on the other hand, a dry red wine with its velvety plummy taste layered with hints of cocoa and vanilla, is great paired with a meal.
Both wines are versatile and appeal to a wide audience. Therefore, Moscato versus Merlot would have to be considered a tie.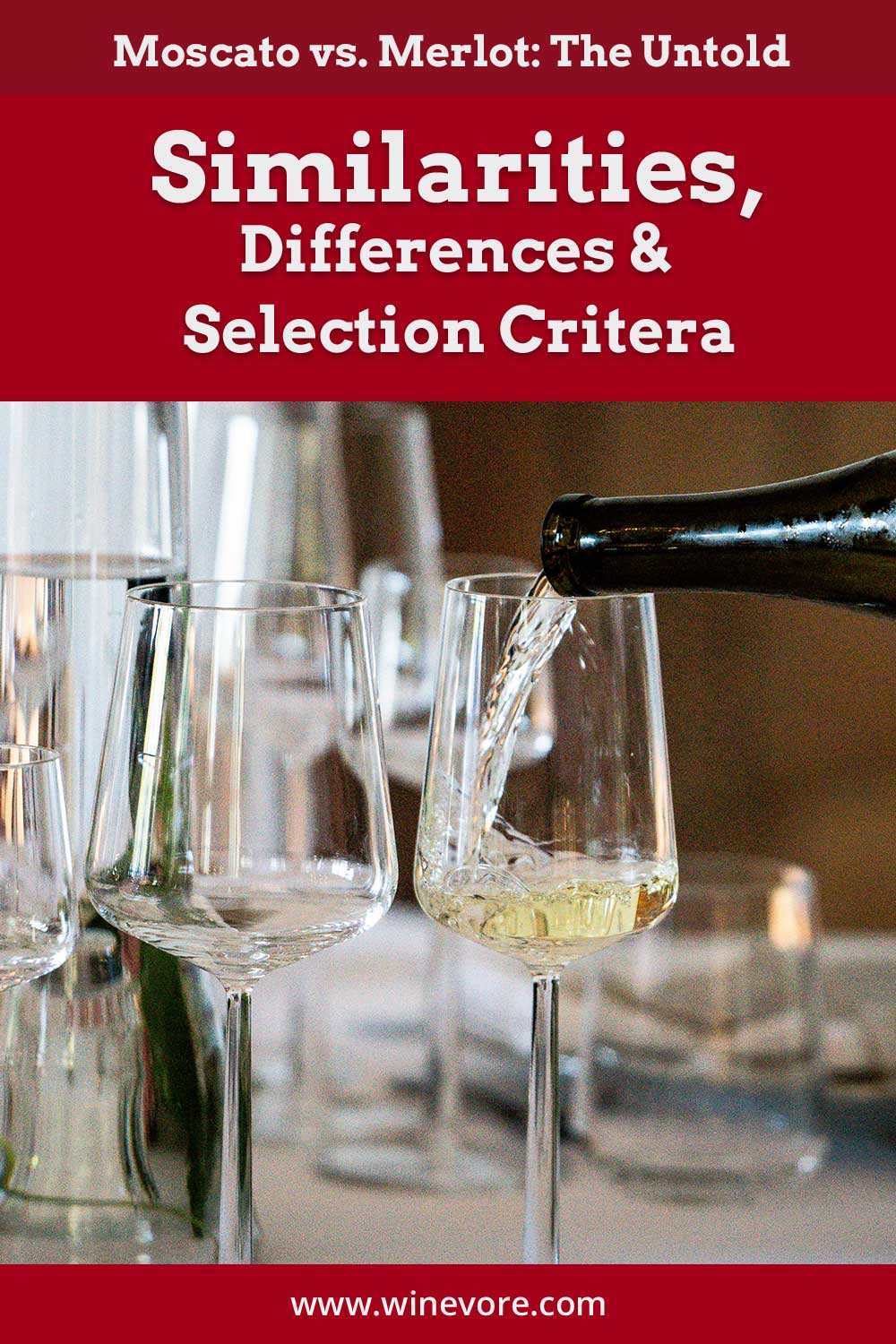 What Is Similar About Moscato And Merlot?
Moscato is a sweet Italian wine made from Muscat grapes. Originating in Italy, Muscat grapes are also grown in France and Spain. It has a hint of fizz and is often considered a dessert wine. It is perfect for new wine enthusiasts and can still appeal to more seasoned palates.
Merlot, which in French means 'Blackbird,' is a typical dry red wine obtained from red grapes grown in the Bordeaux region in France. The grapes are also grown in warmer climates as in Australia, California, and Chile. Therefore, Merlot is an ideal red wine that can be introduced to a new wine drinker.
Both Moscato and Merlot come from the same European region and therefore do share a few similarities. For example, both wines have fruity notes and pair well with food or are splendid even on their own. 
What Is The Difference Between Moscato and Merlot?
Merlot is a full-bodied red wine with a smooth texture that is appealing. It has a moderate acidity level with soft tannins.
 Moscato is a light-bodied white wine that is easy on the palate. It has a low level of acidity but contains high levels of residual sugar. It is often an ingredient in cocktails.
Which One Is Sweeter Or Drier Than The Other?
Merlot is a dry wine that is less sweet. However, it can have a range of delectable flavors, such as blackberries, black cherries, and plums with hints of vanilla and cloves. 
It has a smooth velvety taste with infused notes of chocolate, making it a well-loved wine. Merlot is best served chilled and kept in the refrigerator for about 15 minutes.
Moscato is a sweeter and lightly sparkled, full-bodied wine. There are many types of Moscato, and they all have a fruity floral base. Honeyed with tones of mandarin, pears, and honeysuckle, along with other exotic flavors such as Turkish delight and wild strawberries, these wines are immensely popular.
There are many different types of Moscato:
Pink Moscato – contains rich caramel and vanilla notes along with fruity flavors
Asti Spumante – sparkling Moscato
Moscato d'Asti – white, sweetly sparkled, known locally as "frizzante"
Red Moscato – features wild cherry, berries, and peach notes
Still Moscato – known as Muscat Blanc, completely dry with an alcohol limit of 12%
Which One Has More Alcohol Content?
The alcohol content in Merlot is between 13-14%. However, the alcohol content can approach 14.5% when grown in warmer climates.
 The alcohol content in Moscato is 5-7%, thus making it an easy wine to enjoy during the day. 
How Do I Choose Between Moscato And Merlot? 
Moscato is usually paired with a dessert such as a fruit tart or a buttery almond pastry. It also works well with a cheese platter like Gorgonzola or Crescenza topped with fresh figs or nuts.
 You can also serve it with Asian cuisines, such as Chinese, Thai and Vietnamese. The sweetness of Moscato is the perfect choice to balance out the spiciness of the food. Another good combination is with barbecued meat or tofu.
 Merlot, meanwhile, pairs well with full-flavored and roasted meats such as chicken, beef, lamb, and turkey. It also complements Italian cuisine like pasta and pizza.
It also goes great with a burger meal. However, the flavor and intensity of the dish have to be matched to the flavor and intensity of the red wine in order for it to work well.
---