Moscato Regions That Every Wine Drinker Dreams of Visiting
Last Updated on August 1st, 2023
Reader Disclosure
Disclosure: We may earn commissions for purchases made through links on our site. Learn more on our about us page.
Moscato is a sweet wine produced using muscat grapes, which are grown all over the world. It is most commonly a white wine, but red Moscato does exist as well. When shopping, you may notice that Moscato can be still, sparkling, or even a dessert wine. 
Different bottles will feature different tastes, but common flavor profiles & notes include floral and other tropical fruits such as:
Lemon

Peach

Mandarin

Pear

Honey
It is typically lower in alcohol content and price, so it is the perfect choice to have on a picnic or by the pool on a bright summer day.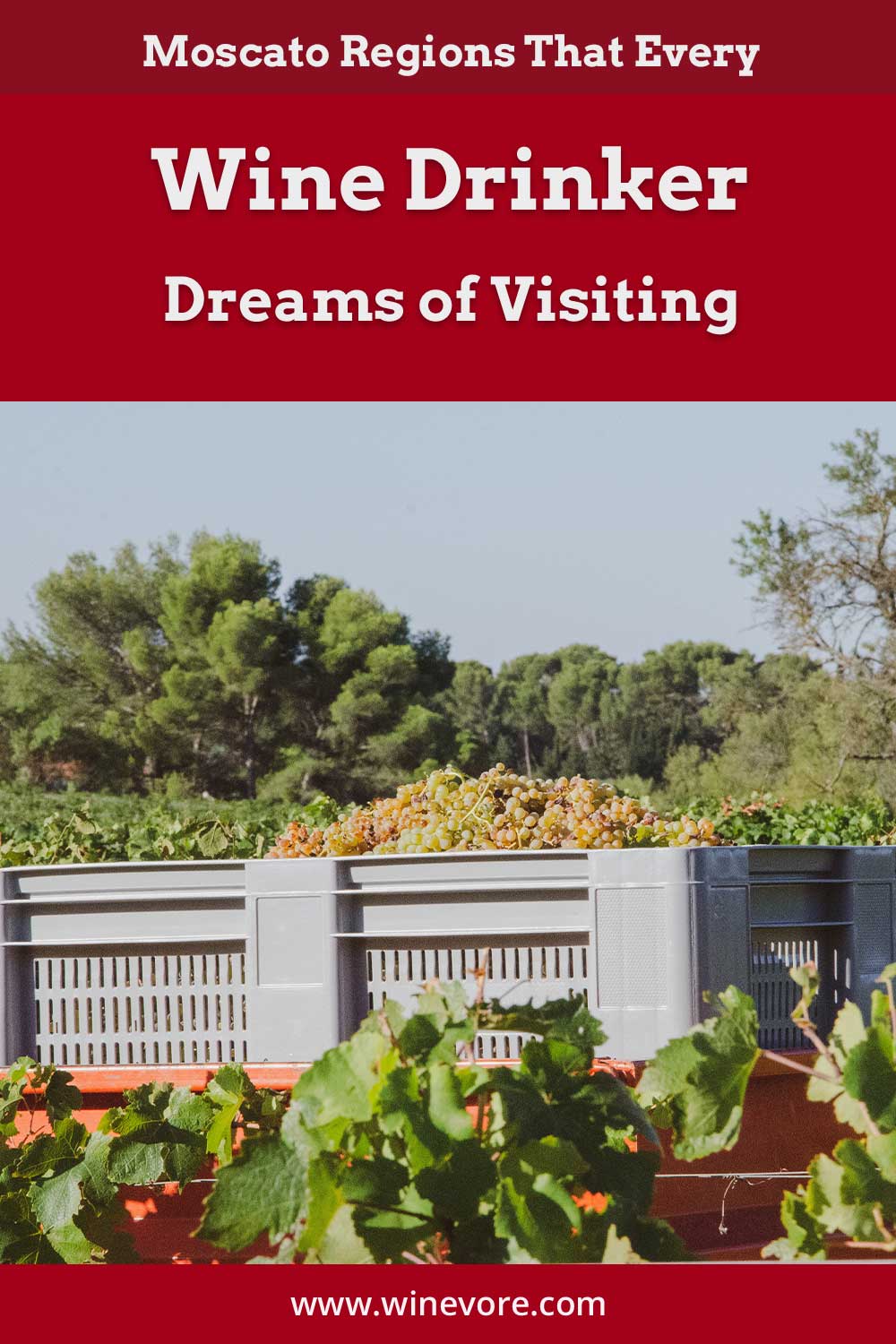 What country makes the best Moscato?
Italy is the best place to find this famous wine, as "Moscato" is the Italian word for "muscat," which is the grape used to produce it. In addition, Italy offers the perfect humid and raised, hilly climate where the muscat grapes thrive.
While Moscato is most commonly known for its Italian origins, it thrives in other countries bordering the Mediterranean as the climate is quite similar such as:
Additionally, parts of Australia and the United States also compete as popular producers of this sweet wine.
Great Regions to visit to try Moscato
Some of the best Moscato comes from the Piedmont region in northwest Italy bordering Switzerland and France. To see where the muscat grapes are grown, the provinces to visit include Asti, Alessandria, and Cuneo. 
If you find yourself skiing in the nearby Alps, Moscato could make a perfect après ski drink or a daytime drink overlooking the mountains from the warmth of the lodge. 
Outside of Europe, if you take a trip to the land down under, Southern Australia is another great place to try local Moscato due to its warm climate.
In the United States, the famous wine region of Sonoma County in Northern California is your best bet for an excellent bottle of Moscato.
Is most Moscato made in Italy?
Italy produces the most Moscato, and the most popular and recognizable brands of Moscato come from Italy. Since Italy exports much of its Moscato to the United States and other countries, many of the bottles you will find in your local stores will be from Italy. 
It is important to note that Moscato is also produced in different regions across different continents because it is not incredibly difficult to produce.
In addition, it does not require excessive storage, so expensive equipment to store it is unnecessary, unlike other types of wine. 
However, the best and most popular Moscato comes from its famous origins in northwestern Italy.
Final Thoughts on Moscato: A Thirst Quenching Treat
Due to its sweetness and lower alcohol percentage, Moscato is sure to be a crowd-pleaser, especially popular among younger crowds. 
In addition, its versatility and fruitiness serve many functions: a refreshing wine at a party, accompanied by a long dinner of all different foods, or as a dessert addition. 
While it is multifaceted, it does not need to be stored for a while before opening and is typically low in price, so it may not be the best choice to try to impress those with expensive taste. Nevertheless, it is a staple sweet wine to be enjoyed anytime.