Moscato Food Pairings That Will Make Mouth-Watering Meals
Last Updated on August 1st, 2023
Reader Disclosure
Disclosure: We may earn commissions for purchases made through links on our site. Learn more on our about us page.
Looking For the Perfect Food to Pair with Your Moscato? Like all wines – Moscato pairs better with certain foods and not quite as well with others. 
That is not to say you can't enjoy it with most food. However, knowing which foods to pair Moscato with will enhance your dining experience! 
The other thing to consider when pairing food with Moscato is to take into account what type of Moscato you have. 
For example, Moscato is known for being sweet, so typical food pairings revolve around savory or salty foods, but that doesn't necessarily mean you can't pair it with other sweet foods if that's your preference.
Let's get right into it and talk a little bit about Moscato food pairings.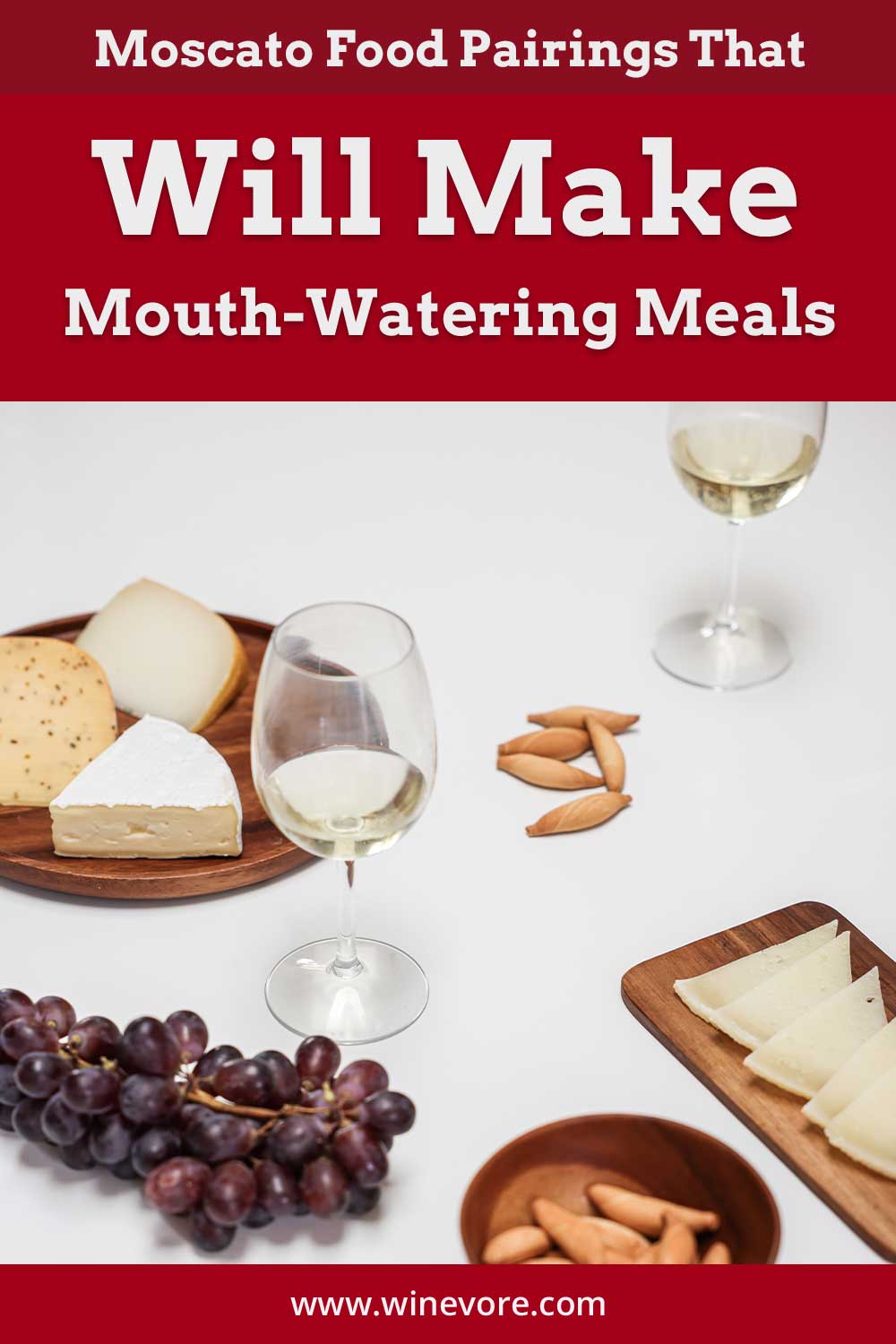 What snack goes with Moscato?
A classic wine and snack staple is the charcuterie board. When it comes to a Moscato, these would be the best snacks to add to your charcuterie board.
We start with prosciutto, which compliments the Moscato well because it is sweet, but it is also salty as well. Another popular choice to add would be salami because of its spicy and herby flavor and is a nice contrast to the prosciutto.
Two additional choices would be almonds and brie cheese. Almonds are a great choice because they contrast the sweet flavor of the Moscato, and brie cheese is popular because it has a mild taste and pairs well with a variety of Moscato.
What meat pairs, Moscato?
Several types of meat pair well with Moscato, but we'll discuss three of the most popular.
The first is a very common meat type, but a great choice – chicken. Chicken is a great food pairing for Moscato because of its versatility. 
A great recipe to try is adding red pepper flakes to your chicken to spice it up and contrast the sweet flavor of the Moscato. There are a variety of sides you can add to complete this meal, but asparagus is a great choice as it balances everything out with its earthy flavor.
The second is one you might not necessarily expect, but the duck pairs very well with Moscato. The biggest reason is that it has a strong flavor that compliments the sweet profile of Moscato nicely.
The third is spicy kebabs. Spicy food is a very popular pairing with Moscato because it contrasts with the sweetness of the Moscato, so spicy kebabs may not be your first choice as a food pairing, but it is still a great choice.
Does Moscato go with steak?
Moscato does go with steak, but there are certain types of Moscato that pair better with steak. Traditionally, red wine pairs better with steak than white wine, so a red Moscato is the best choice when pairing a Moscato with steak.
While Moscato traditionally does not pair well with steak – it can still be an option if you pair it with a red Moscato. A good pairing would be a red Moscato with a filet mignon because it has a buttery and mild flavor that goes well with the sweetness of the Moscato.
Does Moscato go with ham?
It might seem a little surprising, but ham is a great pairing option with Moscato. Ham is savory, but it also has sweetness hints that compliment the Moscato nicely. 
The great thing about this food pairing is that you can be more flexible with your choice of Moscato. Try a maple-glazed recipe to highlight this combination if you want to take this pairing further.
Does Moscato go with spicy food?
The ideal Moscato pairing is spicy food! Moscato is very flexible when it comes to food pairings, but spicy food is considered the best combination.
The reason why Moscato pairs well with spicy food is that the former is generally a sweet wine, so a spicy dish compliments it because of the contrast.
Best Foods To Pair With Moscato
Moscato allows for plenty of flexibility when it comes to food pairing. We've discussed a few popular options, but we'll now discuss the best foods to pair with Moscato. 
Moscato is best paired with spicy dishes to offset the sweetness of the wine, but savory dishes on a charcuterie board pair well with a Moscato. Lastly, a Moscato pairs well with dessert pairings as long as the color complements the dessert. 
Foods to Avoid Pairing with Moscato
Moscato can be a double-edged sword. It pairs well with many different foods, but it also has its limitations. For example, it is a sweet wine, so it can pair well with sweet dishes, but you want to avoid something that is overly sweet.
However, because there are different types of Moscato – you can still pair sweet food with a less sweet Moscato like a red.
Final Thoughts on Moscato Food Pairing
Food pairing is one of the most important aspects of wine. Having the right dish can compliment the wine and improve a dinner immensely. For something like Moscato – you can never go wrong with a spicy pairing or a savory pairing, but a sweet pairing is a great choice for dessert.
Like all wine and food pairings – it ultimately depends on your preference. The great thing about Moscato is how flexible it is, and while there are certain pairings that work well – you will be happy with most.