Is Pinot Grigio Vegan-Friendly Or Ruined By Animal Products?
Last Updated on August 1st, 2023
Reader Disclosure
Disclosure: We may earn commissions for purchases made through links on our site. Learn more on our about us page.
As the health benefits of a vegan diet become clear, more people around the world are switching over. In wealthy countries, producing vegan products is becoming easier every day. The wine world, however, is just now catching up. 
Can Vegans Have Pinot Grigio?
Recently, there have been winemakers who have chosen to make 100% vegan-friendly wines. Sometimes these wines are labeled as vegan. Other times they are not. If a Pinot Grigio is labeled as vegan, you are ok to drink it.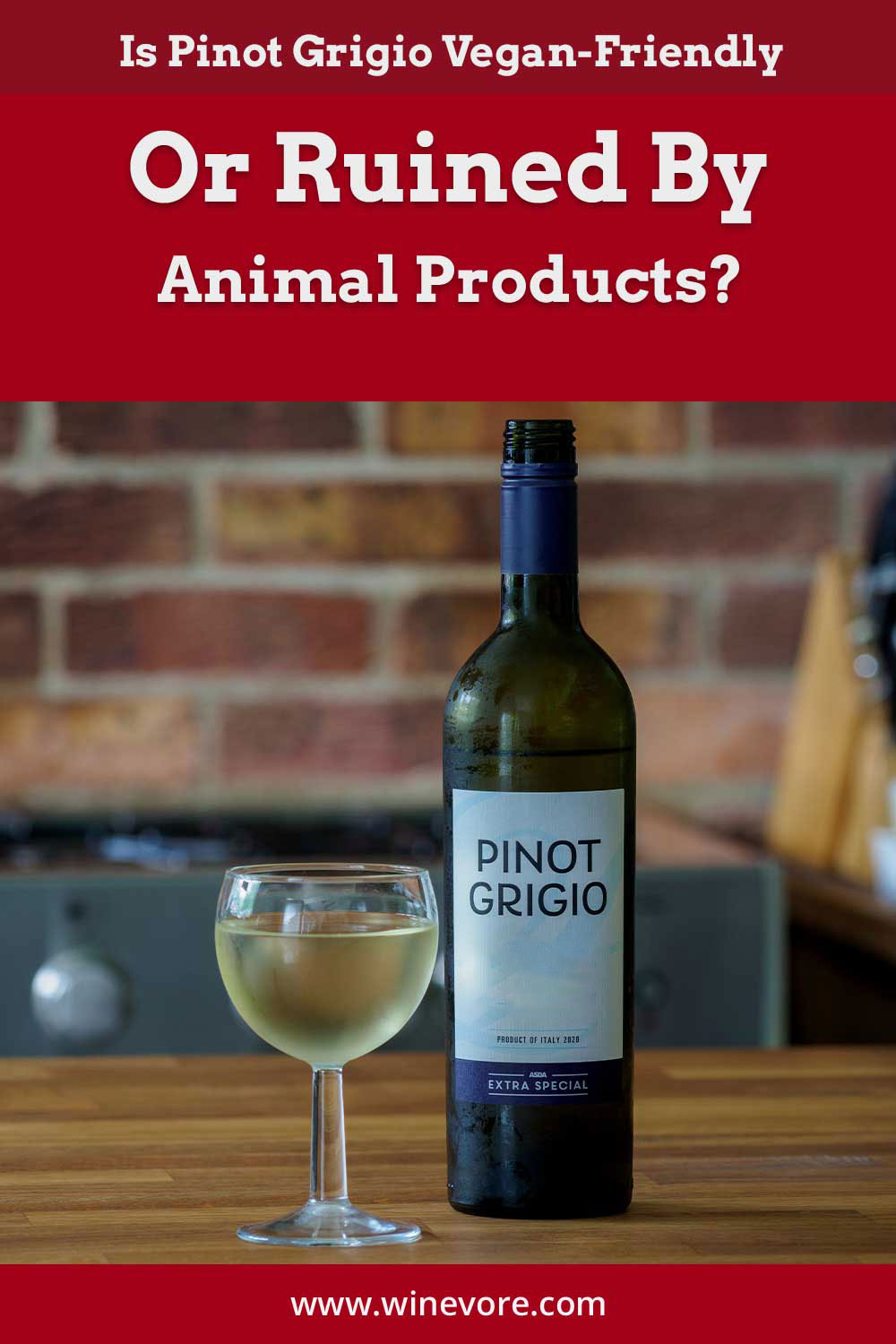 Why is Pinot Grigio not Vegan?
Wine is a tricky thing. When yeast and grape juice ferment, they produce all kinds of unwanted substances. To remove them, winemakers use all kinds of additives known as fining agents in the wine. 
These fining agents combine with the unwanted elements. Later, the winemaker can easily filter them out. 
Common non-vegan fining agents added to wine include: 
Egg whites

Milk proteins

Gelatine
Some winemakers are beginning to use organic, non-animal-based fining agents for their wine. This is excellent news for vegans. 
What Pinot Grigio is Vegan Friendly?
Any Pinot Grigio that isn't made with animal by-products is vegan. Most of these animal products come from the fining agents used in winemaking. Recently, winemakers have been using a volcanic substance called bentonite as a fining agent. 
Is any Brand Currently Working on a Vegan-Friendly Pinot Grigio?
There are a few brands that produce vegan Pinot Grigio. In addition, some big brands from big producers are making some excellent Pinot Grigio that is 100% vegan. In the future, vegan Pinot Grigios and other vegan wines are likely to become more common. 
Big brand vegan Pinot Grigio to look out for: 
Trader Joe's Block Pinot Grigio

Kris Pinot Grigio

Little Black Dress Pinot Grigio 
Final Thoughts on Vegan Pinot Grigio
Finding vegan-friendly wine can be difficult. Winemaking involves adding additional ingredients. 
Some of these added ingredients are animal by-products. Fortunately, winemakers can use non-animal products in every step of their winemaking. Some of the best vegan wines out there are Pinot Grigio.