What is Gewürztraminer's Alcohol Content? It's Not Exactly What You Think
Last Updated on August 1st, 2023
Reader Disclosure
Disclosure: We may earn commissions for purchases made through links on our site. Learn more on our about us page.
Alcohol is one of wine's most important characteristics. Wines with too much alcohol can overpower their other qualities. Wines with too little may be overpoweringly tart or sweet. 
The alcohol content in wine largely depends on the sugar content of the grape juice before fermentation. 
Gewürztraminer grapes have a very high sugar content when they are harvested. This means that when the wine is fermented, the high sugar content will be converted into a high alcohol content.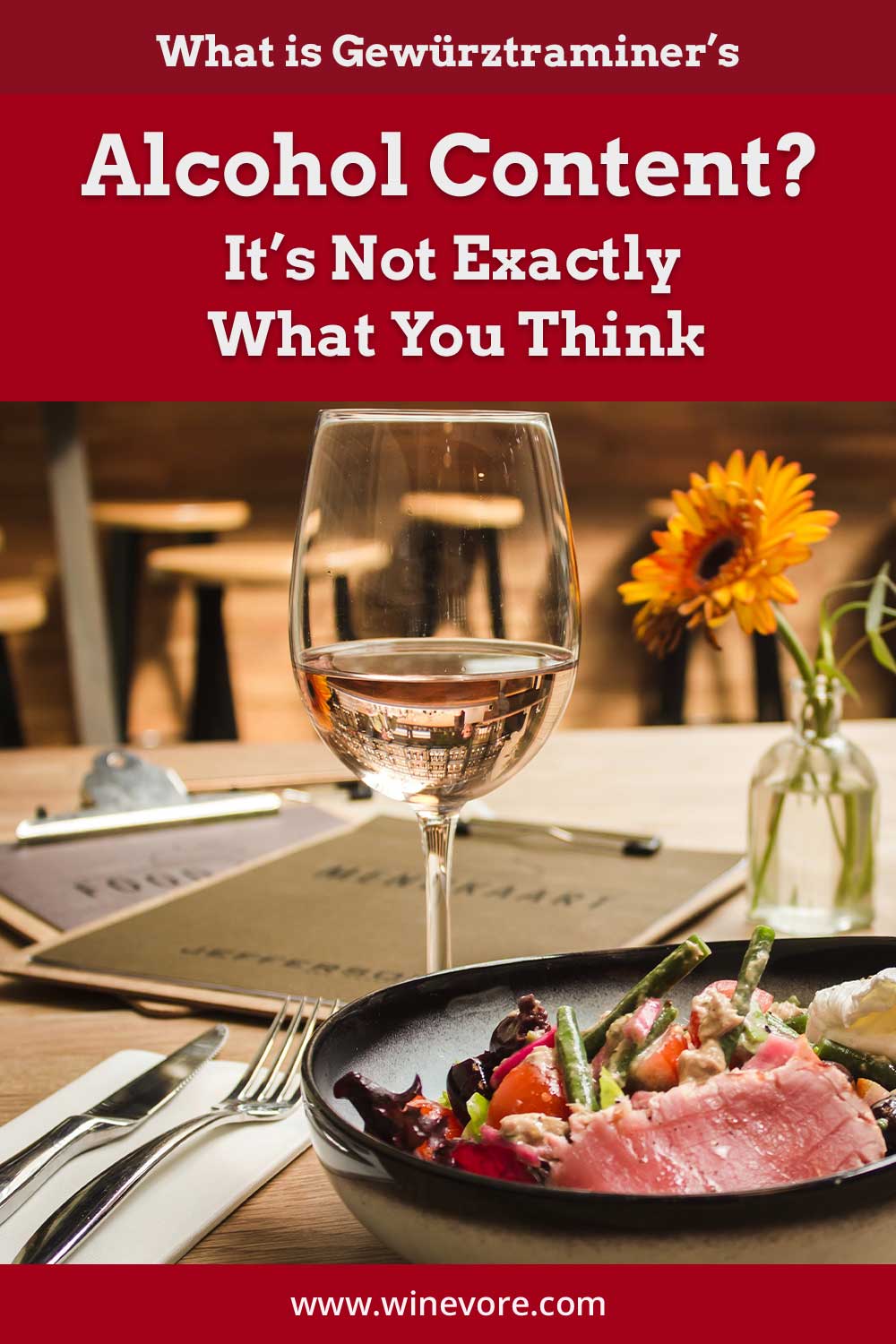 What Percent Alcohol is Gewürztraminer?
Most Gewürztraminer contains around 14% alcohol. Some wines come out to 15%, which is higher than many red wines. Sweeter Gewürztraminer from Germany tends to be lower in alcohol. 
Is Gewürztraminer Considered a Strong Wine?
Gewürztraminer has a higher alcohol content than most white wines. To some people, Gewürztraminer would be considered a stronger wine. For those who have a low tolerance to alcohol, it is best to drink smaller portions of Gewürztraminer. 
Most people talk about the world's body when they are describing how much alcohol a wine contains. Because of its higher alcohol content, Gewürztraminer is considered a full-bodied white wine. 
Which Brand of Gewürztraminer has the Least & the Most Alcohol?
In general, Gewürztraminers grown in cooler climates will have more acidity and lower alcohol than ones grown in warmer climates. 
Therefore, gewürztraminer from Southern Europe, California, South America, and Australia will generally be fuller-bodied (higher in alcohol) than wines from northern Europe or the northern United States. 
Alcohol Content of Gewürztraminers
Higher Alcohol:
Californian like Santa Barbara Winery Gewürztraminer

Chilean like Casa Marin Cartagena Gewürztraminer

Australian like Skillogalee Gewürztraminer

Michigan like Bowers Harbor Vineyards Gewürztraminer

Alsace like Jean Sipp Gewürztraminer

German like Hans Baer Gewürztraminer
           Lower Alcohol
How Strong Is Gewürztraminer Compared To Other Types Of Wine?
Most red wines will be stronger than white wines. Gewürztraminer is one of the exceptions. Fortified wines, wines with the addition of spirits like brandy to preserve their flavor, have the highest alcohol content of any wine. Port and sherry are examples of fortified wines. 
Strength of Gewürztraminer compared to Other Wines
High alcohol
Port and Sherry

Zinfandel

Cabernet Sauvignon

Gewürztraminer

Syrah

Merlot

Pinot Noir

Riesling 

Prosecco 
           Low Alcohol
Final Thoughts on Gewürztraminer's Alcohol Content
Red wines generally have higher alcohol than most white wines. Gewürztraminer is higher in alcohol than most white wines. 
Gewürztraminer normally has between 13% to 15% alcohol by volume. The strongest Gewürztraminers are from warmer climates, like California or Chile.