Gewürztraminer Regions That Every Wine Drinker Dreams of Visiting
Last Updated on August 1st, 2023
Reader Disclosure
Disclosure: We may earn commissions for purchases made through links on our site. Learn more on our about us page.
Have you wondered where Gewürztraminer is produced? Hearing the name, everyone automatically thinks of Germany. However, the wine is produced in other regions in the world because of its climate. 
To grow Gewürztraminer grapes, it needs to be in a cool climate where it doesn't exceed 80 degrees (26.6 C) for the day. Therefore, areas like Alsace, Germany, Northern Italy, and even New York grow Gewürztraminer. 
In this guide, we'll explore the regions that make Gewürztraminer. This way, next time, you'll have an understanding of the regions that produce them so that you can select the best one.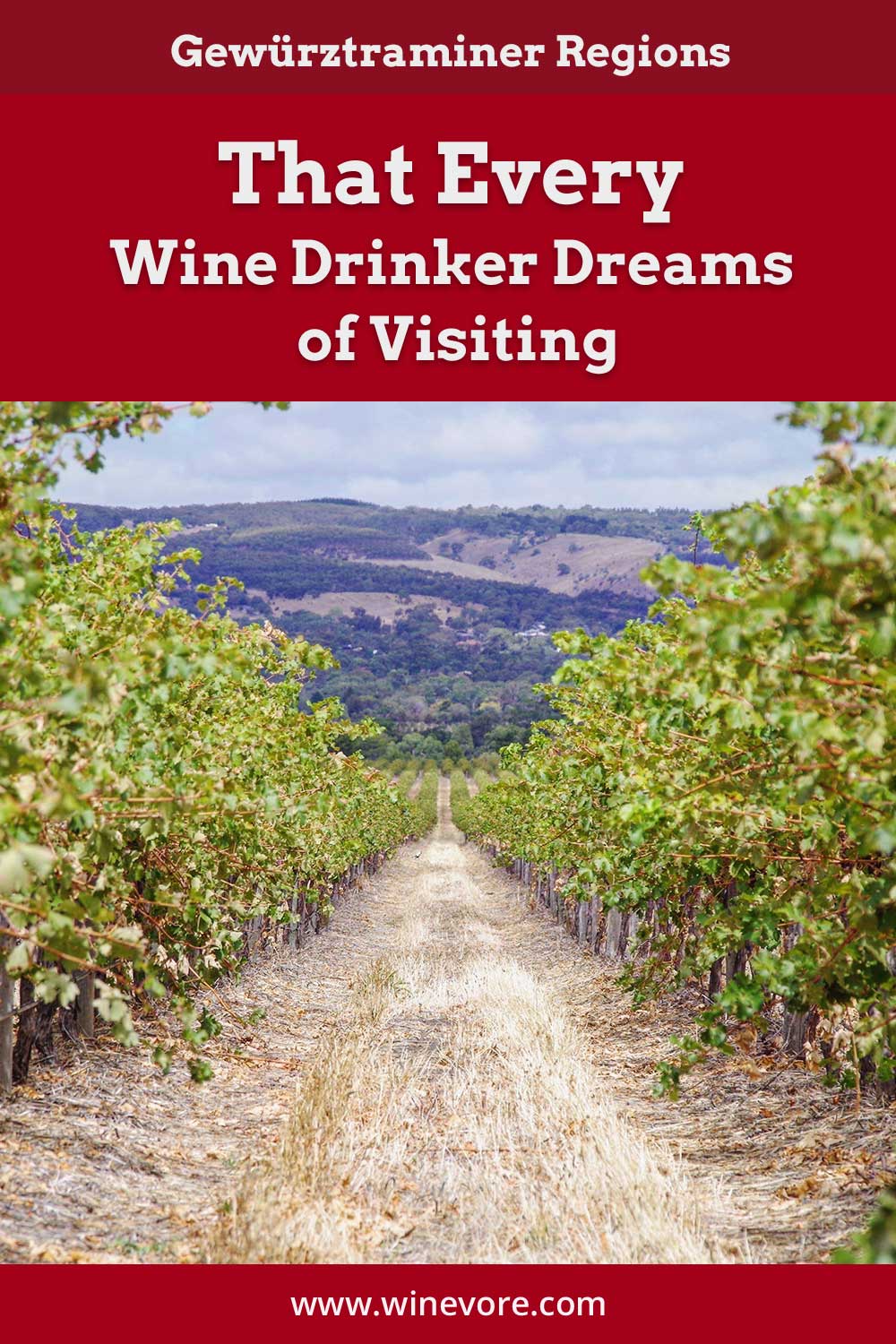 What country makes the best Gewürztraminer?
France is the world's largest producer of Gewürztraminer in the Alsace area. The climate is perfect for growing those grapes. They also produce not very sweet wines to very sweet wines with the Gewürztraminer grapes. 
Alsace late harvest wines and dessert wines are acknowledged as one of the world's best. Here are some wines you may recognize:
Gewürztraminer Alsace Vendanges Tardives by Wolfberger

Gewürztraminer Alsace Grand Cru 'Steingrubler' by Domaine Barmes

Vendanges Tardives Gewürztraminer by Bestheim Vendanges
There are, of course, many more from France, but there are other regions that make good Gewürztraminer too. So we will explore that next.
Great Regions to visit to try Gewürztraminer
These regions are the world's most popular regions that produce Gewürztraminer. 
France
As you already read, France is one of the largest producers of Gewürztraminer. Its climate is perfect for it. Some of the world's best testing dessert wines are made from here. Alsace is the largest region to grow grapes and wine.
Germany
We couldn't leave Germany out while discussing Gewürztraminer. Germany is the world's 2nd largest producer of this wine. Areas such as Pfalz, Rheinhessen, and Baden are the regions that grow the grapes and produce the wine. 
However, Gewürztraminer wines are typically drier and high quality, but sometimes you'll see a sweeter version of German Gewürztraminer. 
North America
In North America, it's still coming into its own. Cooler regions such as California, Michigan, and some regions in New York are excellent climates for the Gewürztraminer grapes.
Therefore, you'll see a lot of wines being produced from those regions. In Canada, Gewürztraminer wines are produced with some success in the Niagara region and Okanagan Valley in British Columbia. 
Other Regions
New Zealand is one of the newcomers to producing Gewürztraminer wine, thanks to its cool climate. There are other various cool climate regions that had some success as well. 
Austria and other European countries have had some success producing Gewürztraminer wines. These regions are not hugely popular for Gewürztraminer, but they are gaining popularity and can be worth a try.
Is most Gewürztraminer made in Italy?
As of today, yes, most Italian Gewürztraminer is made in Trentino, South Tyrol, and Alto Adige, Northern Italy. The soil and climate are perfect for growing Gewürztraminer grapes and, therefore, delicious wines that we know today. 
South Tyrol has been growing Gewürztraminer grapes since the 5th century, so you can be sure that the Italians know what they're doing. Here are some Italian Gewürztraminer wines you should try:
Gewürztraminer Lunare by Terlan (Terlano)

Nussbaumer Gewürztraminer by Tramin 

Brenntal Gewürztraminer Riserva by Cantina Kurtatsch
Final Thoughts on Gewürztraminer Regions
Gewürztraminer is a wine that's enjoyed by many from many regions. Whatever region you prefer the wine from, each has its own wine style. 
Whether you prefer the traditional sweetness or need something a little drier, these regions make the wine that will entice your palette. So next time you go shopping for Gewürztraminer, look at the label so that you know where it is from. 
Then take it home and enjoy a glass, either with a meal or by itself.