How Drinking Gewürztraminer From The Correct Glass Will Enhance The Flavors
Last Updated on August 1st, 2023
Reader Disclosure
Disclosure: We may earn commissions for purchases made through links on our site. Learn more on our about us page.
It's important to have the right glass while drinking wine. Believe it or not, it can help you enjoy your wine better because you'll be able to unlock all the deliciousness that Gewürztraminer offers. 
That's right, Gewürztraminer, the white wine that is sometimes overlooked, deserves a glass where it can be truly appreciated. Let's look into selecting the best glass for Gewürztraminer and where to find them.
How to Select the Best Glass Shape for Gewürztraminer
You wouldn't want to put a Gewürztraminer in a glass that's meant for red wine. It also doesn't quite fit in the regular white wine glasses. The red wine glasses are too big, and the white wine glasses are a bit too narrow. 
You'll want to select a glass that is made for sparkling wine. Those glasses are just wide enough that you can properly enjoy the wine. What glasses are those? We'll explain that next.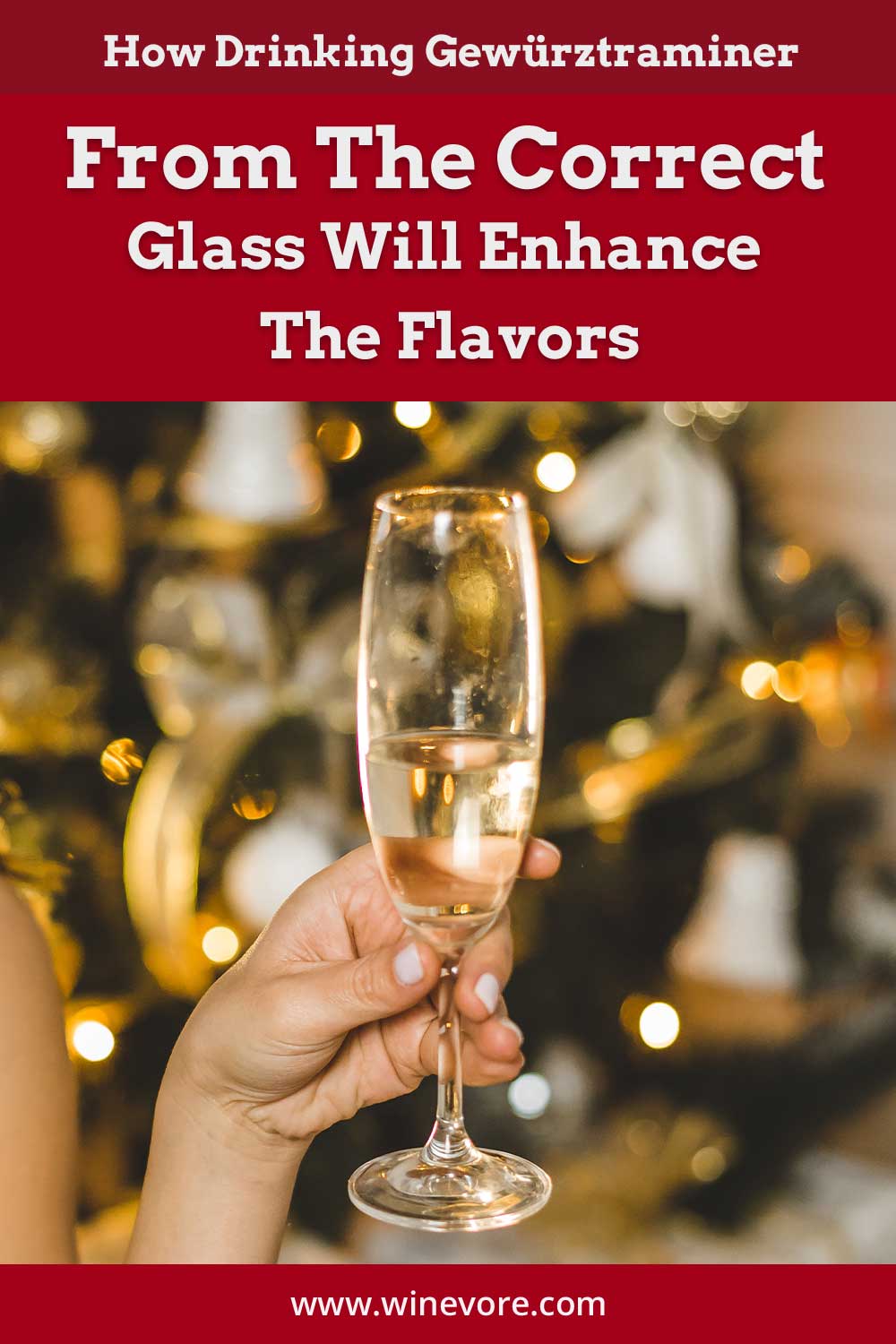 What kind of glass do you use for Gewürztraminer?
Glasses that are made for sparkling wines are often called white wine aromatics glasses or Riedel. This glass is perfect for balancing Gewürztraminer's fruitiness and the fresh characters.
Riedel's glasses are designed in a way where you can enjoy certain white wines like Gewürztraminer in it. It can also improve the taste when it's in these glasses as well.
You can find Riedel glasses at stores that sell them or buy them online. 
Glasses to Avoid When Drinking Gewürztraminer
There are glasses you should avoid while drinking Gewürztraminer. The reason that you should avoid them is that white wines like Gewürztraminer will not taste as well.
Here are glasses to avoid with Gewürztraminer:
Red Wine Glasses
These glasses should be avoided with Gewürztraminer because it's too big. Red wines need the extra space for oxygen to develop its flavors. Also, putting Gewürztraminer in these glasses will alter the fruity aroma that's in the wine.
Champagne Flutes
While the red glasses are too big for Gewürztraminer to enjoy, the flutes are too narrow for this wine too. 
These are the glasses that should be avoided while enjoying Gewürztraminer. Instead, those glasses can be enjoyed with other wines that are more appropriate for it. 
Cleaning Gewürztraminer Wine Glasses
All wine glasses should be treated with care depending on their quality. If they are of lower quality, they can break easily while washing it. 
With Riedel glasses (the one recommended for Gewürztraminer), you'll need to take extra care to ensure it doesn't break. Here's how to wash these glasses:
If using the dishwasher: 
Put the glasses on the top rack. This way, they are more secure while they are being washed. 

Make sure they aren't touching anything metal or another mug. It could cause scratches or breakage to the glasses.

Use a good quality dishwashing detergent or tablet. 

Use vinegar to ensure that it gets the shine that you see on glasses.
If hand washing: 
Wash with warm water only.

Cup your hands around the bowl part while washing so that you don't break it.

Don't have your hands around the bowl and base at the same time.
The glasses that you use to drink Gewürztraminer with are very delicate. So when washing them, you'll have to take extra care.  
Is there anything special I should do to the glass before I enjoy my wine?
You should make sure that your glass is ready to have wine in it. If you haven't already cleaned and polished the glass, you can do so. After you do, you can enjoy Gewürztraminer in your glass.
Final Thoughts on Gewürztraminer Glass
Gewürztraminer deserves to be enjoyed in the right glass. Having it in the wrong glass means you won't be able to enjoy the wine as much as you'd like. 
It appreciates being in a white aromatic glass where it's not too narrow or wide but just perfect, just like the Gewürztraminer wine.