Gewürztraminer Cheese Pairing Ideas That Will Make Your Friends Envy You
Last Updated on August 1st, 2023
Reader Disclosure
Disclosure: We may earn commissions for purchases made through links on our site. Learn more on our about us page.
A wine like Gewürztraminer loves to be paired with cheese. Its delicious intense aromas, from hints of lychee, sometimes tangerine, to even ripe mango, make cheese enjoyable. Sometimes there are hints of other fruits as well in this wine. 
Now, you could eat any cheese that you'd like with Gewürztraminer. But you won't get to enjoy the wine or cheese properly. Thankfully, there are cheeses that pair perfectly with Gewürztraminer. 
Read on below to see why Gewürztraminer pairs so well with cheese and what to pair with it.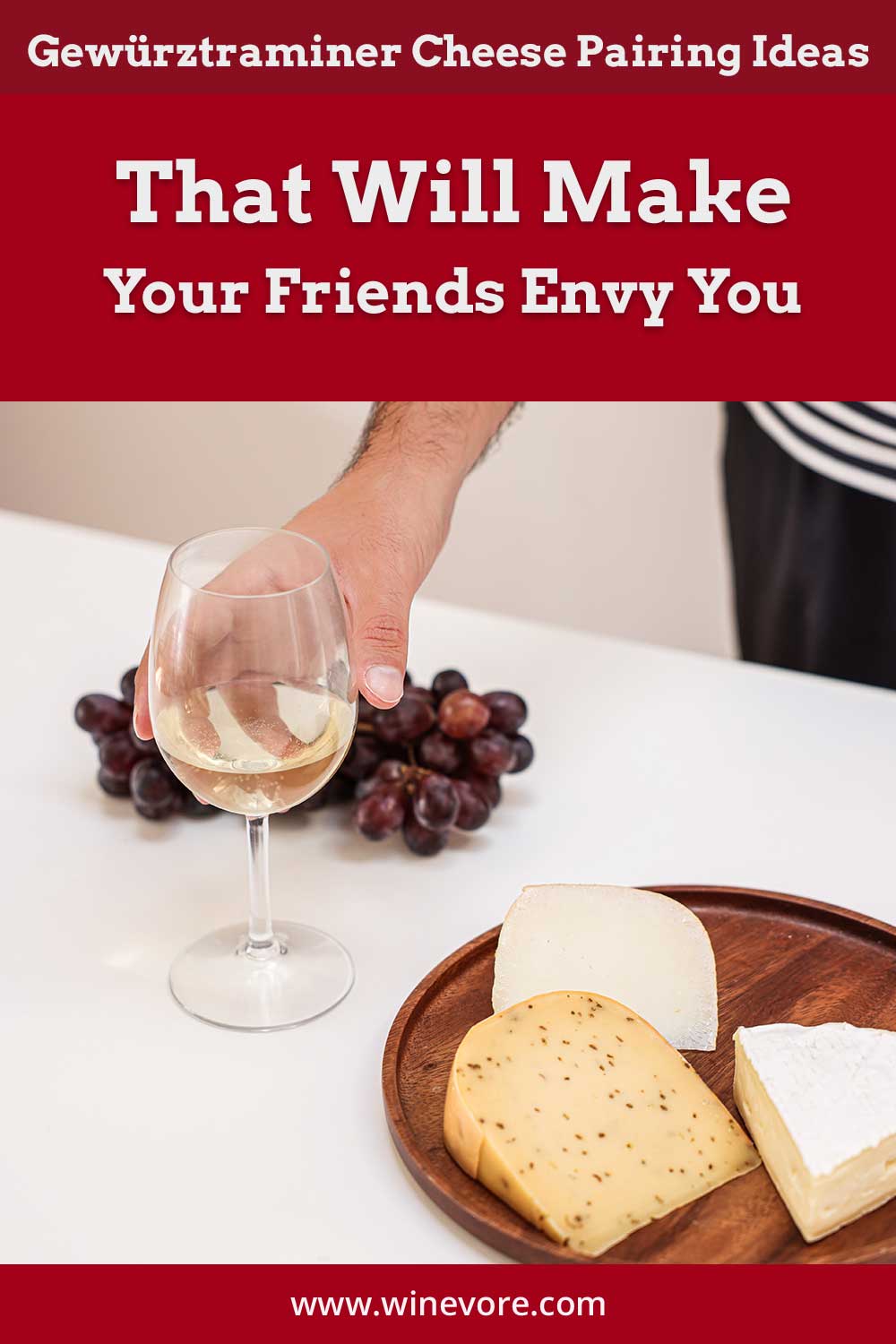 Looking For the Perfect Cheese to Pair with Your Gewürztraminer?
There is an enormous variety of cheese just waiting to be paired with the perfect wine. This includes Gewürztraminer. 
You'll want to find cheese that compliments Gewürztraminer's intense aroma and fruitiness. This means you'll want to stay away from fresh cheese that is more suitable for other wines. 
Cheese with mild cow's milk cheese and cheese with a subtle sweetness makes a perfect combination to pair with the Gewürztraminer. 
Why does Gewürztraminer go well with cheese?
Gewürztraminer goes well with cheese because it has that spice and saltiness that goes well with the mild cheeses. In addition, Gewürztraminer has some saltiness (no, not the kind you're thinking of), so it pairs well with the most neutral-tasting cheeses. 
Best Cheese To Pair With Gewürztraminer
Here's the part you've been waiting for. What cheese pairs well with Gewürztraminer? Check out the list below:
Gouda

Munster

Gruyère 

Gorgonzola

Roquefort

Capocollo

Stilton

Swiss 
As some of these cheeses are soft, semi-hard, and hard. You see that these are not salty cheeses that will overpower Gewürztraminer. On the contrary, it can complement the wine very well with its mellowness. 
So the next time you want to pair cheese with Gewürztraminer, why not add some fruit as well? It'll make for a delicious snack the next time you do a food and wine pairing.  
Cheeses to Avoid Pairing with Gewürztraminer
Do you know what cheeses that pair wonderfully with Gewürztraminer? But, there are cheeses that don't agree with Gewürztraminer. Here is a list of cheese that shouldn't be paired with this wine:
Mozzarella

Goat

Feta

Halloumi

Parmesan

Blue cheese

Ricotta
These are some cheeses that don't pair well with Gewürztraminer. The reason is that some cheeses mentioned are too salty for Gewürztraminer. In addition, the wine on its own already has robust flavors, so it needs cheese with mellow flavors to help balance it out.
While these cheeses are not perfect for Gewürztraminer, they are perfect for other wines that love these particular cheeses. For example, feta cheese loves Sauvignon Blanc. Mozzarella loves Pinot Grigio. 
So, not all is lost because they don't taste as good with Gewürztraminer.  
Final Thoughts on Gewürztraminer Cheese Pairing
Gewürztraminer loves to be paired with cheese. As long as it's the right kind of cheese, you'll get that flavor of an explosion on your taste buds. 
So the next time you have a wine tasting party that involves Gewürztraminer, don't forget to add the cheese. Just remember to have the cheese at room temperature, and the wine chilled so that it can be properly enjoyed.