Delicious Foods to Serve with Zinfandel that Make Yummy Meals
Last Updated on August 1st, 2023
Reader Disclosure
Disclosure: We may earn commissions for purchases made through links on our site. Learn more on our about us page.
Zinfandel has both red and white wine varieties; both are produced from the same blue-black grape that originated from Croatia or as far back as 6000 BC in Puglia, Italy. Unfortunately, that is where the similarities end.
This ancient grape faced near extinction in the late 19th century; historians found a hero for the vintage in George Gibbs. 
Before the phylloxera swarmed and devastated European crops, transported a few cuttings from the Imperial Collection of Plant Species from Vienna, Austria. White Zinfandel did not exist until the 1940s at Sutter Homes Vineyard in California. 
By accident, a batch of the Red Zinfandel was skimmed, allowing the juice to emit a more prosperous, deeper hue.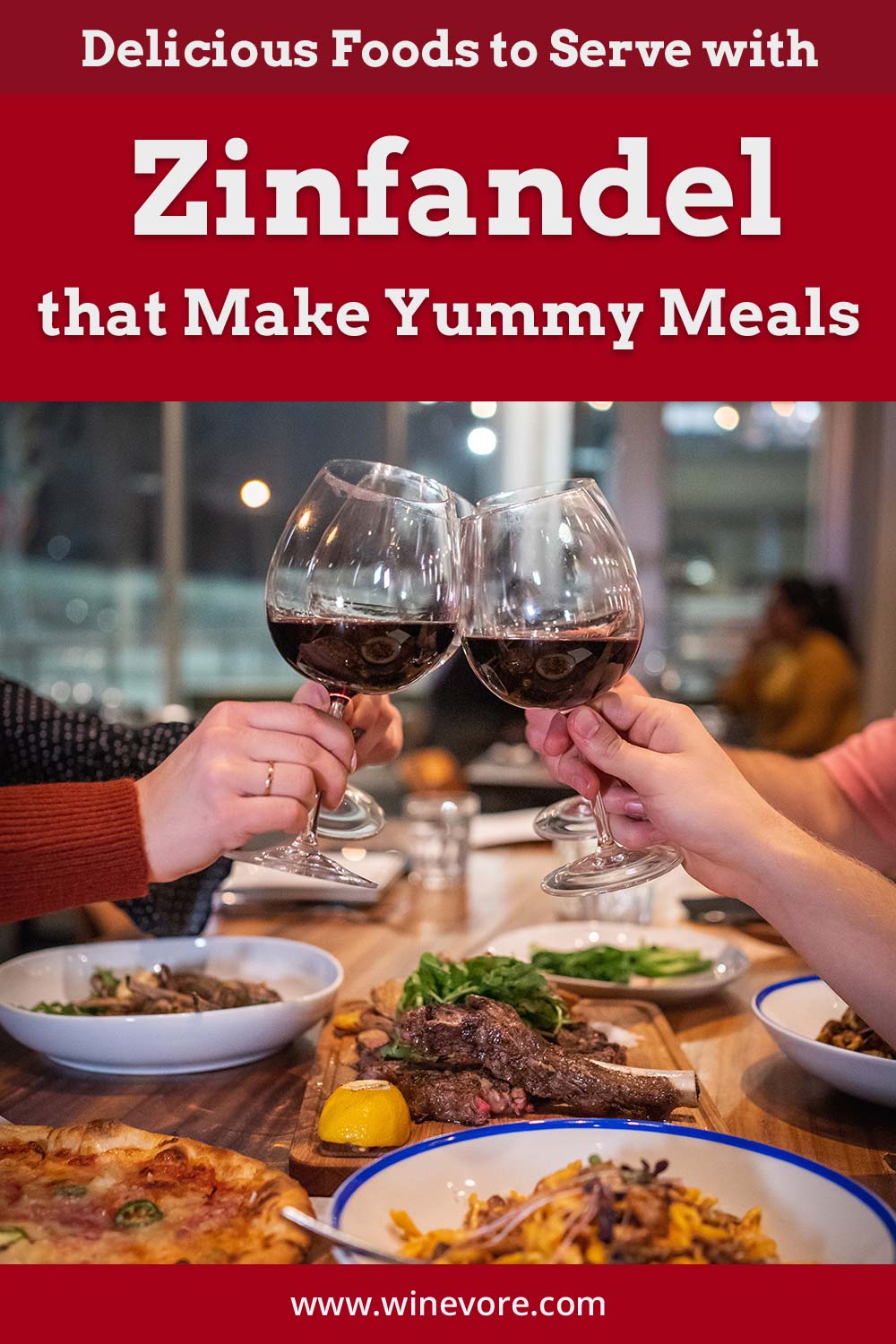 What meat pairs well with Zinfandel?
White Zinfandel is known to have a light texture with paired fruit hints of watermelon and strawberry, pineapple and pears, blackberry and cherry, and notes of sweet oak and dried herbs and spices. 
Red Zinfandel has a ruby red color, is drier than its lighter zin counterpart, and has blueberry, plum, cranberry, cherry, and licorice notes.  
Below is a list providing quality meat pairings for Red and White Zinfandel.
White Zinfandel:
Chicken (Grilled, kebobs)

Pork (Chops, sandwiches)

Lamb (Chops, Gyros)
Red Zinfandel:
Beef

Venison

Duck

Peasant

Sausage

Liver
What cheese pairs well with Zinfandel?
Wine and cheese have been served to date back centuries. As long as certain vintages have been produced, so hasn't an excellent cheese pairing gone with those labels. 
Zinfandel is no exception. Here is a list of cheese/cracker wine pairs. 
White Zinfandel:
Soft Cheese (Brie, Gorgonzola, Zimbro, Harbison)

Cream Cheeses

Provolone
Red Zinfandel:
Blue cheese

Muenster

Pecorino Romano

Swiss
What Desserts should you eat with Zinfandel?
Though not the sweetest vintages, Zinfandel's versatility allows for some delicious dessert pairings; think of rich foods or a tasty custard. White Zinfandel's natural fruit bouquet and taste are perfect for the sweeter, tart desserts.
Red Zinfandel's hearty nature is best with the decadent deep flavored desserts. Provided are some common dessert pairings for both Zinfandel varieties. 
White Zinfandel:
Fresh fruit 

Tart sweets and jams

Custards

Cheesecakes

Puddings

Crème Brûlée

Vanilla, lemon cakes
Red Zinfandel:
Rich Caramel pecan fudge

Vanilla pecan pie

Red Velvet cheesecake
Snacks to eat with Zinfandel
When snacking with Zinfandel, remember the cheese pairings and serve with a flavorful cracker. Also, think of cold-cuts, thinly sliced meats with mild cheeses. 
White Zinfandel is good with lighter meats, and as usual with white wines, and similar to red wines, Red Zinfandel is good with red meats. Listed below are a few simple snacks to serve.
White Zinfandel:
Pretzels

Breadsticks

BBQ Chips

Crackers platter (thin meats, cheese)

Salami

Piccola

Pancetta

Chicken

Turkey
Red Zinfandel:
Chocolate, especially dark chocolate options

Bowl of chili

Beef Short Ribs

BBQ Ribs
Final thoughts on Food Pairing With Zinfandel
The only similarity between the two vintages is that they come from the same dark-skinned purple grape. 
The versatility of these labels is perfect for serving small hors d'oeuvres, light snacks, or even hosting a summer BBQ. Remember to enjoy; this vintage almost went extinct, after all.