How Drinking Sauvignon Blanc From The Correct Glass Will Enhance The Flavors
Last Updated on August 1st, 2023
Reader Disclosure
Disclosure: We may earn commissions for purchases made through links on our site. Learn more on our about us page.
As a wine novice, one of the most common mistakes you may be making is using the wrong glass of your wine. It may sound pretentious, but there is some serious science behind wine glass shapes. 
You won't imagine how big of a difference it can make in your wine drinking experience. So if you don't know what glass you should be using, don't worry, we got you! 
For all the Sauvignon Blanc lovers, read on to find out how to enhance your sipping experience with the right glass.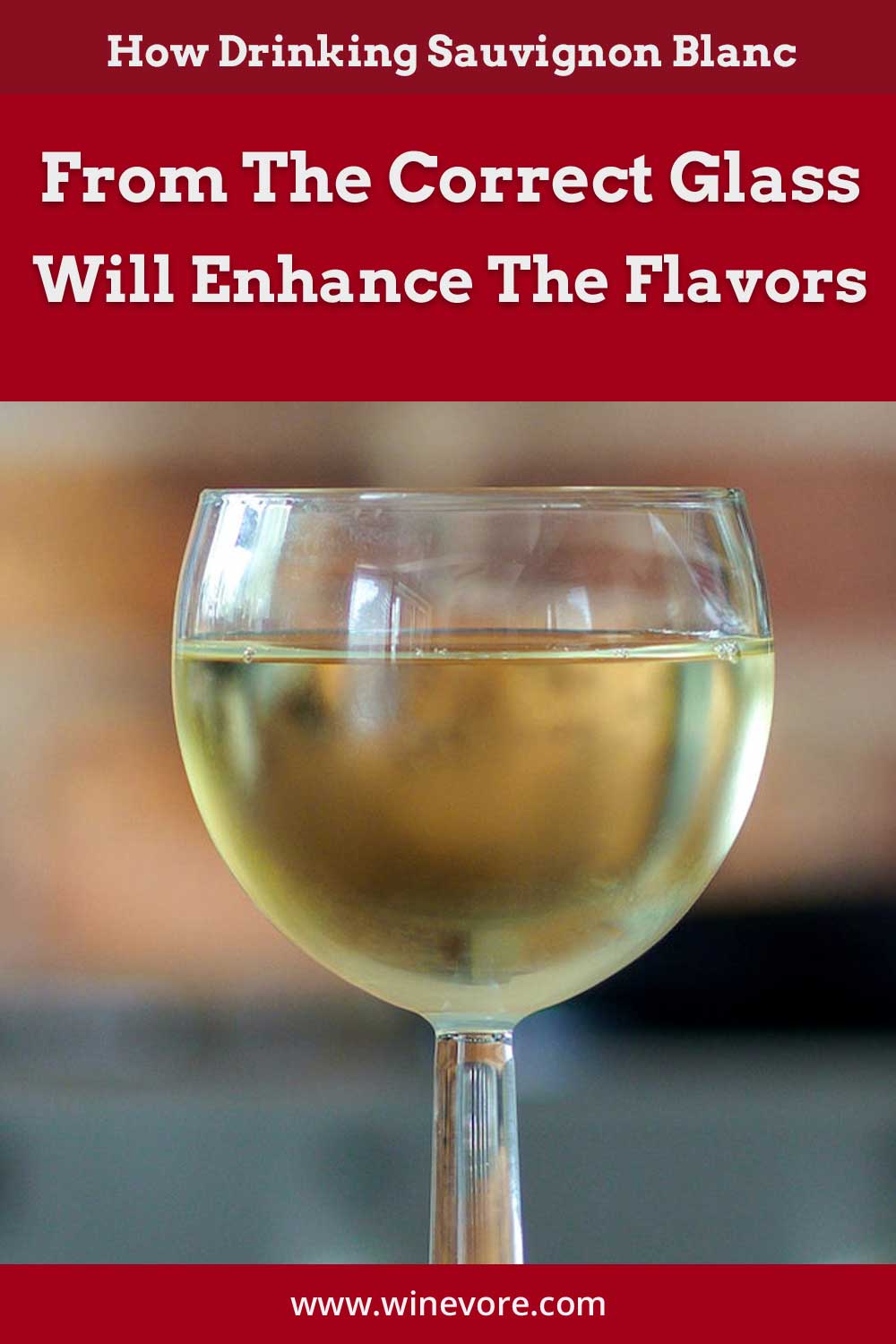 How to Select the Best Glass Shape for Sauvignon Blanc
To figure out what glass goes best with Sauvignon Blanc, you should first understand just what you are drinking and what you expect. Sauvignon Blanc is medium-bodied and dry, so it won't be super light and sweet. 
It also has a very specific acidity which should make your lips sting and pucker slightly. However, there are also some Sauvignon Blanc wines with some residual sugar, so they are sweeter than usual. 
Your chosen glass should bring out this dryness and acidity along with the wine's fruity tropical flavor profile with hints of peach, pear, lime, grapefruit, and more. 
However, Sauvignon Blanc has more subtle aromas, which can be completely lost in the wrong glass, so you must make the right selection.
What kind of glass do you use for Sauvignon Blanc?
Sauvignon Blanc has complex flavor aromas with subtle hints that sometimes go unnoticed. To avoid losing all your flavors, you must find yourself a glass with a small mouth. 
The mouth is where you are drinking from or the rim. A narrow mouth will ensure you aren't wasting any part of the versatile Sauvignon Blanc profile. 
Since we are on the topic of narrow, a narrow bowl is also necessary for a good Sauvignon Blanc glass. 
The bowl, which stores your wine when you aren't drinking it, will decide the factor of maintaining flavors. On the other hand, a wide bowl may indirectly dilute the wine, so you won't really be tasting all that you can. 
A narrow bowl will concentrate all your aromas on the opposite end of the spectrum. A narrow and short bowl will also "direct" the wine scents to your nose, which, joined with your tastebuds, will engulf you in that Sauvignon Blanc feeling. 
Glasses to Avoid When Drinking Sauvignon Blanc
Stemless glasses are great in theory, they are at less of a risk for damage and are easy to store, but if you want to be serious about wine, then you must avoid them. 
White wines like Sauvignon Blanc are only good when they are chilled. This is how they are meant to be served. But, when you are constantly holding a stemless glass in your hands, the heat from your hands is bound to warm up your wine, and it just won't taste as good.
As we mentioned above, the perfect Sauvignon Blanc glass is one with a narrow bowl and a narrow mouth. 
If either the mouth or the bowl of the glass is too wide, you will be losing the essence of Sauvignon Blanc. The flavors will drown completely in a too large or too long bowl.
A bonus tip that applies to all wines and not just Sauvignon Blanc is to look for wine glasses with a thin rim. 
The thin rim is not only enjoyable to drink from but also maximizes wine flow to your taste buds. Unfortunately, a thick rim also hints at the low quality of the glass, so avoid these at all costs. 
Cleaning Sauvignon Blanc Wine Glasses
Some unscented dish soap and a soft sponge will do the trick for an everyday wash. Always wash your high-quality wine glasses by hand. A dishwasher isn't gentle on the glass and can ruin your dishware. 
When washing, make sure you are scrubbing gently. Wine isn't difficult to wash off. Rinse well and dry your glasses with a microfiber towel. You can let the glasses air dry, but you risk leaving streaks on them, so just polish with a soft towel.
You can soak your glasses in hot vinegar or baking soda for about an hour before washing them for a deep wash. This doesn't really need to be done too often, and it's up to you to decide according to how much you use the glasses. 
Is there anything special I should do to the glass before I enjoy my wine?
There isn't much you have to do to a glass before you enjoy your Sauvignon Blanc! Just make sure your glass is clean and polished with no residue from other wines. Otherwise, you may mix up their flavors. 
Also, keep in mind that Sauvignon Blanc is best enjoyed cold, so put your bottle in the fridge for about 20-30 minutes before you start sipping. 
Final Thoughts on Sauvignon Blanc's Glass
We can guarantee that once you find the perfect glass for your Sauvignon Blanc, you will experience this wine in a whole new light. If you have been using the wrong glass this whole time, there are surely flavors you just haven't discovered yet. 
So next time you go on a small midnight online shopping spree, throw those glasses (with narrow mouths and bowls) in the shopping cart for your next dinner party!