There's More To Chenin Blanc's Meaning Than You Think!
Last Updated on August 1st, 2023
Reader Disclosure
Disclosure: We may earn commissions for purchases made through links on our site. Learn more on our about us page.
Chenin Blanc is a versatile wine that is enjoyed by many across the world. The Chenin Blanc grape is a late-ripening but early budding variety. Since the grape has a high acidic level, it is vinified in an assortment of styles.
Under the right conditions, this grape benefits from the effects caused by noble rot (Botrytis Cinerea), which results in the juices being more concentrated and sweeter. As a result, it provides a splendid base from still and dry to sparkling honeyed wines and full-bodied wines.
Chenin Blanc has a broad spectrum of flavors ranging from fruity apple and sweet honeydew melon to nutmeg and oaky butterscotch. It is also a very aromatic wine, fragrant in citrus and floral notes. It also has the capacity to age well in a bottle.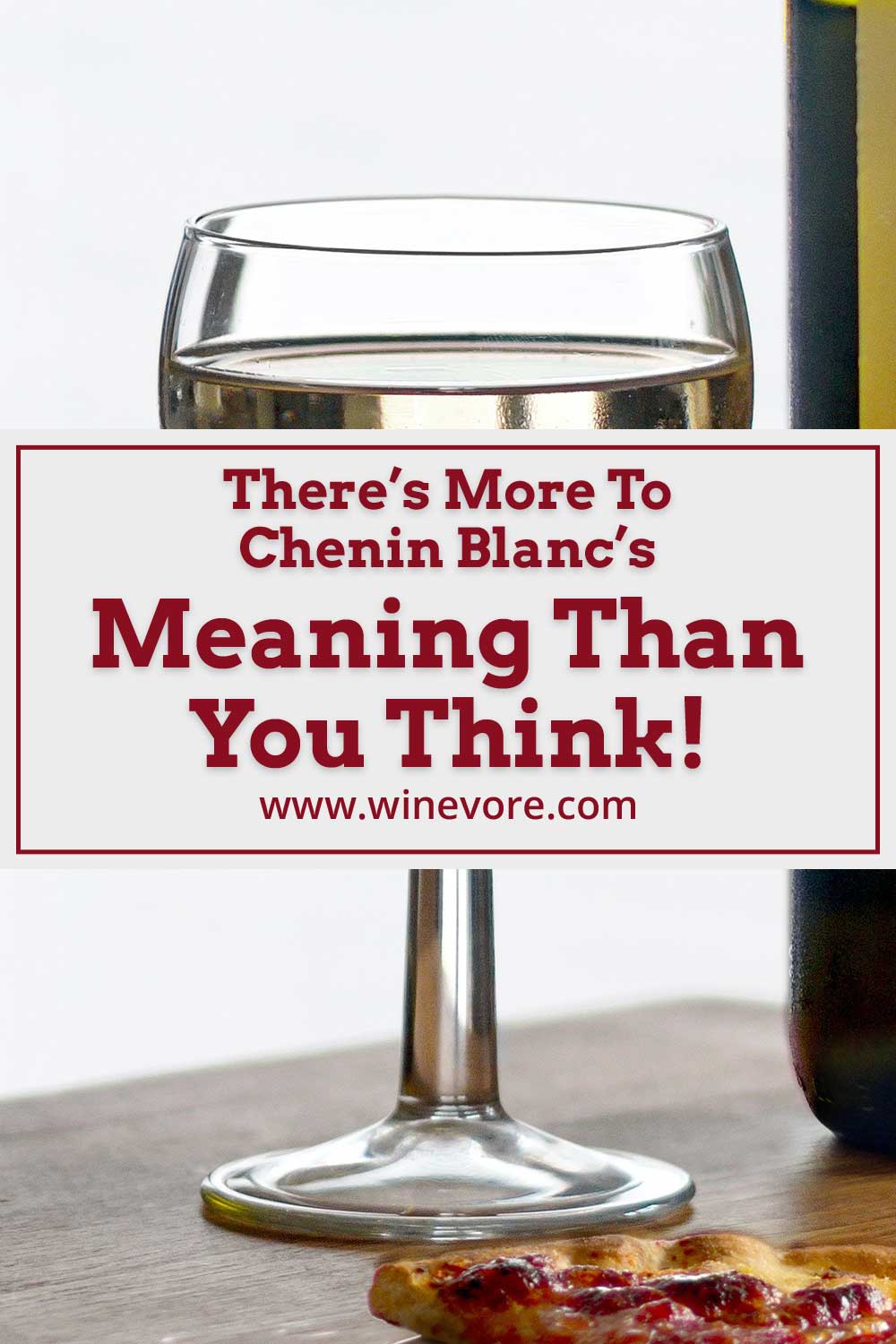 There's A Difference Between Meaning And Definition Of Chenin Blanc
Chenin Blanc means a white grape variety from which white wine is produced. These grapes are yellow-green and hang in a conical bunch.
The definition of Chenin Blanc is the variety of white wines, from dry to sweet, that are made from this grape. 
For instance, you can get four main wines from this grape.
Dry Chenin Blanc – quince, ginger, and chamomile flavored 

Off-Dry Chenin Blanc – flavored with passion, honeycomb, and ripe pear

Sweet Chenin Blanc – infused with notes of marmalade and tropical fruits

Sparkling Chenin Blanc – classic flavors of yellow apples and ginger with floral notes
What Does The Name Chenin Blanc Mean
Chenin Blanc means a white grape variety that produces white wine, and it is native to France's Loire Valley. These vines are easy to grow and flourish in clay, schist, and sandy loam soil types.
Chenin Blanc can now be found worldwide. For instance, in South Africa, it is the best-selling wine known as Steen. Other areas it is grown in include Australia, New Zealand, and California, and this is mainly in the Napa Valley.
Is Chenin Blanc An Italian Word
Chenin Blanc is not an Italian word. Chenin means a white wine made from the Chenin grape. The word 'Blanc' is of French origin, and it means 'white.'
Why Is The Wine Named Chenin Blanc
The Chenin Blanc grape originated from the banks of the Loire River in France. Historical records of the Abbey of Glanfeuil describe the Chenin Blanc growing along the river banks.
Chenin Blanc is named after Mont Chenin in Touraine, a wine district to the east of Anjou in the Middle Loire.
Who Decided To Name Chenin Blanc 
Chenin Blanc was first mentioned in official French documents as early as the year 845. It is believed that the French writer Francois Rabelais mentioned Chenin Blanc wine by name in the early 1500s. 
Final Thoughts On Chenin Blanc
Depending on the style of the Chenin Blanc wine, it is well received by everyone. It pairs well with food and can be enjoyed as a casual sip during the course of the day. Chenin Blanc can finally take its place with all the other wonderful white wines.