Chenin Blanc vs Chardonnay
Last Updated on August 1st, 2023
Reader Disclosure
Disclosure: We may earn commissions for purchases made through links on our site. Learn more on our about us page.
---
Chenin blanc and Chardonnay are white wines originating from different regions in France. They're typically quite acidic and dry, but this depends on the climate in which their grapes are grown. Both wines have a relatively high percentage of alcohol. 
Chenin blanc goes well with vegetable-heavy dishes and salad—chardonnay pairs well with grilled or roasted seafood.
What Is Similar About Chenin Blanc and Chardonnay?
Chenin blanc is an acidic white wine that makes a great dessert or sparkling wine. Historically, Chardonnay was also used as a dessert wine, although it's since branched out to be served anytime during the meal. They're both French wines, but their grapes are grown about 200 miles apart in the middle of France.
Both Chardonnay and Chenin blanc can be aged in oak barrels to adopt creamy vanilla or creme brulee flavors. For oaked wines pairings, think along the lines of buttery, flaky pastries like any sort of pie, although seafood is a safe choice for either wine. However, they're still great without being oaked.
These wines have about the same amount of alcohol, but this is primarily where their similarities end.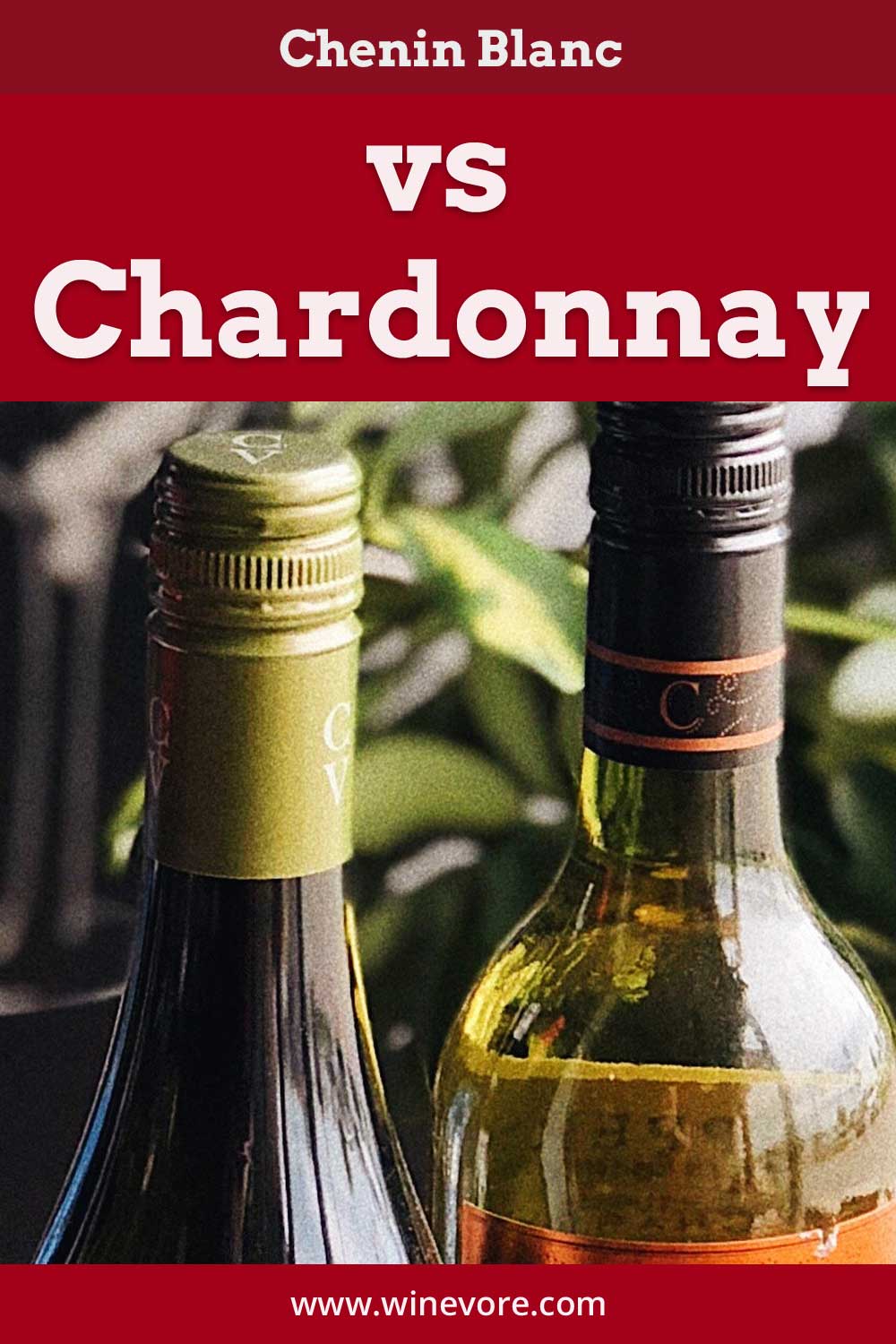 What Is The Difference Between Chenin Blanc vs. Chardonnay?
Chardonnay grapes are more suited for France's unpredictable summers. Chenin blanc grapes are finicky, and the crop can be far too acidic for still wine. When this happens, winemakers usually opt to make a different wine called Crémant de Loire. This is a sparkling wine blend with about 85% Chenin blanc 15% Chardonnay.
That said, Chardonnay is a more common and famous wine. Despite its grapes being cultivated in France for more than 1300 years, Chenin blanc never gained the prevalence of Chardonnay. Some of its obscurity comes from it having so many different names, including Steen, Bonnezeaux, Pineau de la Loire, and Savennières.
Chenin blanc also benefits from having noble rot, which occurs when winemakers encourage the growth of certain molds in the wine, giving it a distinct taste. Chardonnay isn't known for having an improved or otherwise enticing flavor from noble rot. That doesn't mean it can't be found with noble rot; indeed, some wineries produce it, just not nearly to the extent of Chenin blanc.
Which One Is Sweeter Or Drier Than The Other?
Chenin blanc and Chardonnay are similar in dryness. Chardonnay is usually considered "dry," whereas Chenin blanc is "off-dry" and slightly sweeter. These wines don't have much residual sugar; 10 grams per bottle isn't unusual, making the per glass amount negligible. However, if you have a sweet tooth, both wines are available as sweeter versions, especially when looking at New World wines.
Which One Has More Alcohol Content?
Chardonnay and Chenin blanc don't differ much in alcohol content. They both pack a punch with at least 11 percent ABV. The exception is wines produced specifically with less alcohol, like Spier's 5.5% Chenin Blanc. This is an excellent option for people who don't want to consume as much alcohol or calories.
How Do I Choose Between Chenin Blanc and Chardonnay?
Chenin blanc has notes of pears and apples. Chardonnay has more tropical flavors like mango and pineapple. Both wines have about the same amount of alcohol, but you might find minor differences between individual bottles. Try a blend of both wines, like LaCheteau Cremant de Loire Brut, if you're indecisive.
Summary
These French wines are versatile and affordable, with bottles starting at $8. They have a good bit of alcohol unless you're not looking for that, in which case, they still have alcohol-reduced versions. Chenin blanc and Chardonnay pair well with various dishes, but both can easily be paired with most seafood.
---