Chenin Blanc Regions That Every Wine Lover Dreams of Visiting
Last Updated on August 1st, 2023
Reader Disclosure
Disclosure: We may earn commissions for purchases made through links on our site. Learn more on our about us page.
If you are a huge white wine consumer, you've probably already had a chance to enjoy Chenin Blanc. It's a versatile grape that has subtle sweetness and style. It's also adaptable to all tastes. 
Now, you're here today because you're wondering what region Chenin Blanc is made from. In this guide, we will explore what region Chenin Blanc is made from and the best regions to try Chenin Blanc.
What country makes the best Chenin Blanc?
France makes the best Chenin Blanc because it originated from here, and they make all types of Chenin Blanc. With that said, production is focused on Loire Valley's central subregions. 
The reason that it's the best wine is because of the climate and soil that helps shape the outcome. You can expect wine to be from bone dry to sweet, as well as still to sparkling. 
We'll talk about the best regions to enjoy Chenin Blanc next.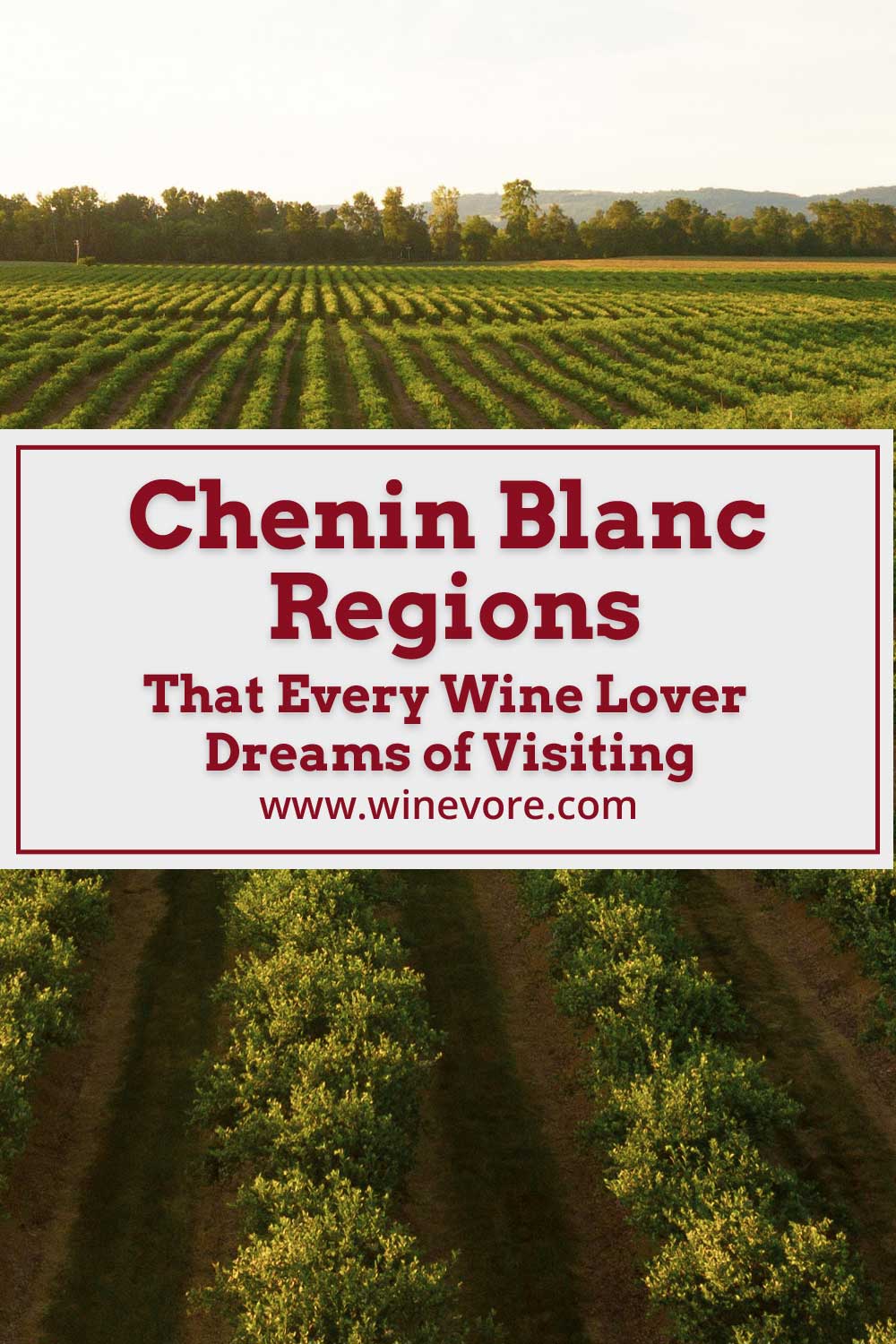 Great Regions to visit to try Chenin Blanc
Here are some of the regions in the world that make the best Chenin Blanc
Loire Valley in France
This region is in France, of course. Some of the world's best-tasting Chenin Blanc comes from here. For example, winemakers in Vouvray make exceptional still and sparkling wine. The wine from there can range from fruity to drier tasting. 
Cremant de Loire, one of Chenin Blanc's sparkling wines, is one of the best in the world. It's from Saumur, which is part of Lorie's Valley.
Further west of this valley, Savvenieres Chenin Blancs are more full-bodied and dry because the region's average temperature is higher than Vouvray. You can also taste subtle hints of tropical fruit in this wine, which makes the win even richer.
It also helps that the valley's most during every fall helps develop this region's sweeter wines. Some of the best dessert wines in the world that use Chenin Blanc grapes are made in Coteaux du Layon, Bonnezeaux being one of the most popular ones.
South Africa
Besides France, South Africa is known for Chenin Blanc. In fact, this region is one of the world's largest Chenin Blanc growing (planting) areas in the world. This means this is where most of the Chenin Blanc grapes are. 
While production in this region has declined a bit, the winemakers from here are more focused on quality. In South Africa, they call it the Steen. The Chenin Blanc grape arrived in South Africa in the 17th century with the Huguenots. 
The difference between Lorie Valley and South Africa's Chenin Blanc is that the Chenin Blanc that's grown in Africa is much richer in flavor. But, again, this is because of the climate, as you know that Africa is much hotter than France.
USA
Chenin Blancs grapes are mostly grown in California, but unfortunately, it doesn't produce as much as they used to in the 70s and 80s. 
There used to be 40,000 acres dedicated to growing the Chenin Blanc grapes, and today there are just under 5000 acres. 
Even though there's low production in the United States, winemakers often try to make the wine taste more like the Loire Valley ones, where it's more mineral concentrated.
New Zealand
Originally, lower quality but mass-produced Chenin Blanc wines were made here but lost its popularity to Sauvignon Blanc. 
However, there are still a few hundred acres dedicated to making Chenin Blanc, especially in the island's northern part. In addition, it's a cooler climate, so they make similar Chenin Blancs in France.
Australia
Chenin Blanc is produced mostly in the western region of Australia. Chenin Blanc is often blended with Chardonnay, Semillon, and Sauvignon Blanc to produce mass quantities of the wine. 
But Chenin Blanc, by itself, tastes nearly the same as South Africa because of the climate. However, in Australia, they only have 1000 acres that have Chenin Blanc plantings.
These five regions all make excellent Chenin Blancs. Whether you prefer sweet, dry, still, or sparkling, these regions are worth trying the next time you want to get a bottle of Chenin Blanc.
Is most Chenin Blanc Made in France or South Africa?
Currently, South Africa is the largest Chenin Blanc producer in the world. There are 43,350 acres dedicated to growing Chenin Blanc grapes. 
As you know, the climate is ideal for this grape variety, and the fruitier versions of Chenin Blanc come from this region. 
Final Thoughts on Chenin Blanc's Region
Chenin Blanc comes from great regions. It's a very versatile grape that can be used to make a variety of wines. 
So next time you feel like something different, why not enjoy a glass of Chenin Blanc from one of these regions with your next meal? One is bound to satisfy your palette.