The Chenin Blanc Grapes Guide That Finally Explains It All
Last Updated on August 1st, 2023
Reader Disclosure
Disclosure: We may earn commissions for purchases made through links on our site. Learn more on our about us page.
Chenin Blanc is a white wine grape known to be the signature grape of South Africa and is now grown in different regions all over the world. 
Ever Wondered About the Specifics of Chenin Blanc's Grapes?
Chenin Blanc is not just a white wine grape curated in France. And it has a long interesting history dating back to the 9th century. 
You'll find interesting specifics throughout the article. Listed towards the end, you'll find some quick yet very interesting facts surrounding Chenin Blanc.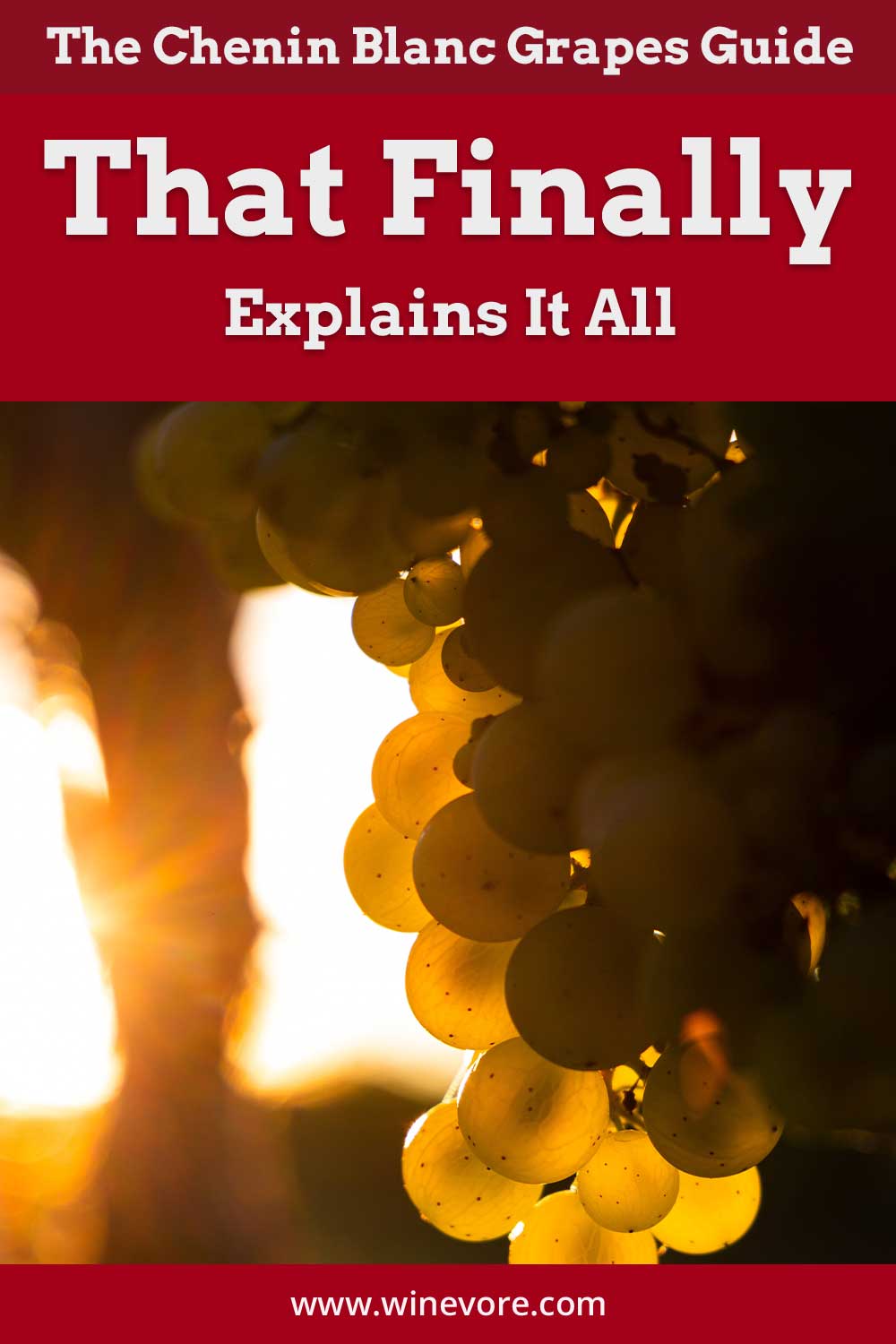 What grapes are in Chenin Blanc wine?
The white wine grapes within Chenin Blanc wine are known to originate from the Anjou region of France. Here locals refer to the white wine grape variety as 'Pineau de la Loire.' 
These grapes hold the ability to be made into almost any style of wine and have a large range of different flavors to choose from. 
Can you eat Chenin Blanc grapes?
While Chenin Blanc grapes are edible, you might want to second guess eating them. Wine grapes, in general, are very different from table grapes. Wine grapes are said to be sweeter than table grapes. 
However, wine grape skins are thick and chewy, and the seeds inside the wine grapes are said to be bitter. Factoring these in, we can only imagine how unpleasant it would be to eat it. 
What are the parent grapes of Chenin Blanc?
There is one grape suspected to be an offspring of our Chenin Blanc grape, which is another white grape from France. 
Savagnin, not Sauvignon, is a green-skinned grape grown in the Jura region in France. The other parent grape of Chenin Blanc is unfortunately still unknown to this day.
Interesting Facts about Chenin Blanc Grapes
Chenin Blanc grapes are known to have the ability to imitate other wine grapes such as Champagne, Chablis, Riesling, and other popular white wine grapes out there.

In 1655, Jan Van Riebeeck, a Dutch navigator, brought Chenin Blanc cuttings to the Cape in South Africa. Today, the grape is known to be South Africa's signature.

Chenin Blanc can be made into a large variety of wines, from sparkling to dry and all in between. 

The region of Chenin Blanc grape origin considers the grape to be a staple for providing some of its oldest white wine styles.

Chenin Blanc is said to be 'genetically identical' to Agudelo, originating in Catalonia, Spain. The genetic relationship between the two was said to be completely unintentional in a study that took place in 2006.
Final Thoughts on Chenin Blanc Grapes
Chenin Blanc is a white wine grape that originated from France, transported to South Africa, and has been found to be genetically identical to a wine grape originating in Spain. 
While Chenin Blanc wine grapes are editable, you will find that eating them will be extremely unpleasant to the pallet. 
Only one of the two-parent grapes of Chenin Blanc has been roughly identified as Savagnin. The other still remains unidentified and remains a mystery to this day.