Chardonnay snack and appetizer pairing
Last Updated on August 1st, 2023
Reader Disclosure
Disclosure: We may earn commissions for purchases made through links on our site. Learn more on our about us page.
The key to enjoying food with a glass of your favorite Chardonnay is understanding what flavors work best with it. Like most wine-related things, knowing what snacks and appetizers pair best with Chardonnay can seem daunting.
This is especially the case if you're someone who just enjoys a glass of Chardonnay at the end of a long work week. This article will tell you everything that you need to know about mastering the art of Chardonnay snack and appetizer pairings! 
What Snack Goes Well With Chardonnay? 
Chardonnay is a very versatile wine, and with this versatility comes a great range of snacks that can be paired perfectly with it. And as there are two kinds of Chardonnay – oaked and unoaked – what goes with one does not necessarily go with the other. That being said, there is one snack that perfectly compliments both kinds: Popcorn!
It may seem like an odd choice, but the buttery flavors of the popcorn blend perfectly with the equally buttery taste of the Chardonnay. So in short, you can't go wrong with a bit of Popcorn and Chardonnay!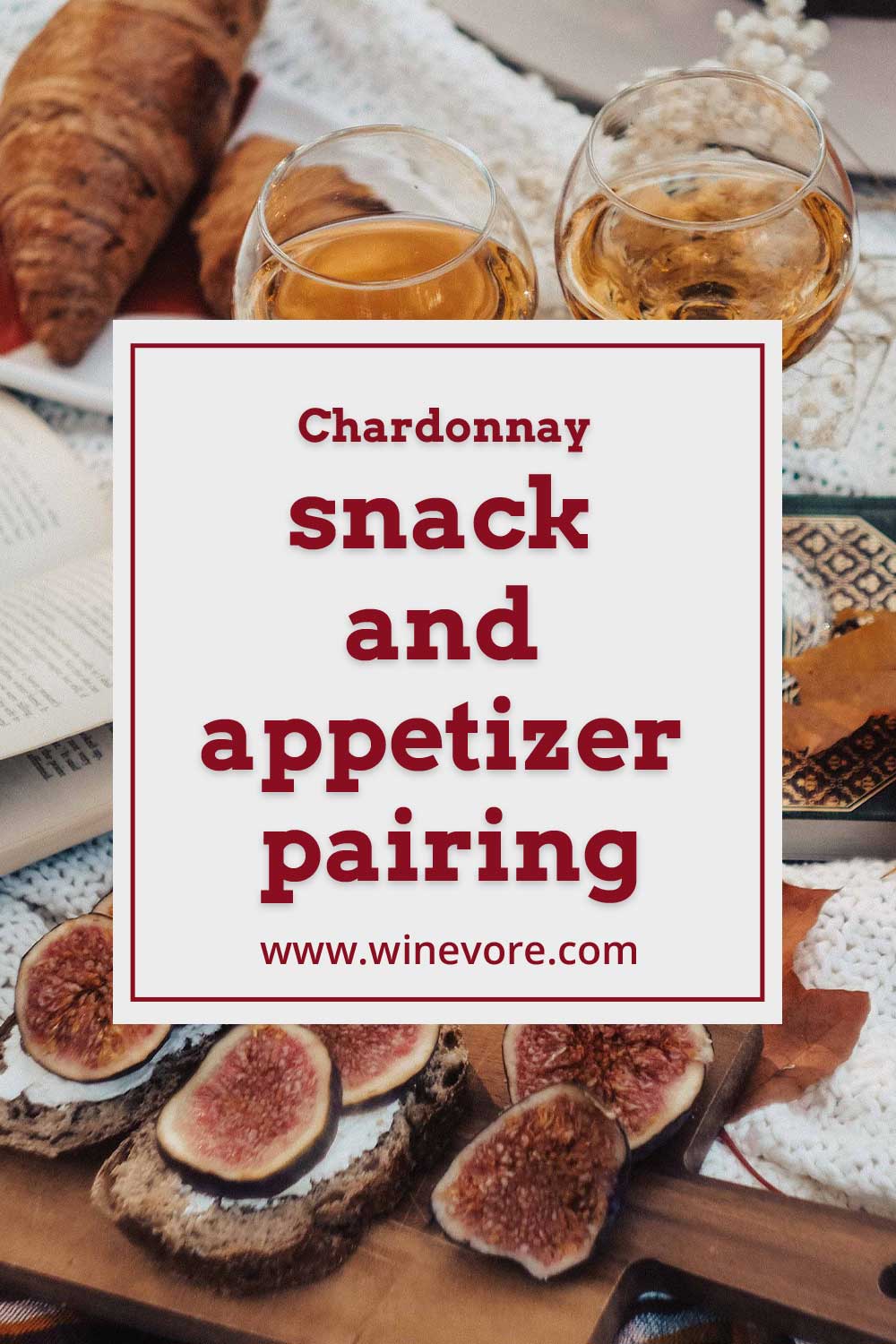 But what else goes well with Chardonnay? 
Oaked Chardonnay
Unoaked Chardonnay
What Chips Go Well With Chardonnay? 
Chips are as versatile as Chardonnay. There's a type for every occasion and should be a staple of any night, whether that be with friends or for a quiet Saturday night in! 
Plain/salted chips go great with Chardonnay and can be paired with french onion dip for added flavor. Sour cream and onion chips also go well with Chardonnay as the flavors balance each other out and make for the perfect snack! 
What Snacks Should I Avoid? 
Enjoying food alongside your favorite glass of Chardonnay is all about the balance between the flavors. So naturally, you don't want one canceling out the other, so here are the snacks that you should avoid: 
Overly Seasoned Food – This will overpower the Chardonnay and take away from the incredible flavors that it's famous for. So you're favorite spicy chips? Put them back in the cupboard and save them for later! 

Bitter Food – Mixing Chardonnay and bitter food will leave behind a sour aftertaste, so swap out those olives for something a little sweeter. 
What Appetizers Go Well With Chardonnay?
Appetizers are an important part of any meal, and it's important to get them right. In order to ensure you're meal is enjoyable for everyone, pair these foods when drinking Chardonnay: 
Oaked Chardonnay
Grilled Shrimp with Apricot Glaze

Almond Cream Cheese Apricots

Baked Ricotta with Lemon, Garlic, and Chives
Unoaked Chardonnay
Shrimp Baked with Green Pea Hummus

Seafood Terrine

Creamy Shrimp Dip
What Appetizers Should I Avoid? 
If you want you and any guests that you might have to enjoy your Chardonnay alongside a meal, it's important that you don't choose any food that will overpower it. To make sure this doesn't happen, these are the foods to avoid: 
No highly seasoned foods. 

No bitter foods – this can make the wine taste sour. 

No acidic foods like raw tomatoes and olives. 

No pungent cheeses like aged goat or sheep's cheese. 
Final Thoughts on snacks and appetizers pair with Chardonnay
Now that you have a basic understanding of what food pairs best with Chardonnay go and enjoy yourself! Crack open your favorite bottle of Chardonnay and enjoy some sour cream and onion chips, or maybe a delicious slice of Brie! 
Just remember to avoid food that might be overpowering – Chardonnay should be the main event!