Can Chardonnay Age Like The Other Fine Wines You Love?
Last Updated on August 1st, 2023
Reader Disclosure
Disclosure: We may earn commissions for purchases made through links on our site. Learn more on our about us page.
Do you know that the old saying "wine tastes better with age"? It truly does because the more time it has to age, the more flavors that come out. The age of the Chardonnay will differ in flavor as well. For example, if a chardonnay was recently made, it probably won't taste as good as an aged chardonnay would.
Why is that? This is because, over time, the tannins that are released help the wine develop its flavor. Today, we'll go in-depth on how chardonnay ages. Then, you'll have your questions answered on the aging process and more.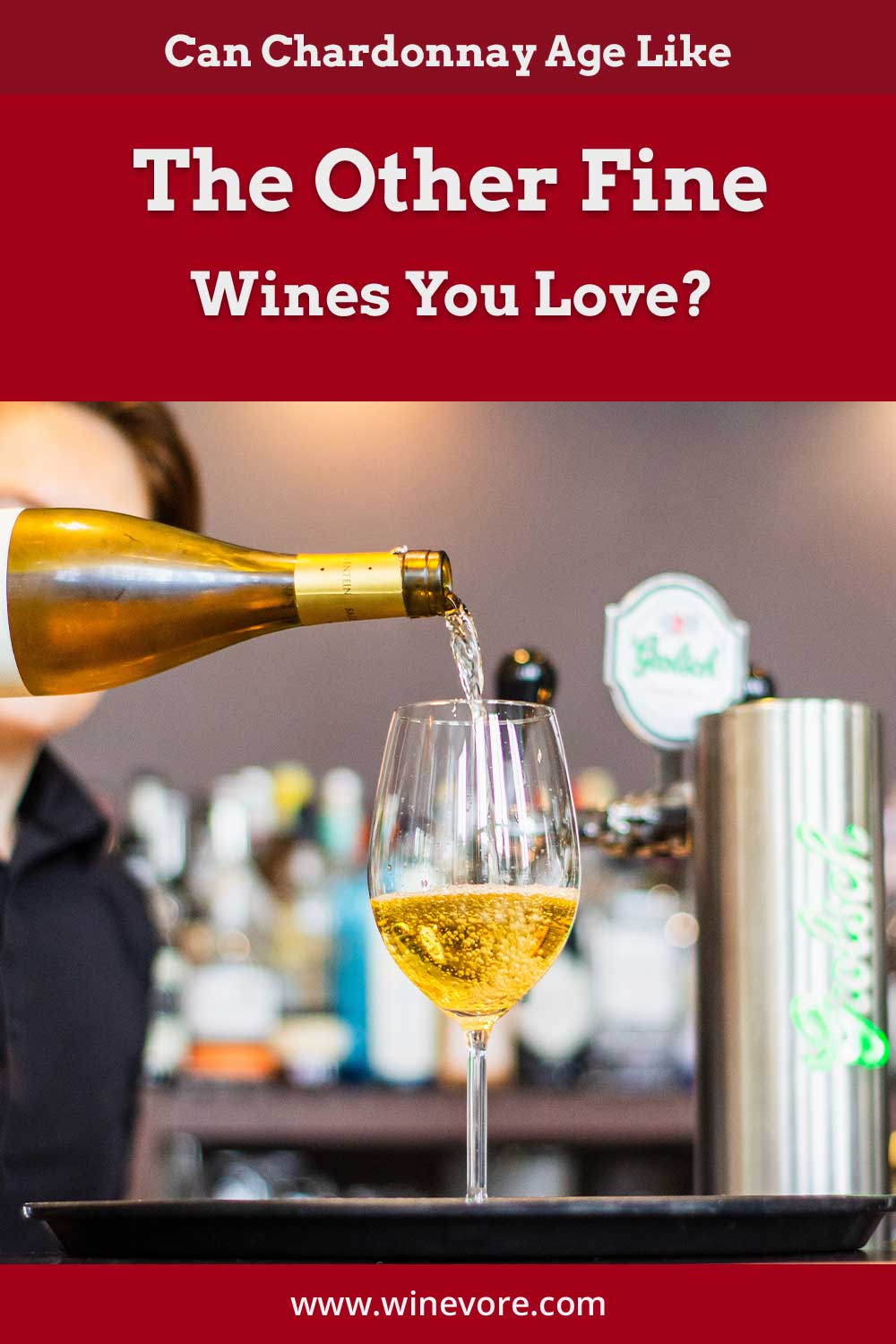 How well does Chardonnay age?
Whether Chardonnay ages well or not depends on the style and quality of the wine. If the wine is made in a steel barrel, it's best to enjoy the wine when it's fairly young. On the other hand, there is no advantage of aging unoaked chardonnays, as the flavor will still be relatively the same. 
Chardonnays that are made in an oak barrel age very well. These can be left in the barrel for quite some time to develop that delicious creamy flavor. It can be delicious when it's new within a year or two and still be delicious if it's a few more years old in its maturity. It can also age well in a bottle, which I'll discuss next.
Does chardonnay age in the bottle?
As you well know, aging wine happens in barrels. But did you know they can age in bottles too? When you buy a bottle of wine, it's often expected to be drunk right away, especially white wines, as they don't have as many tannins as red wines. 
If you want to save Chardonnay for another time, you should know that a twist cap (unoaked) chardonnay should be drunk in 2-3 years. But if you have an oaked bottle sitting around, it will last longer, 5 to 7 years. 
What's the best way to age Chardonnay?
The best way to age chardonnay is to lay the bottle on its side, where the wine can touch the cork. You often see wine in this position because it helps prevent the cork from drying out. The size of the bottle matters as well because the larger bottles protect the wine from heat and light. 
The temperature and humidity of the room affect how well Chardonnay can age. Chardonnays in a cellar with 50-80% humidity are ideal as they will help prevent the cork in the bottles from drying out. 
How long should you age Chardonnay?
Chardonnay needs a minimum of at least 1-3 years to age. This gives it enough time to develop the flavors that we all come to enjoy when having a glass of wine. However, if you want more full-bodied wine, such as oaked chardonnays, they do well probably a few years more depending on the cellar conditions and type of oak barrels used. 
If you are the one who is aging the Chardonnay and would like to enjoy the wine sooner, you'll want to store the wine at a higher temperature. Otherwise, it should be stored at a lower temperature to ensure that it ages well and you can get the flavor you're looking for in chardonnays.
Is a year-old chardonnay still good?
As I discussed earlier, chardonnays can be aged 1-3 years and have the flavor that you're looking for. Chardonnays that were made in a steel barrel will often be ready in a year, as it makes little sense to age it further. It highly depends on the alcohol percentage and the acidity that's in the wine. 
You'll want to enjoy the fruitier chardonnays a year after it's been made because, over time, these flavors can fade. Also, the creamier flavors can last longer than the fruity ones because they're made in an oak barrel. 
Final Thoughts
Chardonnay is one of the few white wines that can be aged. It can be one of the best wines you've tasted if done properly. You can decide when is the best time to drink Chardonnay. Keep in mind that some chardonnays are best drank after a year of its release. Some are good to drink years later. 
When it's aged properly, the flavors you're looking for in a chardonnay will come out. So with this knowledge, you now know that this is the wine that can be aged and how it gets its flavors.