Cabernet Sauvignon vs Barbera
Last Updated on August 1st, 2023
Reader Disclosure
Disclosure: We may earn commissions for purchases made through links on our site. Learn more on our about us page.
---
Cabernet Sauvignon and Barbera might look the same, but they have incredibly different flavor profiles. Barbera doesn't have a bad flavor profile, but there's some stigma against its flavor outside its home country of Italy. On the other hand, Cabernet Sauvignon is one of the top red wines globally, but it has a lot of similarities to Barbera.
What Is Similar About Cabernet Sauvignon and Barbera?
Cabernet Sauvignon and Barbera are both old red wines. They have a similar level of dryness and alcohol content. They can both have fruit flavors, but it depends on the climate in which their grapes are grown. These wines are high in tannins, which gives them a complexity that white wines lack. They are sometimes described as rich, full, and of course, complex. The grapes used to make these wines are some of the most planted grapes in the world. 
These wines can pair well with heavier meals, like steak, lamb, and venison. When you're serving a high tannin wine, foods high in protein and fat can tone it down but otherwise complement it well. Unfortunately, sometimes fish can give the wine an unpleasant taste.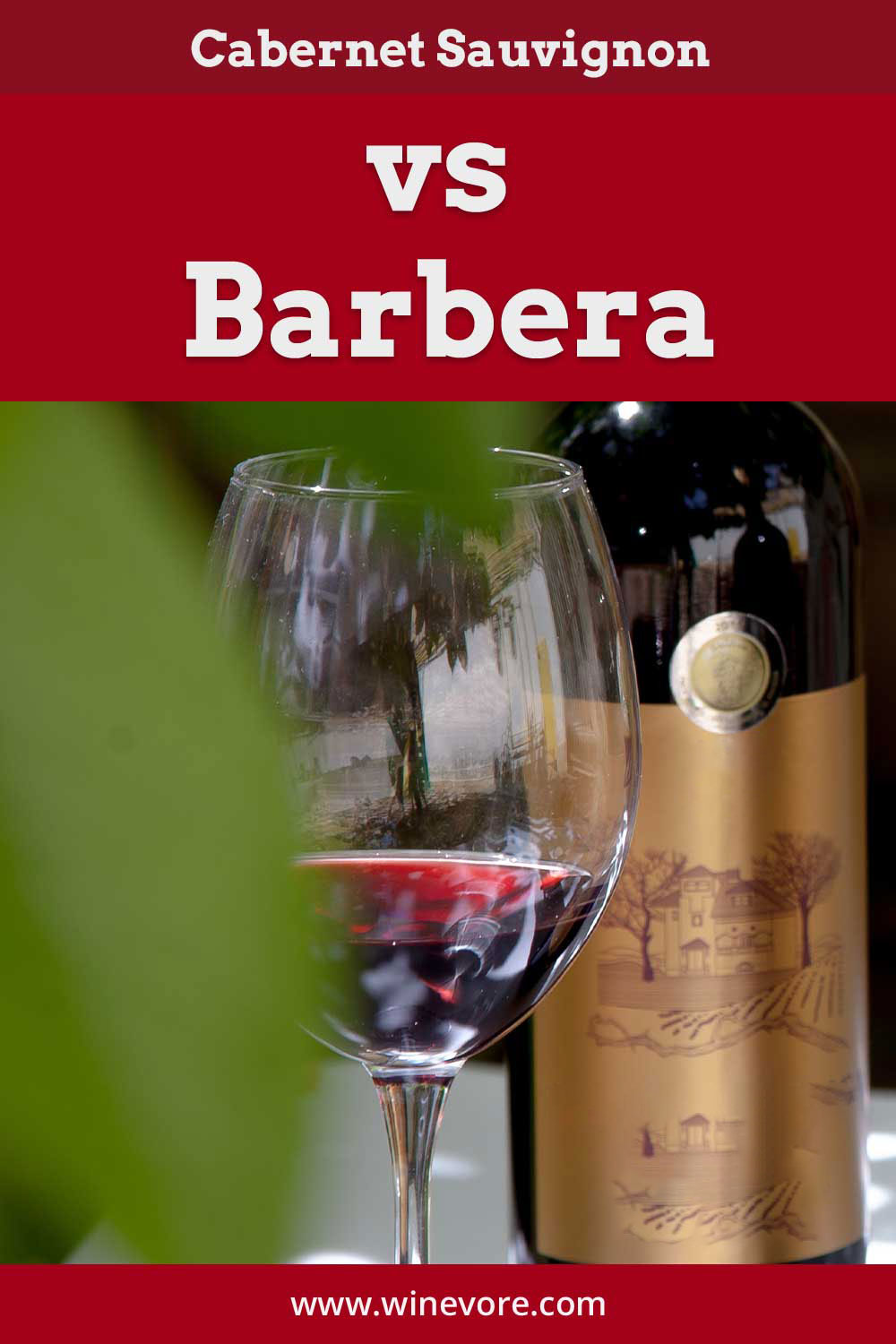 What Is The Difference Between Cabernet Sauvignon vs. Barbera?
Barbera is a much older wine than Cabernet Sauvignon. But it never reached the popularity that Cabernet Sauvignon enjoys in the United States. This could have happened for many reasons, including its relatively inexpensive production or its more rustic and coarse flavors. Whatever the case, public perception just isn't the same as Cabernet Sauvignon. 
Cabernet tends to have earthier flavors, like tobacco, wood, and vegetables, whereas Barbera is more fruity. On the other hand, Barbera is usually more food-friendly than Cabernet Sauvignon. So it can be paired with more diverse foods without having an obvious unpleasant flavor profile.
Cabernet Sauvignon is an all-season wine, and Barbera can be served any day of the year, but it has a reputation for being a summer wine. Its ideal temperature is relatively low, and its flavor pairs exceptionally well with summer foods. Because Barbera is lower in tannins than Cabernet Sauvignon, some people believe it doesn't age as well, but others disagree.
Which One Is Sweeter Or Drier Than The Other?
Barbera is a non-sparkling wine with about the same dryness level as Cabernet Sauvignon. Aside from a handful of wines, most red wines are sweeter than Barbera and Cabernet Sauvignon. French Malbec, Nebbiolo, and Sagrantino are nearly always drier. Barbera is described as "bone dry" with savory flavors, and Cabernet is "dry" with veggie and herb flavors. However, in warm climates, Cabernet Sauvignon is sweeter but still dry and has fruity and spice flavors.
Which One Has More Alcohol Content?
Barbera has a minimum alcohol content of 11%, but it can go up to 14.5%. Cabernet Sauvignon is similar, with an average alcohol content of about 13.5%. California Cabernets lean toward 11% because those wines are often sweeter than their old-world counterparts. Stopping the fermentation process to retain sugar results in less alcohol being produced in the wine.
How Do I Choose Between Cabernet Sauvignon and Barbera?
Choosing between Cabernet Sauvignon and Barbera, it helps to break down the facts.
Flavor
Barbera tastes like strawberries, raspberries, and cherries. Sometimes it smells like blackberries.
Cabernet Sauvignon tastes like blackcurrant, bell pepper, wood, tobacco, and spices.
Alcohol Content
Both wines have about 11% to 14.5% alcohol content.
Country of Origin
Barbera originates from Italy, and it's perhaps one of the oldest wines in the world.
Cabernet Sauvignon likely originates from France, but Spain grew its grapes early on too.
Sweet/Dry
Although they're about the same in dryness, warm climate Sauvignon Cabernet can be a bit sweeter.
Because of Cabernet Sauvignon's popularity, most wine shops will have a more extensive selection. However, Barbera is a great choice to wander off the beaten path.
Summary
Barbera and Sauvignon have much to offer, including complex and very different flavors. Their alcohol content is about the same, but Cabernet can end up a little sweeter, especially the ones produced in the United States. Unfortunately, Barbera doesn't have near the popularity of Cabernet, rarely ranking in the top 10 red wines, whereas Cabernet is always in the top 5. It's certainly not a lesser wine, especially in Italy, but it didn't catch on as well.
---