Best Wine to Pair with Gouda Cheese – Choose Wisely
Last Updated on August 1st, 2023
Reader Disclosure
Disclosure: We may earn commissions for purchases made through links on our site. Learn more on our about us page.
Wine and cheese are a match made in heaven. Right? Gouda is a yellow to pale ivory cow's milk cheese created in the town of Gouda, located in the Netherlands. 
The Dutch city houses the famous Gouda Cheese Museum. Are you thinking of planning a trip? Let's talk about some wines that pair great with Gouda so that you know what wine to bring when you go!
But first, let's talk a little bit more about the cheese itself. It's no secret that this cheese is famous. It's one of the most popular cheeses in the whole world and carries notes of caramel and butterscotch. 
The cheese is also said to be a good fit for those who are living the keto lifestyle.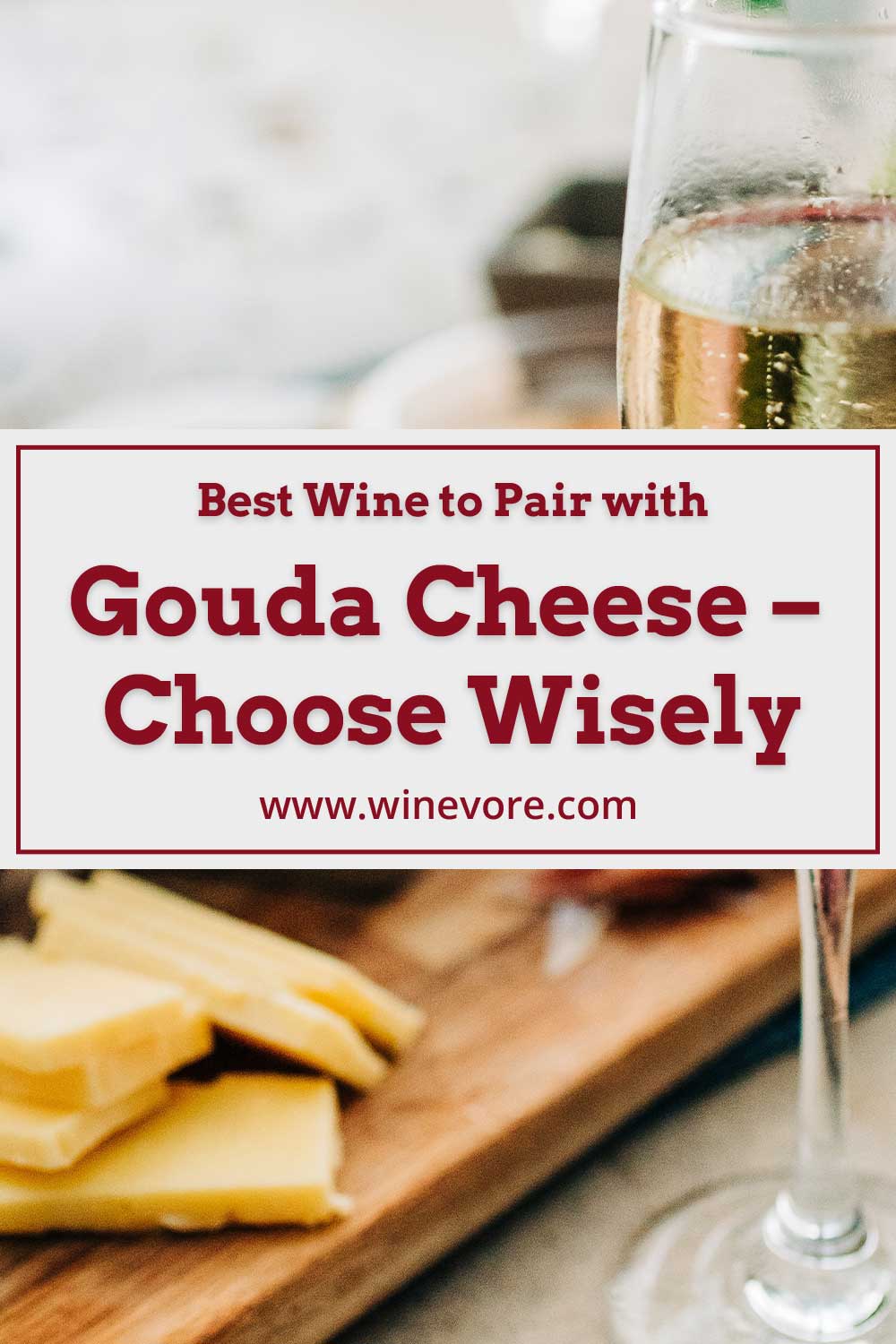 Which Wines Pair the Best with Gouda Cheese?
Enough Gouda talk. Let's get back to what you came here for – the wine! If you're going to pair wine with cheese, you have to be sure that you're choosing the right wine. 
You could risk a bad wine/cheese experience if you choose the wrong wine. Flavors and notes could get canceled out, leaving you without the full wine and cheese experience. 
Wines to choose when pairing with Gouda should always be red wines with fruity notes. With this being said, a few red wines to try with the cheese include but are not limited to Beaujolais, Pinot Noir, and Cabernet Sauvignon.
If you are looking to be a little rebellious and stick with white wine, Riesling Spatlese would be an acceptable selection. 
What is Gouda Traditionally Paired With?
Cabernet Sauvignon is a full-body red wine with a medium acidic content that carries notes of black cherry, black currant, cedar, spices, and other mineral notes. 
This is considered to be the traditional red wine to pair with Gouda, and if you're not into reds, there is a white wine alternative that is also considered to be another traditional pair. 
Pinot Grigio (or Pinot Gris) is a high acidic white wine with notes of white peach, lemon zest, melon, almond, and other mineral notes. It's a good alternative to the traditional red Cabernet Sauvignon that also pairs rather nicely with Gouda. 
Although this white is an acceptable option, red wines are recommended over a white for Gouda.
Should Gouda Cheese Be Paired With Oaked or Unoaked Chardonnay?
First of all, what is oaked wine? And what's the difference between an oaked and an unoaked Chardonnay? An oaked wine is a wine that has been aged in an oak barrel. 
It gives the wine unique notes, the most common occurring note being vanilla. Whereas an unoaked wine has not been aged in oak, resulting in those added notes being absent or completely transparent from the wine. 
A Chardonnay that has not been aged in oak will carry notes of yellow apple, starfruit, pear, and pineapple. 
While a Chardonnay that has been aged in oak (called an 'oaked' Chardonnay) will carry flavors of vanilla, toffee, caramel, and other spiced notes. 
A Chardonnay that has not been aged in oak is ideal for pairing with Gouda, for its notes are lighter than those of a Chardonnay that has been aged in oak. 
Gouda Cheese with Sparkling Wine – Yes or No?
Yes and No. If the Gouda is aged older (anywhere after nine months old), then a sparkling wine is not recommended. 
However, if the Gouda remains young (anywhere from 4 weeks old to 9 months old), then yes, sparkling wine is a good selection to pair with the cheese. A good example of sparkling wine to try with a young Gouda would be any simple Champagne.
Are There Any Wines You Should Avoid Pairing With Gouda Cheese?
It's hard to think of any wine that won't pair well with cheese, right? Wine and cheese are a match made in heaven, but surely there are a few wines out there that don't comply with a Gouda. 
What we mean by this is that while there are standards when deciding on a wine to pair with the cheese.
The first thing to always consider might be the most obvious, red or white wine? Red wine is considered to be more ideal for Gouda, while white wine is good too – it's a full-bodied red wine that will always do the trick. 
The second thing to do is to stay away from any wine that is aged in oak. While those rich, luxurious notes of vanilla and toffee may seem rather intriguing, they don't pair nicely with Gouda.
Final thoughts on which wines to pair with Gouda Cheese
A few good wines pair with Gouda, such as Pinot Noir and Cabernet Sauvignon. Traditionally, Gouda is paired with Cabernet Sauvignon. 
However, Pinot Gris would be another acceptable choice if you don't prefer red wines. If you want to pair a Chardonnay with a Gouda, avoid a Chardonnay that is aged in oak – for it won't pair nicely and will leave you with an unpleasant experience. 
If you want to try sparkling wine with Gouda, it's recommended to try Champagne with a young Gouda (less than nine months old, preferably).