Amarone vs. Amicone: The Untold Similarities, Differences & Selection Criteria
Last Updated on August 1st, 2023
Reader Disclosure
Disclosure: We may earn commissions for purchases made through links on our site. Learn more on our about us page.
Red wines are defined by their color, their dark fruity flavors, and the tannins that give a unique flavor to the wine. Red wines age well, and there are many different varieties grown around the world. 
Typically red wine is produced from black-skinned grapes that give the wine its reddish purplish color.
There are many different types of red wine that offer a vast array of tastes and textures that appeal to all. In addition, many of these wines are blends of different grapes, thus giving them distinctive names, such as Bordeaux, Chianti, and Syrah.
Amarone is a blissfully rich ruby red wine. It tastes like dried cherries, blackberries, and dark chocolate with the fragrance of violets, vanilla, and sweet almonds. Amarone, meaning "Great Bitter" in Italian, is from the Italian region of Veneto.
Amicone is another exquisite red wind, full-bodied and flavorful with a rich, smooth texture. Beautifully balanced with flavors of wild cherries, figs, and plums, with hints of chocolate and spices that play on the palate.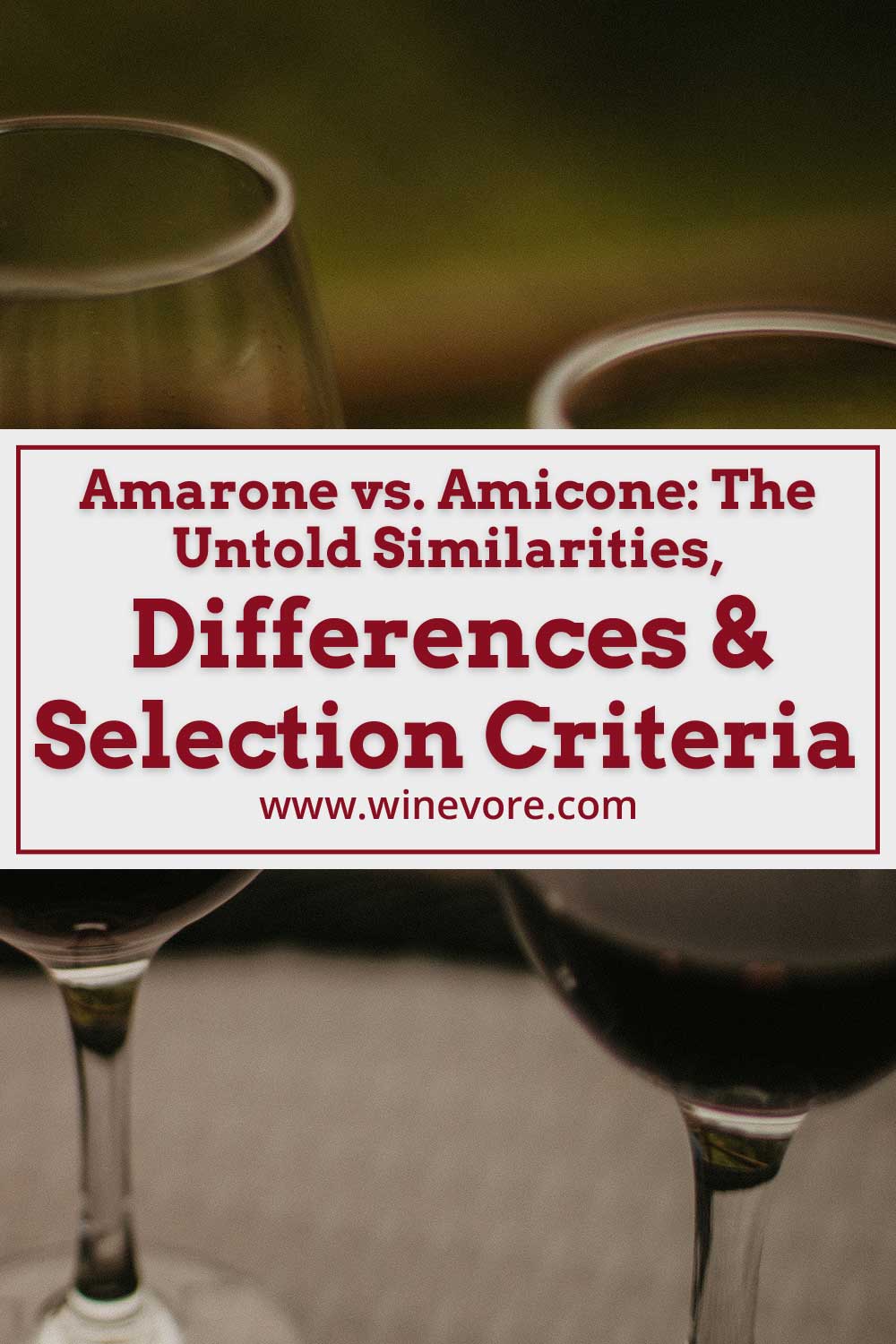 Is Amarone The Same As Amicone ?
Amarone has a more raisiny taste with low acid levels despite both wines being red. This wine is dry, full-bodied, and sweetly balanced with bitter cherry and almond notes that give a velvety finish.
Amicone is also a dry and full-bodied red wine but with a softer texture to it. A characteristic of this wine is its intense flavor of raspberry and black cherries, along with subtle notes of spice and chocolate on the palate.
.
What Is Similar About Amarone And Amicone?
Amarone and Amicone wines are made from Corvina grapes grown in the Veneto region of Italy. Both wines use the drying process of Appassimento on the grapes to get the juice. In addition, both wines are aged in barrels to give them a more concentrated flavor.
What Is The Difference Between Amarone And Amicone?
The grapes for the Amarone wines are dried on traditional racks or mats called arele. This process takes up to 120 days. The juice is then extracted and allowed to ferment for 50 days before being placed in barrels for aging.
For Amicone wines, the grapes are dried on the vines for a shorter period of time. The wine is then fermented in stainless steel and then aged in French oak for 6 to 8 months, resulting in a bouquet of luxuriant tastes. 
Which One Is More Sweeter Or Drier Than The Other?
Amarone and Amicone wines dry the grapes before extracting the juice. This results in the concentration of sugars in the fruit, giving depth and texture to the wines.
Amarone is classified as dry to semi-dry. Amicone is mildly sweet with integrated tannins that give a smooth finish to the taste.
Which One Has More Alcohol Content?
Amarone is noted for its high alcohol level of 15% to 16% ABV. This is due to the protracted drying period of the grapes, which intensifies the flavor.
Amicone has an alcohol level of 14% ABV.
How Do I Choose Between Amarone And Amicone?
Since Amaron and Amicone share many similarities in taste, color, and texture, it is difficult to choose one from the other. Although, Amarone does offer a little more variety to choose from. There are three styles, which are :
Normale Amarone – a young taste with fresh soft fruit notes, aged for two years

Riserva Amarone – more intense flavor, aged for four years

Recioto della Valpolicella – deeply sweet wine with a low alcohol level
But Amarone wines are expensive, being in the range of 50$ to 60$ per bottle. Whereas Amicone wines cost between 14$ to 21$ a bottle, which is a steal, considering you get a really good red wine. 
Therefore, when considering the facts, Amarone is a better choice.
What Is A Good Selection For Amarone?
The aromas and the rich taste of Amarone complement scrumptious dishes, such as:
Pheasant with walnuts and truffle

Braised Meat

Beef Filet En Croûte

Spare Ribs

Barbecue Glazed Ham

Duck cooked in balsamic vinegar

Cheese – Taleggio, Murazzano and Reblochon
What Is A Good Selection For Amicone?
With its concentrated flavors of raspberry, black cherries, and chocolate, Amicone pairs well with hearty meat dishes:
Barbeque Meats

Italian Vegetarian Stir-Fry

Roast Turkey

Roast Mediterranean Chicken 

Bistecca Fiorentina 

Appetizers – Prosciutto, Charcuterie

Cheese Board – Aged Swiss, Parmesan

Braciole
Final Thoughts on Amarone Verses Amicone
In conclusion, whatever wine you choose, you have a definite winner, be it Amarone or Amicone. Both are well received and an instant crowd-pleaser. Moreover, with its range of flavors and aromas, they are splendid wines.