How Does Amarone Taste? Your Palate Will Thank You
Last Updated on August 1st, 2023
Reader Disclosure
Disclosure: We may earn commissions for purchases made through links on our site. Learn more on our about us page.
Amarone's etymology brings us to Italy. From the Veneto Italian dialect, Amarone means tart, very dry. Quaint for the mistake gone right vintage that has a tasteful medium-plus to high acidity balanced with a full body and with notes of black cherry, brown sugar, and chocolate. 
This vintage comes from the Valpolicella region, and this Italy area has been producing wine since ancient times. Still, this label has only been around since 1936, when Adelino Lucchese coined the label name Amarone. 
How would you describe Amarone?
This Italian red wine vintage has an intensely robust flavor made by accident, according to the legend of this accentual Rosé goes as such. Unfortunately, in 1940 after taking out the barrels for bottling, there was one forgotten Recioto that had over fermented.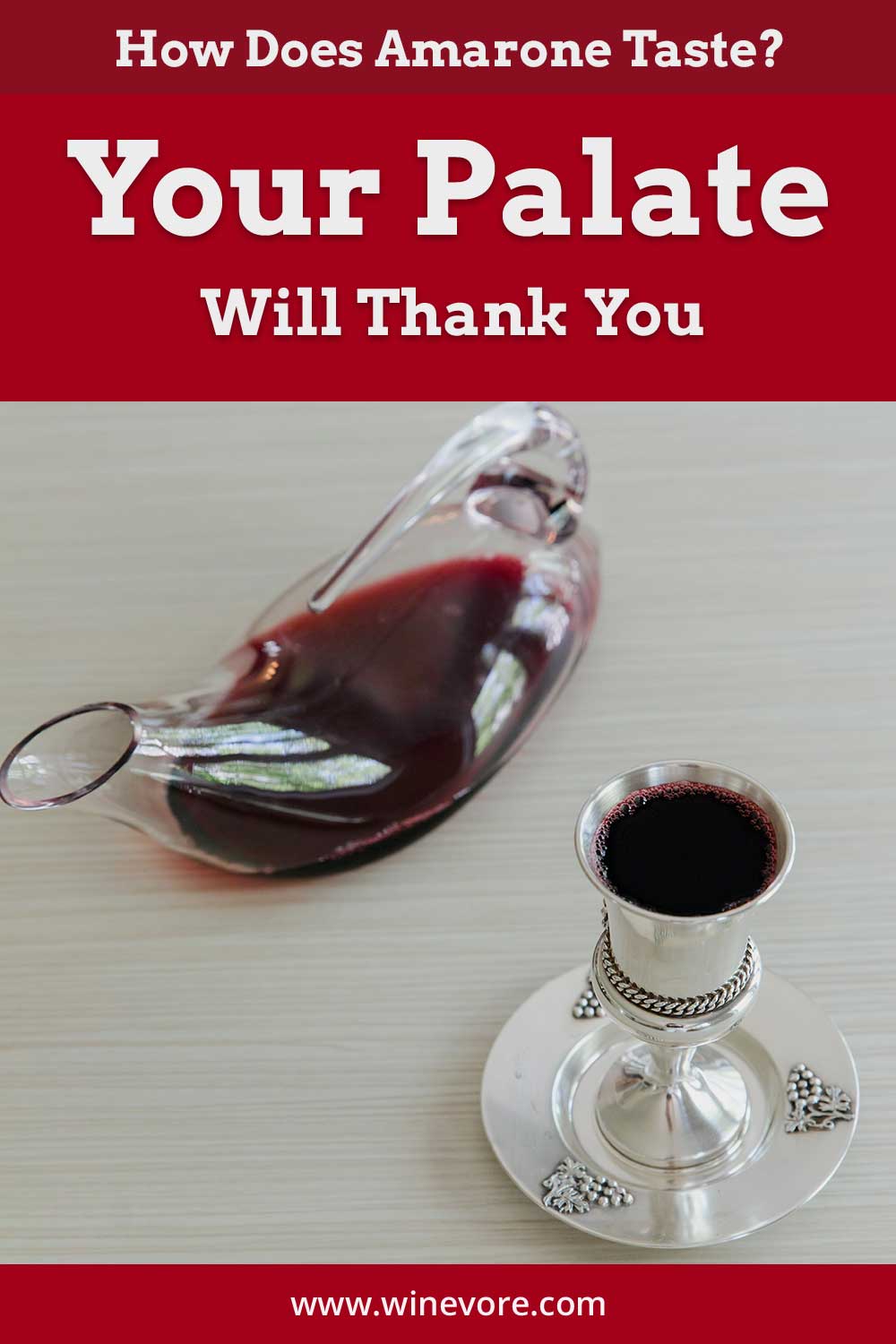 When the barrel was rescued, the liquid was an unexpected dry, mellow, pleasantly aromatic vintage. This process has been named the 'appassimento,' which dries the harvested grapes on straw mats and bamboo racks for a few weeks to upwards of several months. 
What does Amarone taste like?
Amarone is a full-flavored, intensely rich, yet elegant, full-bodied red wine with plenty of sour cherries and some smokiness. The bouquet of aromas includes blackberry, ripe berries, tobacco, licorice, and medium acidity with massive red and black fruit notes.  
These flavors pair well with dishes like:
Pasta with Duck sauce 

Ribbon pasta with rabbit 

Lamb shanks. 

Braised beef short ribs

Wagyu Beef

Wild boar

Venison

Elk
Is Amarone sweet, dry, or bitter?
After the mistake, the forgotten barrel had become sweeter than the regular dry red wines. During the evolution of the wine, there has been a change from sweet to drier. 
The vintage, when young, has more robust flavors of black cherry and smokiness, but as the wine ages, it begins to turn to a mushroom, earthy flavor. 
The wine's high sugar content works well with dark chocolate desserts. 
A few Amarone tasting notes
Remember that the vintage has a powerful and intense flavor when enjoying Amarone. Younger vintages will have black cherry and ripe berries while chewing tobacco, tar, and mushrooms. 
The production of this wine includes hand picking to ensure the highest quality of grape gets selected. The difference in the grapes all depends on how high up on the mountain slopes the vines are grown. 
Lower slope vineyards produce grapes with good sugar and pleasant acidic levels. In contrast, the higher slopes have grapes with elevated sugar and tannin levels. The wines produced higher up have characteristics that have more robust acidity levels.
How will I know if I like the taste of Amarone or not before I buy it?
Knowing if you like a bottle of wine comes down to tasting the vintage. There are sampling kits online and tasting parties where you could happen across a new friend's bottle of Amarone. 
Otherwise, try one of these similar tasting vintages:
Sforzato

Syrian

Negara

Merlot

Ripassa

Zenato

Allegrini
Does the taste of Amarone make it a good wine for beginners?
To be quite clear, this wine is an intensely complex vintage. Best to save this powerfully flavorful red wine till after having Pinot Noir, Gamay, or Lambrusco. 
Then move into the medium-bodied like Merlot, Red Zinfandel, or a Côtes du Rhône.
Let your palate develop so that you may enjoy the vintage as it should be. 
Final Thoughts on Amarone's Taste
Amarone is ironically sweet, though its name may suggest otherwise. The grapevines grow on the slopes of the higher elevations of the Valpolicella region of Italy. 
It has only been around since 1940; after a mistake, the barrel had been forgotten and wound-up tasting sublime.